How often are your customers buying from your store? Why do some customers purchase frequently and others don't? How to not lose your existing customers to the competition? How to make sure to make new customers loyal to your shop and retain them for a very long period? How to make infrequent buyers become frequent buyers? How to grow your sales with the repeat purchase booster technique? To find out how to build a successful and long-lasting e-commerce business, you first need to understand the notion of order frequency, how it influences your online store success, and how to leverage it to generate more sales.
One of the clearest success indicators in an online store is how frequently customers make purchases. Not only does this mean more revenue and a high return on investment, but it also means that the store's brand is solid and customers trust you enough to continue placing orders.
Whether you are selling on Shopify, Woocommerce, Bigcommerce, or any other e-commerce platform, maximizing your order frequency is the key to developing a profitable and lifelong business. It is way smarter to get your new and existing customers to complete another purchase from your store than to spend a bunch of money and effort on acquiring new ones.
What is order frequency?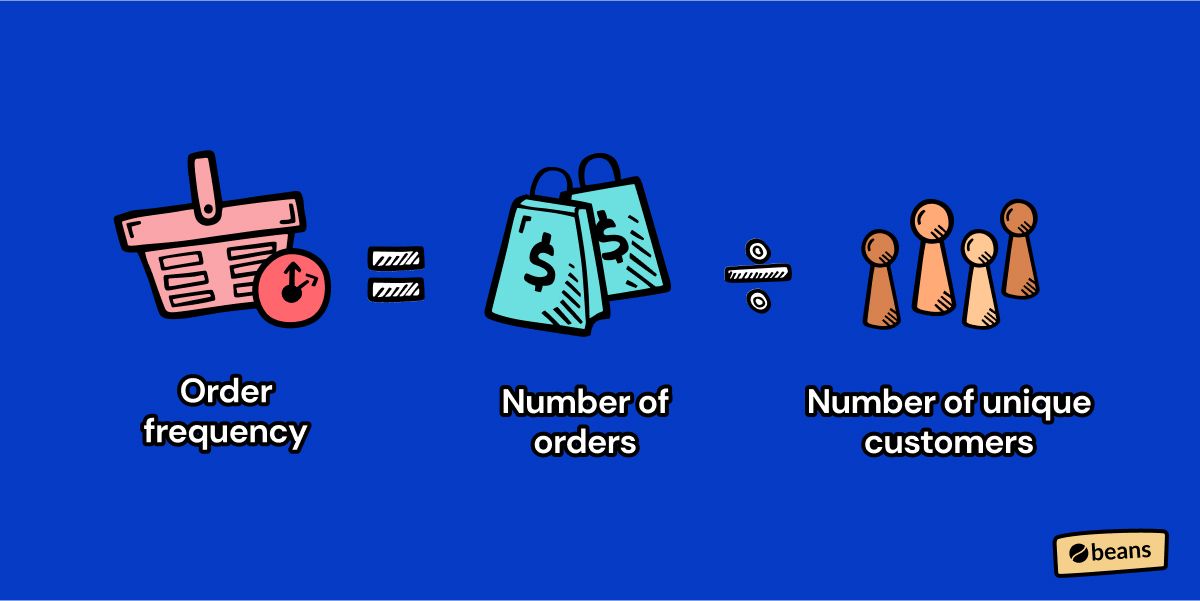 Order Frequency, otherwise known as purchase frequency is an e-commerce metric that determines how often customers purchase products from a store within a given period. To find out your store's order frequency, you need to divide the total number of orders received within a period by the total number of unique customers within that same period.
For example, if there were about 45,000 orders and 22,000 unique customers within the past year, the store's order frequency would be 2.045. This means that, on average, each customer ordered twice in the past year. This order frequency isn't necessarily bad or good, as it is important to consider the industry and the average order value.
When analyzing your store's order frequency, you also need to consider the repeat customer rate and time between purchases. The repeat customer rate enables you to determine how many of your customers return to make repeated purchases. The time between purchases metric, on the other hand, tells you how much time customers usually take to make another purchase. These metrics give you a precise overview of your customer's purchasing habits.
Order frequency is an essential metric in e-commerce because the higher it is, the higher the revenue your store generates. Our research on order frequency by product category will help you find out the average order frequency that you should expect depending on your industry.
How does order frequency impact your store's success?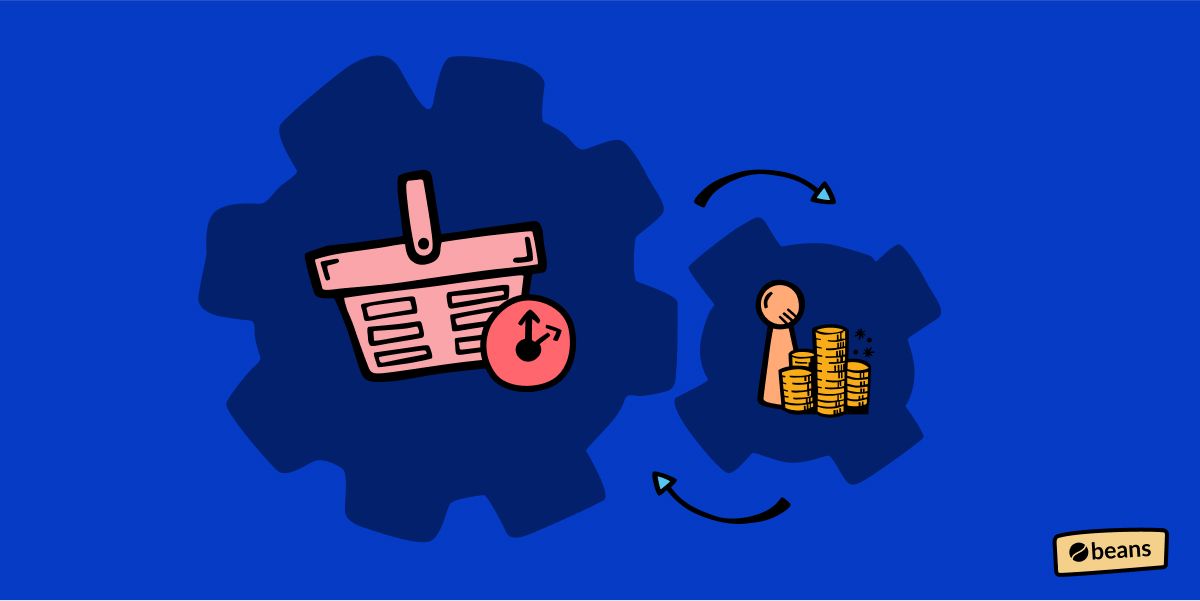 Customer Lifetime Value is one of the most significant metrics to determine the present and future success of your online business. Though often overlooked, it is the metric that can help you accurately predict how valuable each customer is to your business. It also helps you determine the amount of money you should be spending on acquiring new customers. At the same time, it gives a proper understanding and insight into which customers you need to focus on and why you should focus more on them.
Order Frequency is closely related to the Customer Lifetime Value because it is one of the essential elements that can be used to analyze CLV. To calculate Customer Lifetime Value, shop owners need to look at the recency, average cart value, and frequency of orders in their store. The point is that having a higher order frequency means more revenue and an exponential reduction in the amount you spend in acquiring customers. To maximize your store's CLV, therefore, you need to invest more in increasing purchase frequency.
Loyalty programs help increase order frequency
Loyalty programs are used to retain existing customers by keeping them devoted to the brand. By adding a rewards program to your store, you can incentivize your customers for performing actions that would benefit your growth. The rewards can come in the form of discounts, free products, free shipping, or points that can later be redeemed. In doing so, the customer is motivated to fulfill whichever requirement to earn that reward.
Loyalty programs are highly effective in increasing order frequency. There are many types of loyalty programs, but points programs are the most effective and flexible. They usually utilize a points system where customers receive reward points for making more purchases. These programs work because they focus on encouraging incremental spending. Customers will visit your store more and buy more if the incentives available are compelling enough for them. To achieve the most success with a loyalty program, the value of the rewards should tally with the needs of the customers and be clearly communicated.
Use the repeat purchases booster to drastically increase order frequency
Loyalty programs should be designed around valuable incentives and rewards that encourage customers to frequently visit your store and purchase more. The Beans loyalty and rewards program is built with the goal to help you maximize repeat purchases in your shop. If you are using Shopify, Woocommerce, or Bigcommerce you can install the app in your store in a couple of clicks. If you are using other ecommerce solutions you can get in touch with us for custom integration.  Once you install the app in your store you will be able to choose specific rules on how you want to reward your customers. Just as a classic reward program would do, Beans rewards your customers for each purchase, thus incentivizing customers to come back to your shop.
On top of that, the Beans loyalty and rewards program is designed with a repeat purchase' rule that ensures that your customers are enticed to keep ordering. This rule allows you to offer extra reward points to customers who make repeated purchases within a specific timeframe.
The most unique aspect of the 'repeat purchase rule is that it can be implemented for new and long-term customers alike. The rule can be used to offer extra points to first-time buyers when they decide to make a second purchase. It can also be used to offer extra points to long-term customers whenever they return to make more purchases within a particular period.
For instance, let's assume that your order frequency is 3. On average, customers order from your store thrice in a year; in other words, the average interval between repeat purchases is 4 months. If a new customer places an order in January, you can expect them to return in April to place a second order. However, in today's e-commerce landscape, customers are constantly comparing you to the competition. They could choose to go with another retailer even if you provided them with good service. To avoid that, you can set up a repeat purchase rule on top of your loyalty program.
Get twice more points on your second purchase in an interval of 120 days.
This rule will give your new customers an extra incentive to place their second order. Moreover, since the customer will earn extra points for placing another order, they will be even more incentivized to place a third order to use their extra points and so on. This way, you would have locked the customer in for an extended period.
On top of that, the repeat purchase rule will help you get existing customers to buy more often from your store. Among your loyal customers (customers that have placed more than one order from your store), some are frequent buyers, and others are infrequent buyers. Frequent buyers place orders regularly at defined intervals. Infrequent buyers have irregular purchasing habits. There are different reasons infrequent buyers exist. One of the most common reasons is that you are not their main or unique provider. They may have been buying the same product or an alternative from another store before finding your business. Another common reason could be that they just forget to place a second order in time, and without any time incentive, they will keep postponing the purchase for later. The repeat purchase booster will incentivize infrequent customers to order more often from your shop.
For instance, if your store's order frequency is 3, it means that some customers are buying from your store 4 or 5 times per year, whereas other customers are only ordering from you 2 or 1 time per year. Using the same repeat purchase rule as in the previous example, you can get less frequent customers to order 3 times or more in the year. Since this will reward customers who buy continuously from your store, those who also purchase from the competition will have less incentive to keep ordering from other stores. In the end, this will help increase your online shop's order frequency from 3 to 3.5 or 4. This strategy will significantly impact your customer lifetime value and, therefore, help you create a more successful e-commerce business.
As this rule helps in focusing on existing customers, online retailers can ultimately reduce marketing expenses. Repeat customers tend to spend more than new customers, hence focusing on them means you will be maximizing revenue and cutting down on acquisition costs. Loyalty programs are beneficial because they allow you to build a strong brand. If you are strategic in how you reward your customers, you will positively impact metrics that will help you build a sustainable and profitable business. Customers who receive rewards feel appreciated for patronizing your products and services. They in turn return the favor by buying again and again because they have come to trust your brand.
This article has shown you how to get customers to make repeated purchases on your BigCommerce, Woocommerce, or Shopify store through a loyalty program. Now it is time to implement these strategies and see your store grow.