About ecoegg
🏬 Founded in 2008
🌍 Delivers in 50+ countries
🇬🇧 Based in the UK
🧺 Consumables goods (FMCG)
📊 2.5 million+ products sold
Founded in 2008, ecoegg is an online store that provides effective, innovative, and environment-friendly cleaning and laundry products. Since its launch in the UK in 2010, via TV shopping channel QVC UK, the Laundry Egg has earned its place as a sustainable replacement for fabric conditioners and laundry detergents. The brand is mainly regarded as a unique laundry solution that is kind to your skin, kinder to the environment, and offers consumers value for money. In addition, by switching to an ecoegg Laundry Egg, a household can eliminate up to 40 plastic bottles every year. The company now delivers in more than 50 countries worldwide and has sold over 2.5 million ecoegg Laundry Eggs.
The ecoegg Laundry Egg stands out because it replaces both laundry detergent and fabric conditioner. It cleans and softens laundry using two kinds of mineral pellets contained within an egg-shaped case. It is refillable after 70 washes and is guaranteed for ten years, eliminating 40 single-plastic bottles per household per year.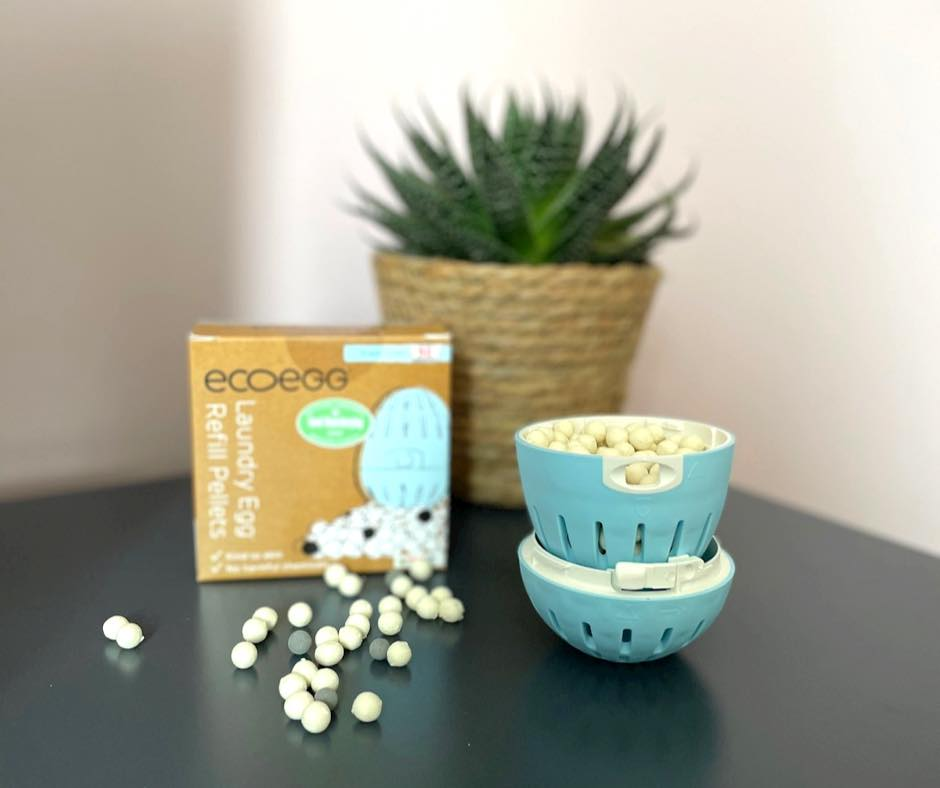 Another prominent product of this company that complements the ecoegg Laundry Egg is ecoegg Dryer Eggs. Easy to use, both Dryer Eggs can just be popped into the tumble dryer to help reduce tumble drying time by up to 28% saving energy, time, and money. They work by separating laundry items to make them dry more quickly. The nodules on the eggs soften the items, and the fragrance sticks delicately fragrance your laundry.
Offering another sustainable swap for eco-conscious households, the ecoegg Bamboo Towels are recognized as a more sustainable alternative to kitchen roll. The towels are made from 100% sustainable sources, and each tube comes with 20 sheets that can be washed and reused up to 85 times. In addition, they are designed for wiping up wet and dry spells and are great for lint-free polishing.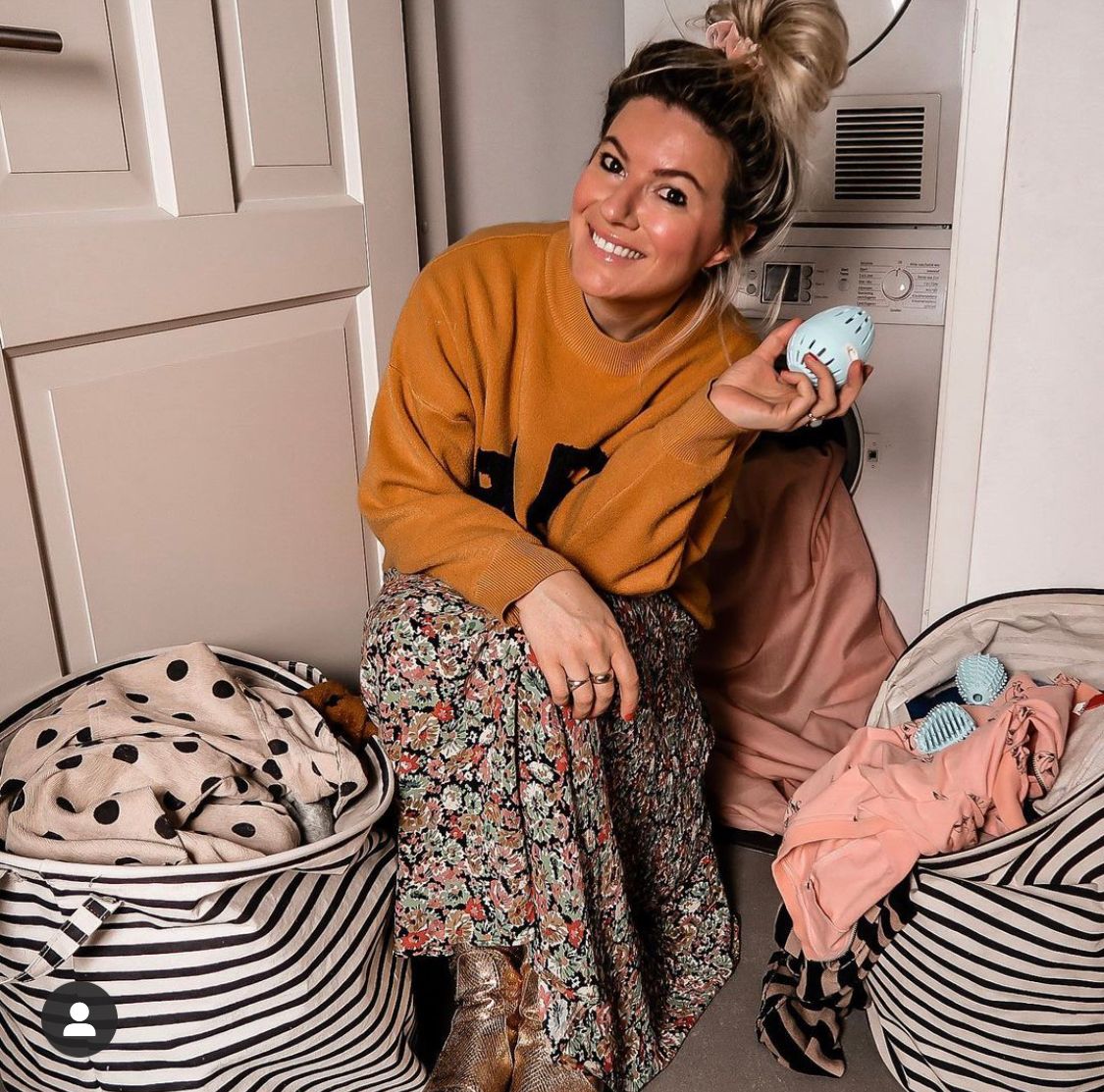 The Laundry Egg holds endorsements from Allergy UK (Allergy Friendly Product award for the fragrance-free product) and Good Housekeeping's 'Getting Greener' accreditation that recognizes efforts towards sustainability and 'Reducing Plastic.' Ecoegg also won The Queen's Award for Enterprise and Innovation in 2016, The Grocer New Product Award in 2020 for household and laundry, and Best Eco-Friendly Laundry Product 2021 for the 2021 UK Enterprise Awards hosted by SME News.
The challenges
🌐 Increase repeat website visits
📈 Increase repeat customers
📦 Increase repeat order frequency
🛒 Increase average order value
👩‍👧‍👧 Increase customer referrals
Scaling an online store is not an easy job, especially when managing customer retention. Many ecommerce stores are faced with the issue of maintaining good retention while scaling their business. Ecoegg, like most online shops, wanted to ensure that customers love their brand but they also want to make sure that their business is profitable at scale.
Increasing repeat website visits
One of the most crucial things for ecoegg was ensuring that its customers felt treated and addressed well enough to keep returning to the website. Since most of its products are ordered from the site, encouraging repeat website visits was essential to the brand. The company wanted to ensure that they could convert more visitors into loyal customers and increase their retention rate.
Encouraging repeat customers
Another challenge ecoegg faced following its launch was getting its visitors to order from them repeatedly. It is interesting to note that ecoegg's products are vital for households and perfect for generating repeat orders. The capacity of your business to attract repeat customers is highly correlated to your industry. Our analysis of e-commerce loyalty by industry describes what to expect depending on the products you sell. Ecoegg's products such as the laundry egg, dryer eggs, and bamboo towels can be purchased by individuals and households several times a month due to the frequency of doing laundry and cleaning. Therefore it makes sense for the company to double down on increasing repeat customers.
Getting more frequent orders
Like the challenge listed above, Ecoegg also faced the challenge of yielding more frequent orders on its online store. Ecommerce brands thrive on recurring orders to generate faster returns on marketing investments. Having orders line up frequently is a sign that your product is loved by customers and genuinely serving its purpose. When buyers perceive the value of a product and see its effectiveness as they consistently use them, they tend to purchase more frequently. The more repeat purchase you get, the faster. Increasing order frequency is essential to getting higher customer lifetime value.
Getting higher basket spend
Ecoegg wanted to work on maximizing customer lifetime value for their online shop. Like other growing online stores, one of the biggest challenges faced when working on CLV is to increase the average order value. The average order value, AOV, describes how much, on average, a customer spends per order. A higher AOV means a higher CLV. Research has proven that loyal customers spend 3x more than the average shopper. Therefore, getting customers loyal to your brand is a big step to help increase the average order value.
"We wanted to encourage repeat website visits, repeat orders, more frequent orders, and higher basket spend from our company website ecoegg.com. We wanted loyalty to our website and happy customers having a way to refer their friends and share their love for our products!"

Lisa Whalley-Smith – Head of Brand and Marketing
Ecoegg's need to build a strong relationship with its customers required implementing a rewards program to increase loyalty towards the brand. The company also needed a good referral program that would allow its repeat customers to share the word about their products with loved ones for a mutual benefit.
Why ecoegg chose Beans?
▶️ Simplicity of usage
🌠 Seamless shop integration and beautiful UI
🧩 Integrate with existing marketing stacks
💲 Attractive pricing structure
We chose Beans as it looked very simple to use. I also like how it looks visually. Beans is also well priced versus other options.
That's what prompted Ecoegg's brand and marketing head, Lisa Whalley-Smith, to explore Beans as an all-encompassing solution to the challenges above. A bonus was that both Beans products, loyalty program, and referral program, were easily integrated with a host of other ecommerce apps and social media platforms to yield the best results.
Simplicity of usage
Ecoegg chose Beans due to the ease with which they could understand the platform's features and how easy it was to get started using the app. To use Beans, store owners do not necessarily need technical experts because the platform was designed for users with the least experience in ecommerce. In addition, the simple three-step process, which outlines how merchants can set up their rewards and referral programs to increase sales and boost purchase frequency, was easy to follow.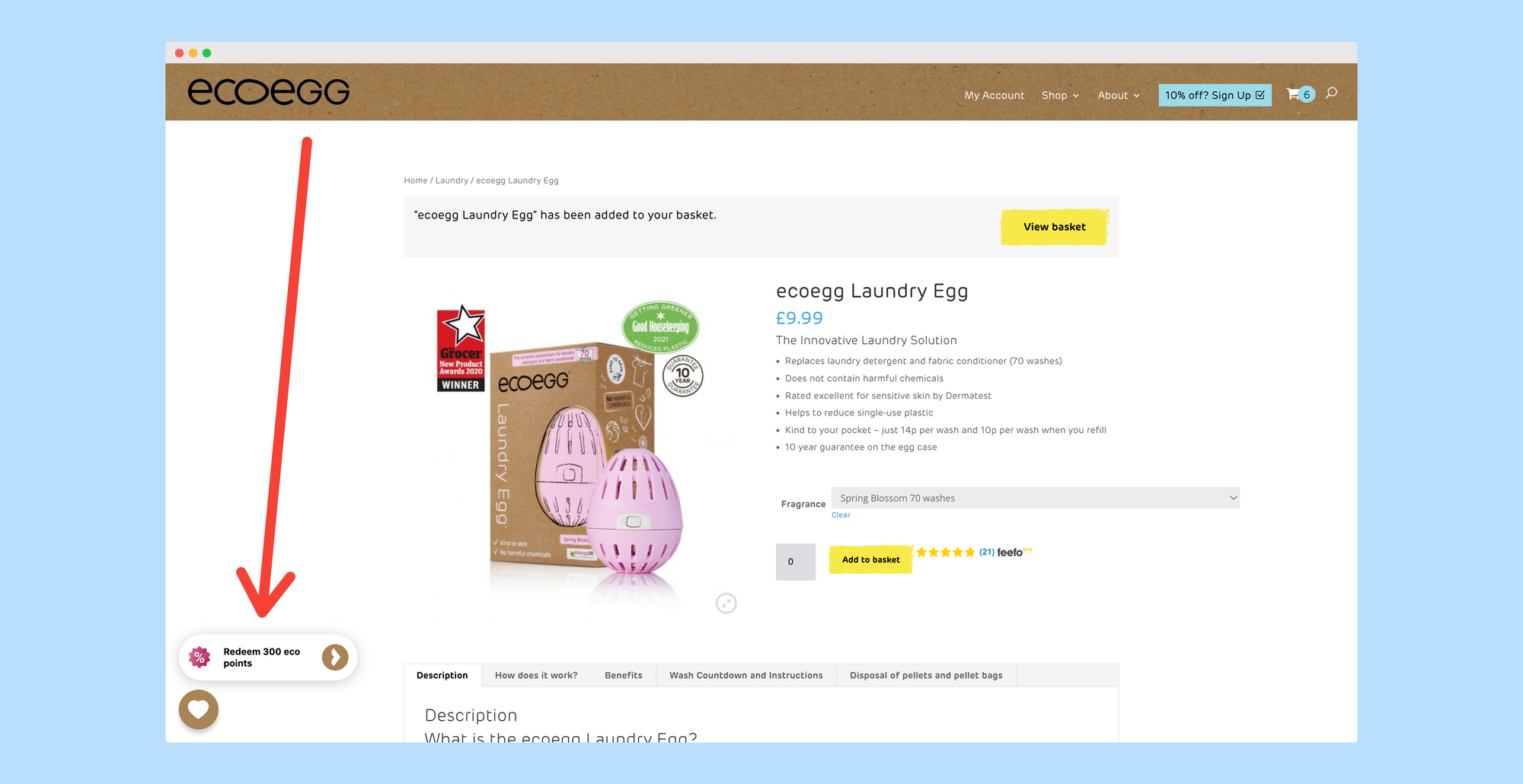 Visual appeal and calls to action
A tour of the Beans website and landing page gave Ecoegg a good idea about the kind of results they could be getting. Beans carefully and briefly explains the benefits of integrating its referral program and loyalty program by demonstrating how it works and its attractive features through clear and accurate graphics. Beans adds an illustration of how its rewards and referral program would look on various ecommerce stores while explaining its features and benefits in the simplest way possible. Coupled with calls to action and a visible free trial button, Ecoegg's marketing team recognized how the integrated marketing platform exemplified the features it was promoting and knew what it was about.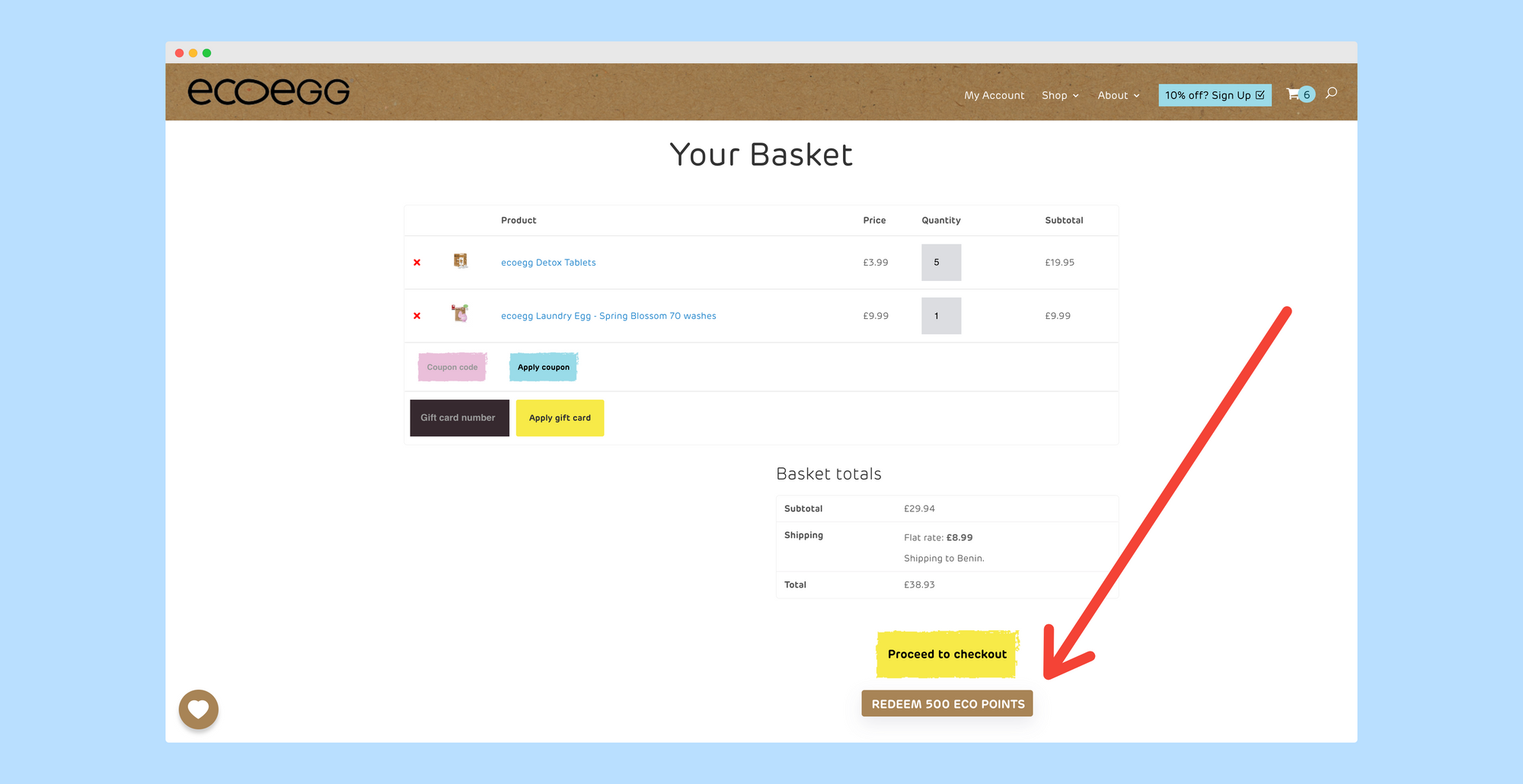 Pricing
Lisa noted that another compelling reason she chose to try Beans was that its products were well-priced compared to other competitors. As an ecommerce start-up at the time, she found the prices for activating the Beans referral program and rewards program were better and offered more value for money than its competitors.
The Beans solution
🎁 Loyalty program
👩‍👧‍👧  Referral program
Beans' role in fuelling the success of customer engagement was profound yet simple. The goal was to get visitors and customers to place their first, second, third, tenth order, and beyond. This was achieved by setting up a rewards program for the merchant with the Liana app and then setting up a referral program with the Bamboo app. We'll look at both programs and how Beans got rid of ecoegg's initial challenges.
The loyalty program
Join and get 200 points
Get 5 points per pound (GBP) spent
Get 2x points when you spend more £30
Get 3x points when you complete a second purchase within 90 days
Get 500 points on your birthday
A good rewards program platform does not just enable merchants to set up incentives, but more importantly, incorporates irresistible calls to action that create excitement even for a new website visitor. From the home page, visitors are invited to join the rewards program and earn eco points. This ensures that customers know that a rewards scheme exists and that they can save more over time by being loyal to the brand.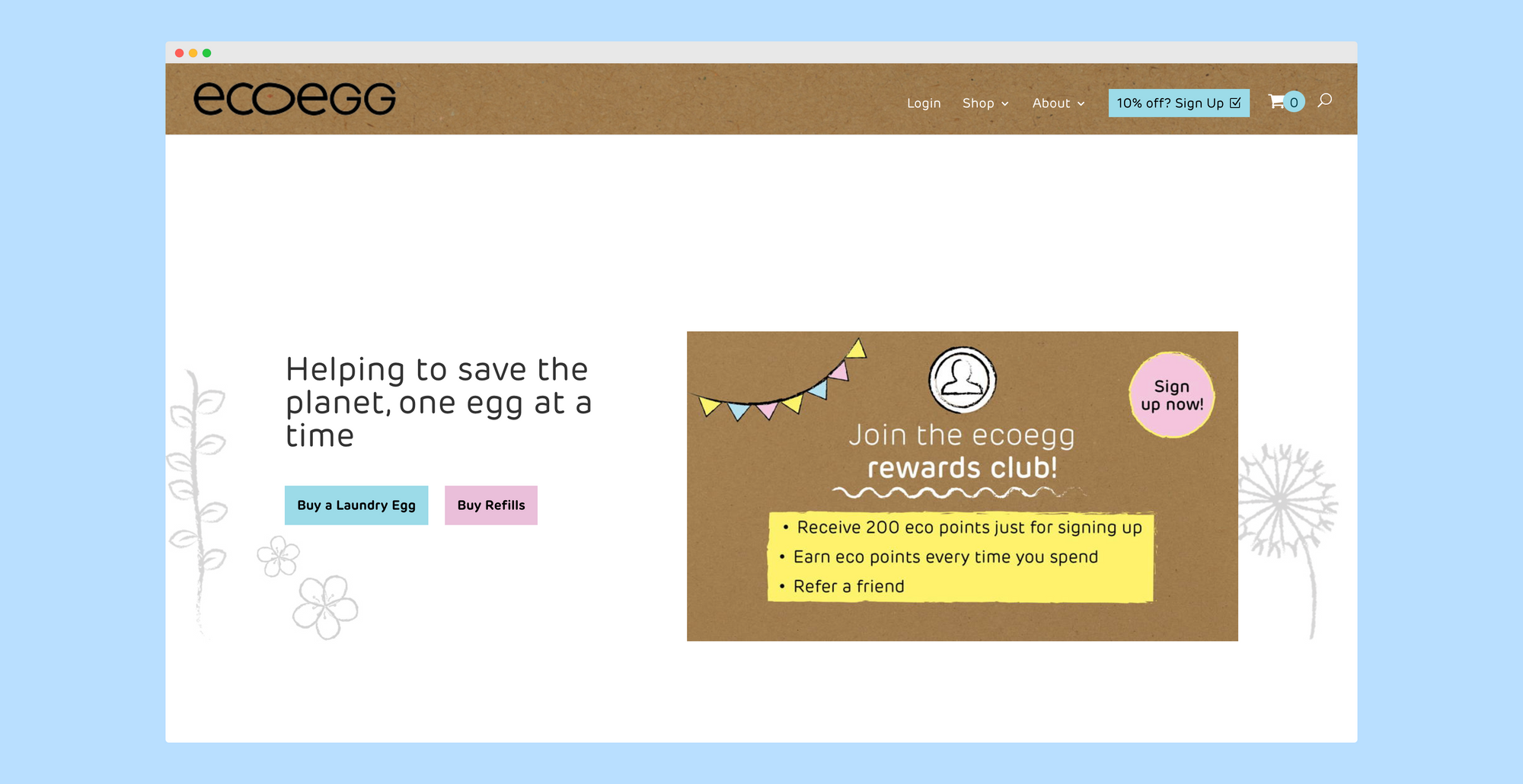 The rewards program page is visually appealing, informative, and easy to understand. A clear "Thank You" message and a call to action for customers to join the rewards program are highly visible on the explainer page. Customers enjoy feeling appreciated for their patronage; thus, they will be motivated to join the rewards program of a brand that makes them feel this way.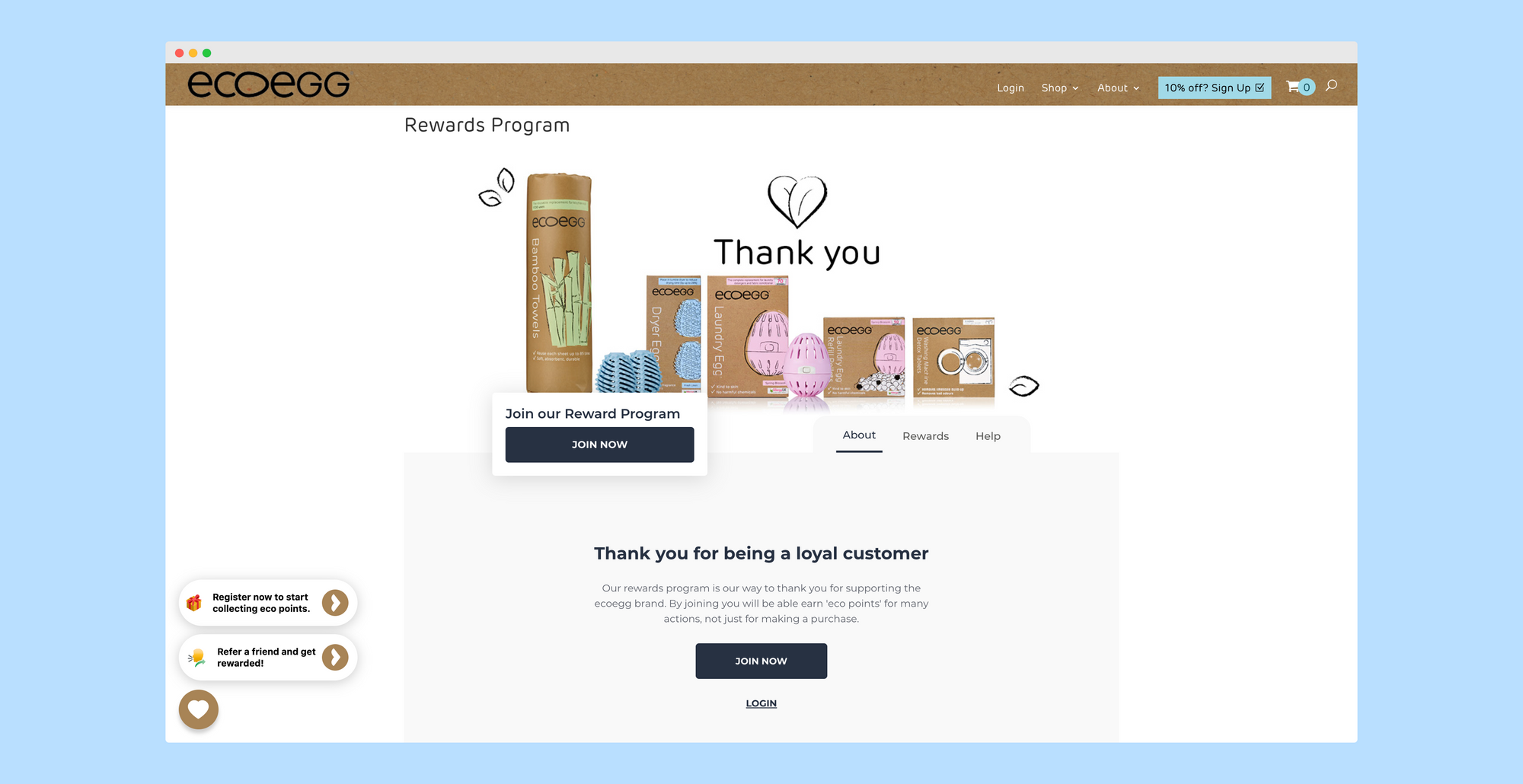 Another great thing is that the explainer enforces the idea of appreciation and value by stating that customers who join the loyalty program will earn points for actions, not only when they make a purchase. The brand displays clearly all the ways their loyal customers can earn reward points and how they can use the points they earn. The features here are enabled by the rules on the Liana app, which allows merchants to set the number of points they allocate to every action.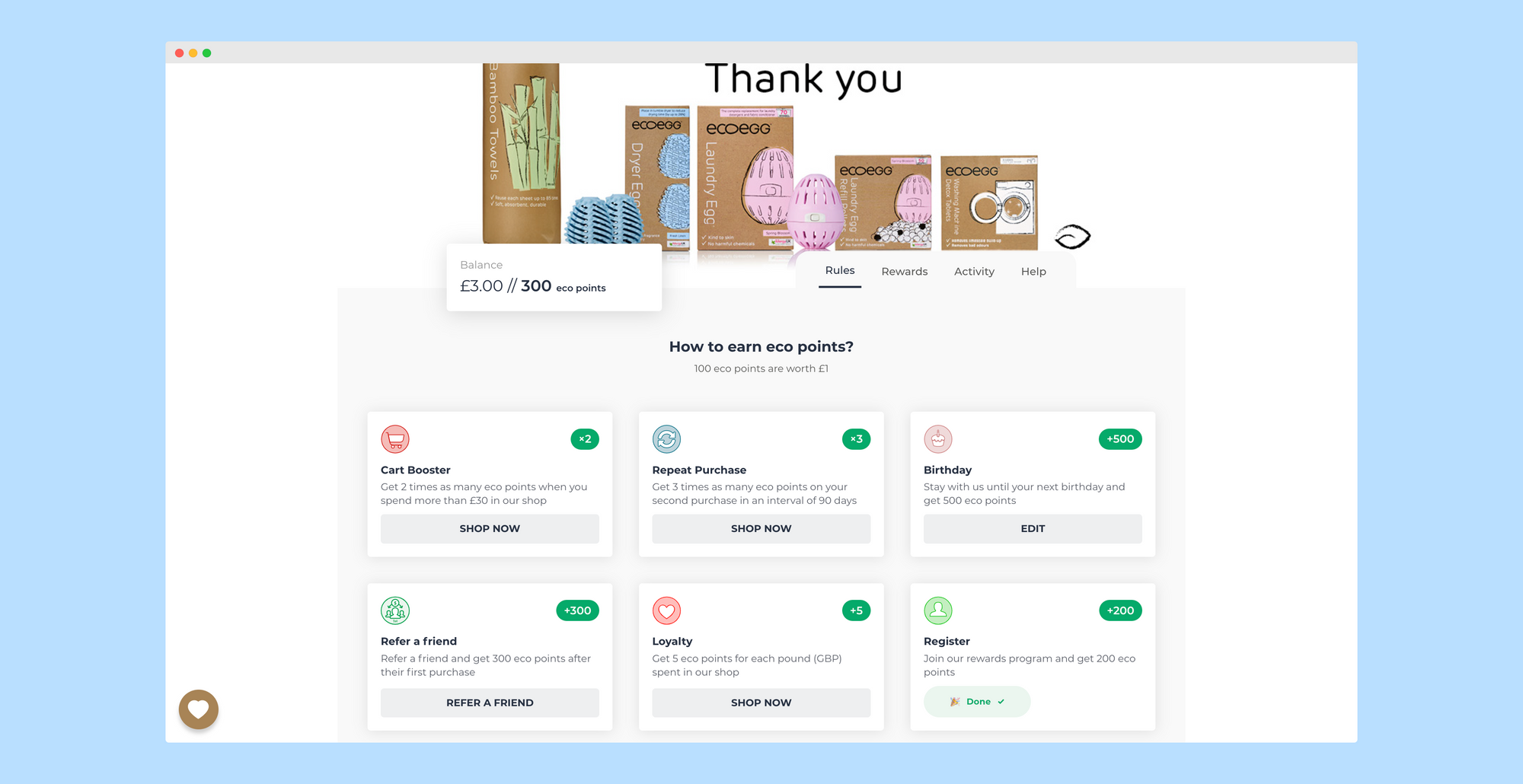 The repeat purchase rule is set to reward customers three times as many eco points on their second purchase within 90 days. The way this rule was set was strategic in increasing the repeat purchase rate in the online store. Finally, the Cart booster rule, which enabled buyers to earn two times the number of eco points when they spend more than 30 euros, was a great way to increase basket spending on the website.
The merchant also utilizes the birthday rule by offering 500 points to customers who stay loyal to the brand till their next birthday. This makes the brand closer to its customers and its marketing more personalized. It is also a great opportunity to give a long-time customer another reason to shop again, therefore reducing churn in the long term.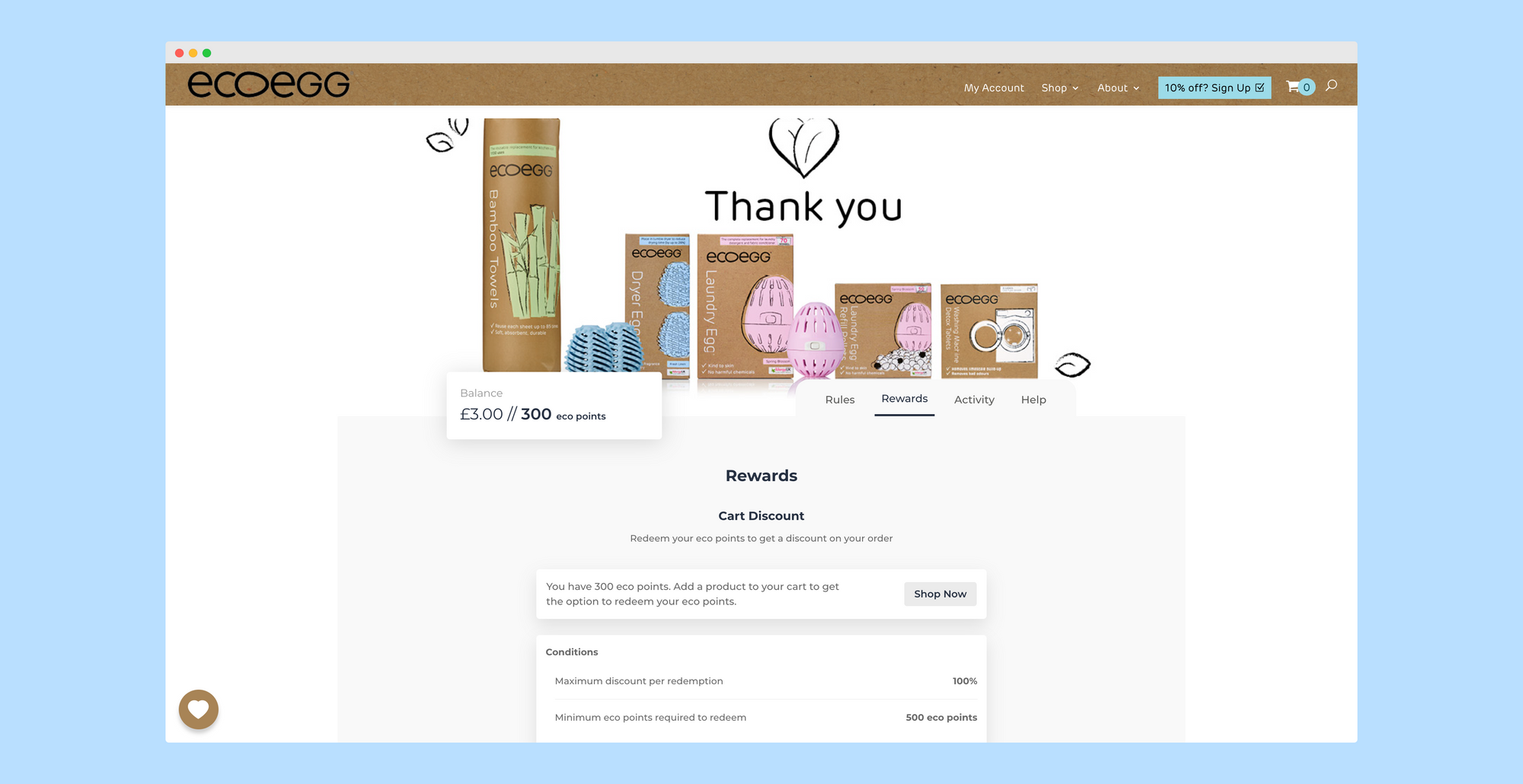 To ensure that the rewards scheme is profitable and advantageous to loyal customers, ecoegg set a redemption minimum of 500 points. This forces customers to spend over a certain amount in the shop before redeeming their points.
Liana's excellent features effectively helped solve Ecoegg's initial problem of increasing customer retention rate, purchase frequency, and buyer spending rate.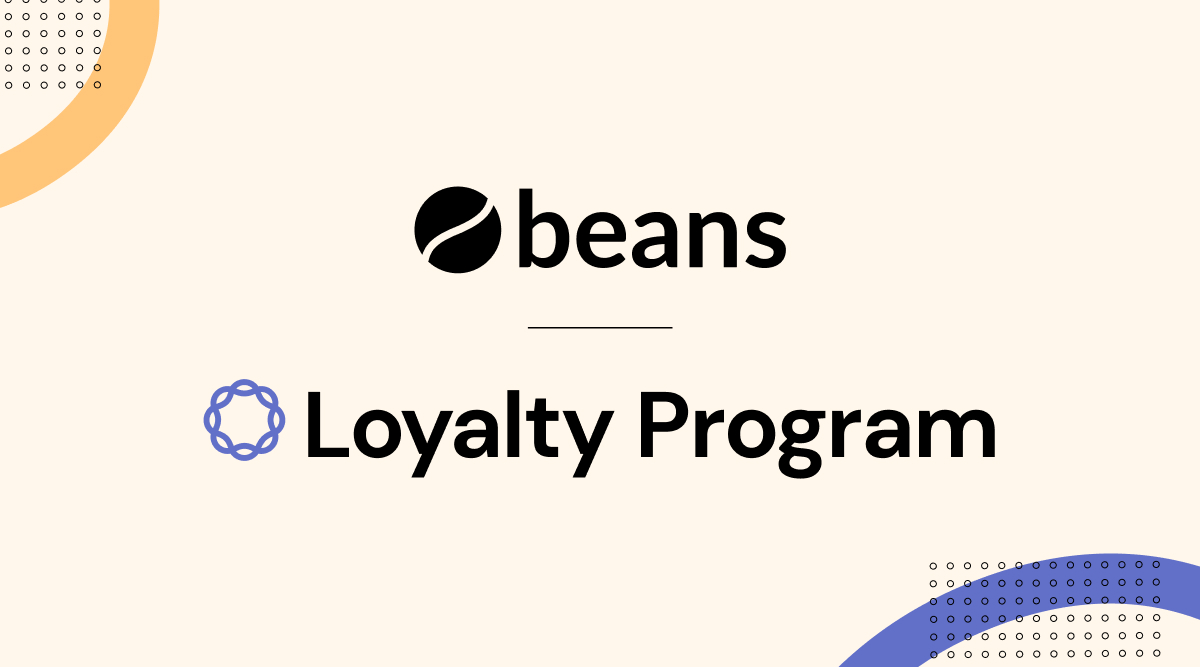 The referral program
Give 15% to a friend
Get 300 points when they place an order
Referral programs are vital in acquiring quality leads and eventually increasing the revenue of ecommerce stores. Beans' app provided practical solutions for Ecoegg by enabling the merchant to create an efficient referral program that boosted customer engagement and increased sales. The idea behind referral programs is to turn loyal customers into advocates for your brand. Several people's purchasing decisions are influenced by the testimony of the people closest to them.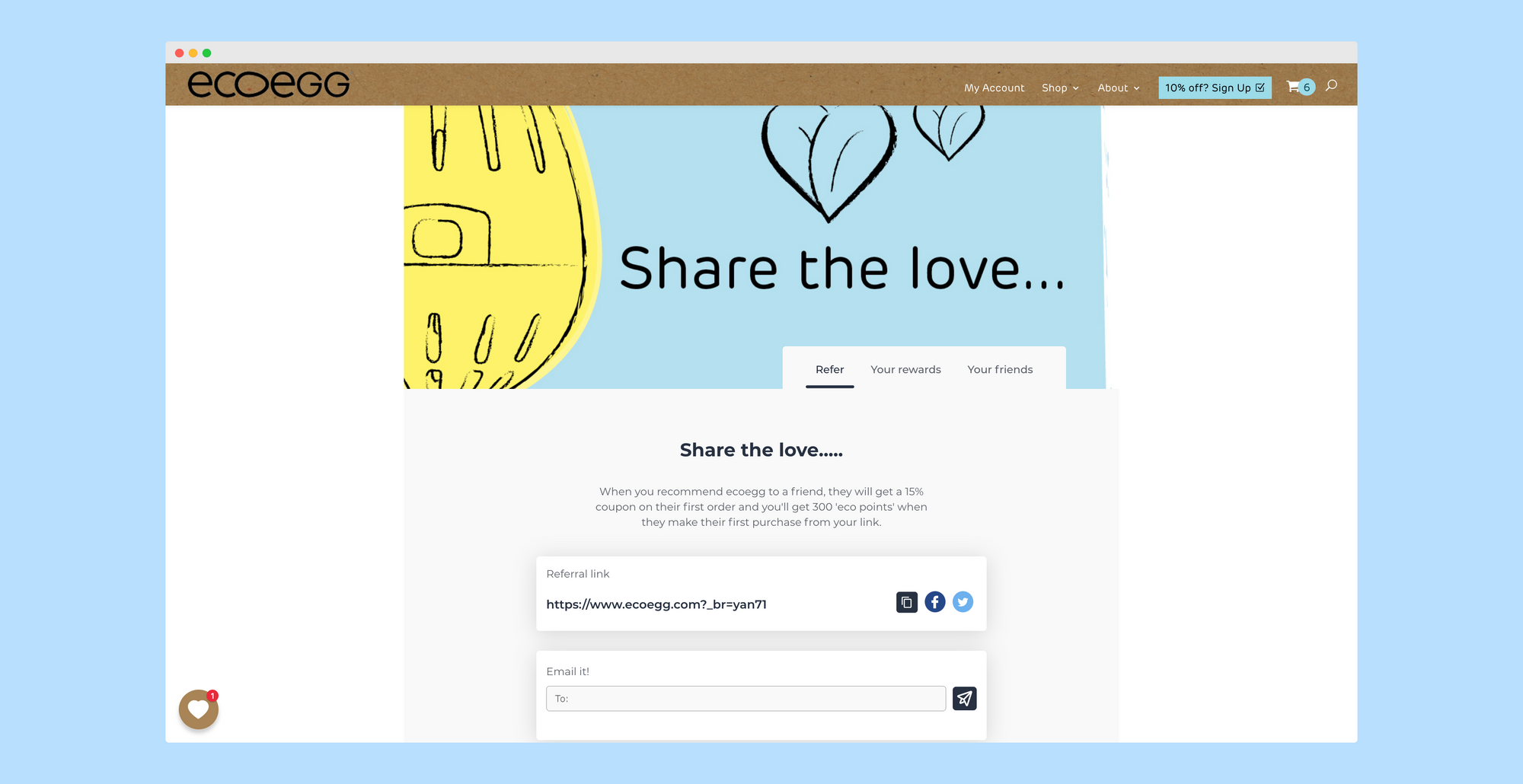 By creating a referral program with Beans, Ecoegg allowed its customers to share a referral link to their friends and loved ones and earn a reward in return for a successful referral. On Ecoegg's referral page, customers are prompted to share their love of its products. By sharing a referral link, customers can give their friends a 15% discount on their first order and are rewarded with 300 eco points when the referred friend makes their first purchase through their link.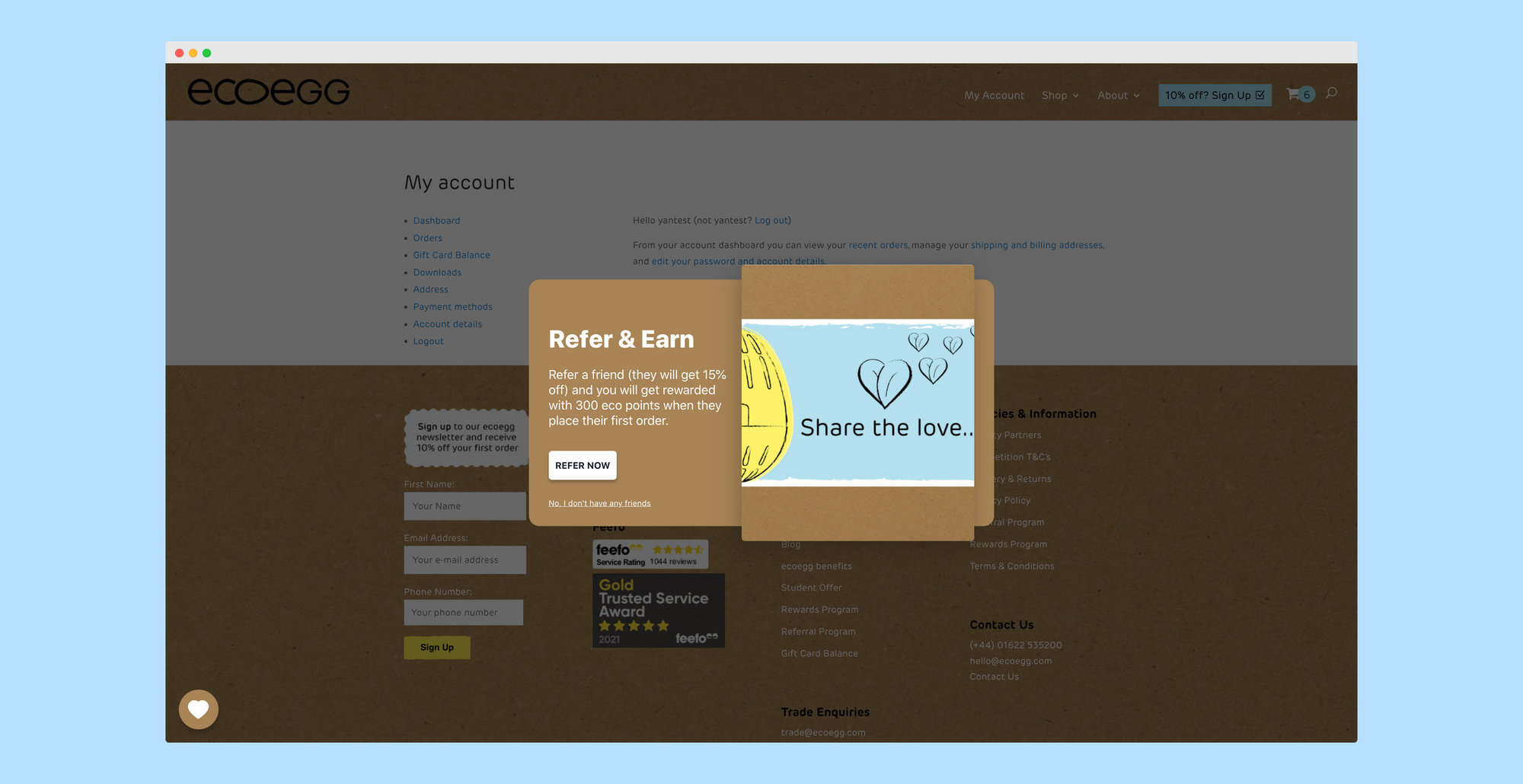 To boost referrals, ecoegg has set up a post-purchase popup that shows to customers just after they complete a purchase and invite them to refer a friend. Indeed, the best moment to ask someone for referrals is just after they have finished using your product and are satisfied.
The valuable rewards attached to taking this action were highly influential in motivating customers to sign up to promote their referral links.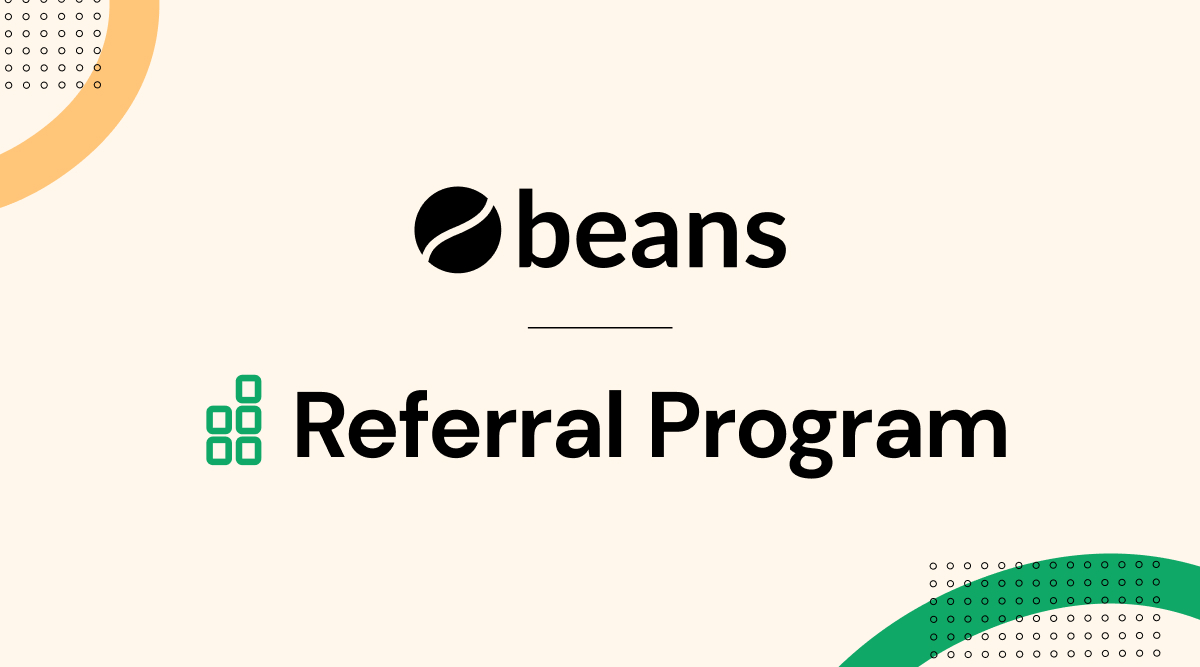 The results
👩 20,000 members
💰 600% return on investment in 6 months
📊 6% click rate on rewards program reminder emails
📈 20% redemption rate
In a matter of six months, the company gained the membership of more than 20,000 customers in their flagship loyalty program. Customers reacted very positively to the rewards scheme and were eager to use it. This has helped the store get more repeat purchases from new and existing customers. Email notifications played a big role and getting customers engaged. 25% of customers clicked on the welcome email notification to the rewards program with more than 80% open rate. Subsequent monthly email to remind customers about the rewards program has a 6% click rate and 55% open rate, which is very high for a marketing email. Moreover, 20% of customers that have accumulated enough points have completed a redemption. These statistics show how much engagement the rewards program has driven in its first six months.
In addition, to get customers to be very active in the rewards program, ecoegg, which has already been growing through the power of word-of-mouth marketing, is now able to track and boost traffic generated through referrals. Aside from generating more leads and potentially loyal customers, the brand experienced an increase in tracked referral revenue. As a result, Ecoegg now receives more frequent orders, enjoys a higher purchase frequency rate, and has boosted its return on investments through the Beans platform by at least 600% in just launching its rewards and referral program.
We have had over 20,000 customers join our reward and loyalty schemes in just six months. Customers love collecting their points for each order, and we have been very grateful for them sharing their love of our products with a referral link. We can see the revenue generated from repeat orders, more frequent orders, and referrals and have seen a healthy return on the initial investment of around 600% so far. We will be continuing to use Beans in 2022.
Ecoegg's story is but one of the many testimonies Beans has received regarding the success and effectiveness of its loyalty and referral apps. Your ecommerce store is a click away from generating similar and better results through Beans' revenue-generating and retention-increasing apps.