The e-commerce landscape has drastically changed in the past years. The recent technologies (Shopify, BigCommerce, WooCommerce) have remarkably lowered the entry barrier for small and medium size businesses that want to sell with their own online shop and not via a marketplace. On top of that, drop-shipping companies have given the opportunity to many entrepreneurs to sell online with little investment. Today, they are millions of online shops, the e-commerce market has never been so competitive and customers have so many choices. Ultimately what makes a business win a customer is good offering and the best possible customer experience. Which can be summarized as whoever has the best marketing strategy in term of acquisition and retention wins the market as they would be able to acquire customers at a lower cost and to retain them longer.
This has created a growing demand for sophisticated marketing software from customer acquisition to conversion to retention. Each software was getting more specialized trying to fix a specific issue. Then they realize that this issue is somehow connected to other issues. Loyalty programs for example try to solve customers retention issue with a points system that reward customers for spending more in your shop. At the same time the loyalty program won't work well if it is not emailing your customers to remind them that they have points to spend in your shop. And you want these email notifications to be customized to look like the other marketing emails you are sending so that you can provide the most brand centric experience to your customers. Ideally, you also don't want these rewards program notifications to be sent the same day you are sending your marketing emails so as to not compete with each other and to not suffocate your customers. The loyalty program needs to display a popup or top-bar or a widget to let new customers know about it. And you probably want to customize that display so that it fits with your brand guideline. The same applies for a referral program.
In order to provide the most integrated marketing experience to your customers, you need to have a great control on the software you are using and make them work well with each other. Failing to do so will make the customer experience scattered and clumsy.
Many software providers have responded to the issues by trying to provide better integrations. Integration is an attractive idea which promises to fix the clumsiness of the user experience. Integrations are greats and are here to last, however the possibility of what you can do with integrations is often limited. The amount of data that can be shared between two applications via an integration is often restricted and sometime requires additional manual work. For example, for many years when live chat support was starting to get trendy, many people wanted their live chat support to be integrated somehow to their email support channel. After a few years of trying to make it work that way, with the arrival of new advance support tool like Intercom, people realize that it just did not make sense to use Provider A for live chat support and then Provider B for email support. You actually get way more value by using Intercom for both your email and live chat support. It is easier to track customers and it also greatly improve the customer experience. Eventually almost all other software providers including industry leaders such as Zendesk moved in the same direction. Today it seems inconceivable for any modern company that wants to provide a premium customer service experience to use different system for live chat and email support.
When it comes to marketing, simple integrations such as to be able to automatically set up your popup in accordance with your marketing email is still hard to accomplish, unless you are willing to put in a lot of manual labor. This is the issue that Beans is trying to fix. By deploying the first all in one marketing solution for e-commerce, Beans promises to make all your tools work which each other seamlessly and easily.
Connect every marketing interactions
How to segment referred customers to send them a special marketing campaign? Can you email referred customers who have not completed any purchase separately from those who have already purchased? Is it possible to design a special referral program campaign  for your most loyal customers? After all they are the most likely to bring your business the quality referral it needs.
Unify the shopping experience
One of the disadvantages of trying to integrate different marketing tools, is that the UX/UI can be scattered unless you have a dedicated marketing team that is working hard to make everything look alike, and even though, they would probably be doing repetitive tasks quite often which is time consuming and inefficient. For example the email template from your email software will just be totally disconnected from your  popups which will just be totally disconnected from your referral program page design.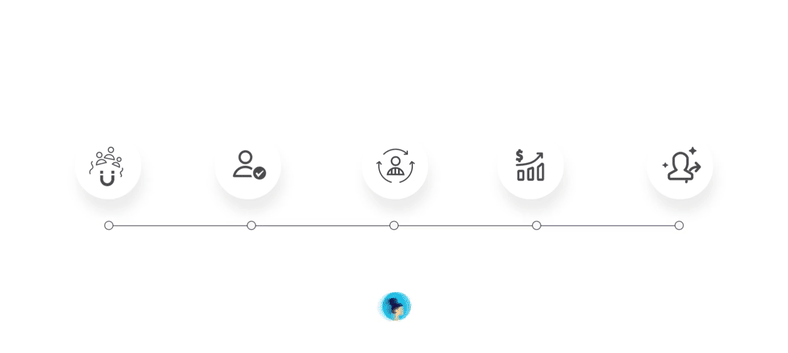 Control buyer journey from end to end
Few things are more annoying than receiving multiple emails from a business inviting you to participate in its referral program when you have signed up a couple of days ago and have not yet completed your first purchase. Would it not make more sense that a newly referred customer receives activation emails explaining how your products are different from what is already available on the market?
Beans' ambition is to help you achieve all these in few clicks. By making your marketing intelligent, you will be able to provide a better marketing experience to your customers and significantly increase the conversion rate of your campaigns.