About Loving Foods
🏬 Founded in 2016
🇬🇧 Based in the UK
🌍 Delivers in EU + UK
🍚 Food and Beverages Industry
Established in 2016 by family trio Mendel, Adam, and Faye, Loving Foods was created to fill a gap in the market for natural, unpasteurized fermented food and drink. Loving Foods produces a range of over 20 organic, gut-friendly products, including Sauerkrauts, Kimchis, Kombuchas, and Hot Sauce. Everything is made locally, from all-natural ingredients, at their eco-friendly facility near the historic Bridgewater Canal in Manchester. Their products contain no artificial colorings, flavorings, preservatives, or stabilizers: just fresh organic fruit, vegetables, herbs, and spices.
Every batch they produce is hand-made and fermented for a minimum of three weeks and is always 100% raw and unpasteurized. This is critical to the various health benefits of fermented food that readers will have heard about in the media recently. Unfortunately, most commercial products are either not properly fermented or have been pasteurized, destroying all of the beneficial bacteria and enzymes.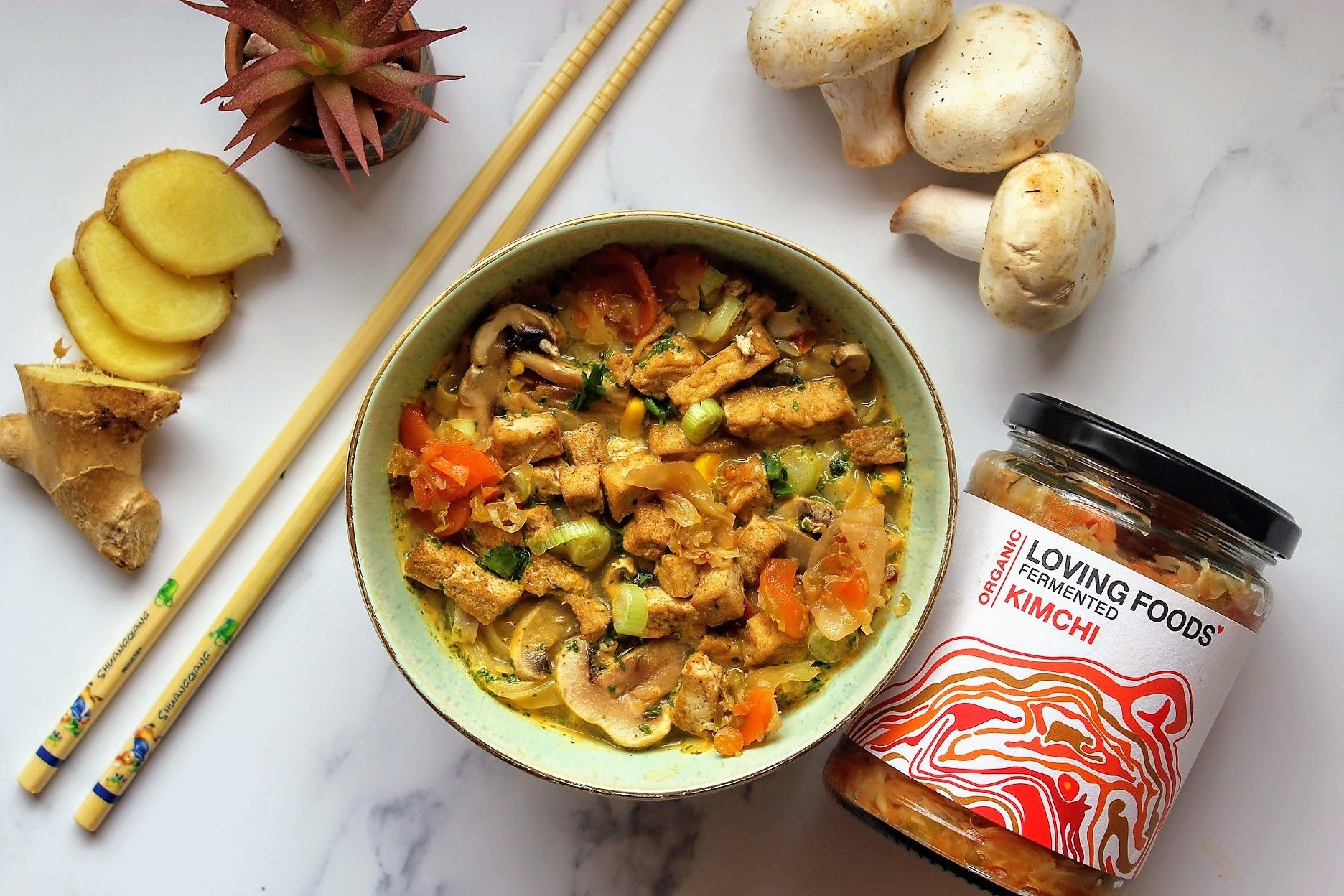 The company's products, the Hibiscus & Lime Kombucha and Ruby Kraut, were named the Greate Taste award winners for 2021. As of February 2022, the company has won a total of 6 awards, earning them the title of Great Taste Producer. As the world recovers from a global pandemic, health and immunity are high on everyone's radar. Fermented foods and drinks contain a wide variety of vitamins, minerals, acids, and enzymes - not to mention beneficial live bacteria - that can have extremely positive effects on gastrointestinal health, immune system function, and overall health.
The challenges
❤️ Make loyal customers feel loved
👩‍👧‍👧 Increase loyal customers base
📦 Increase repeat purchases per customer
"We have a lot of regular, dedicated customers who are passionate about our brand and our products. We wanted a simple way to reward them for every order, to keep them coming back, and thank them for shopping with us."

-- Adam Goldwater, Managing Director
Make loyal customers feel loved
As quoted above, Loving Foods understood that as a building ecommerce store with a good inflow of customers, it needed to make its customers feel more appreciated. While it observed that its customer base was largely passionate about its products and loved its brand, it still believed that it had to put more effort into maintaining a lasting relationship. Setting up a good rewards program is one of the most plausible strategies for ecommerce brands. They offer companies the opportunity to show gratitude to their customers. When customers feel appreciated, they are more likely to continue patronizing products and better recommending them to their loved ones.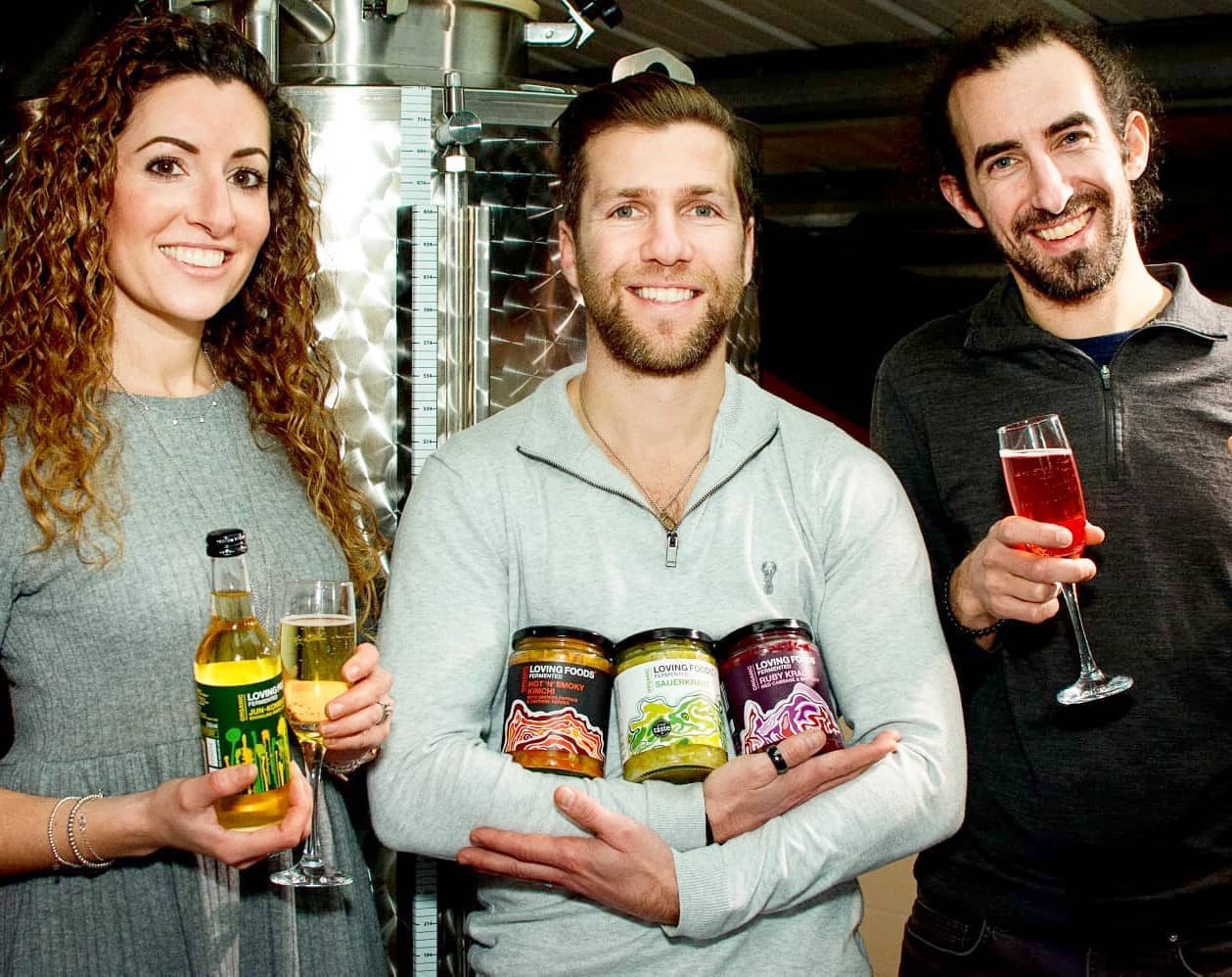 Get more loyal customers
Another challenge most likely faced by Loving Foods was getting a large number of repeat customers. A study by Adobe Digital Index reveals that 41% of an ecommerce store's revenue is generated by just 8% of its customers, and this 8% is made up of repeat customers. This proves how profitable it is to expound more effort in retaining customers. Another advantage of having repeat customers is that it is easier to sell to them; they are more likely to order frequently, spend more with each order, and easily turn into brand advocates. Therefore, loving Foods wanted to set up a retention system that enabled first-time visitors and shoppers to keep coming back to purchase from their store.
Increase repeat orders by customer
The epitome of having a truly loyal customer base is thriving even without incurring heavy traditional advertising and marketing costs. When a brand achieves customer loyalty, increased sales are no longer a problem; profit becomes steadier, skyrocketing, and customer lifetime value increases as well. Why? Building customer loyalty improves the customer retention rate; thus, you seldom lose customers because they are consistently delighted with your products and the perks offered. Again, when customers become loyal to your brand, they do most of the marketing for you by word of mouth and through your referral program. Thus, you keep receiving orders from them and enjoy having new shoppers troupe into your store as a result. Since Loving Foods lacked a rewards program, it was hard to incentivize customers to keep returning and stick to the brand. However, this was a challenge the company was willing to solve.
Why Loving Foods chose Beans
💲 Attractive pricing structure
🧩 Easy Integration with Shopify
"Beans offers a cost-effective solution, fully integrated with Shopify."

-- Adam Goldwater.
Cost-effective solution
Beans was the perfect choice for Loving Foods because of its attractive pricing structure. Aside from the platform's numerous benefits, Beans surpasses its competitors to provide the most cost-effective solution to ecommerce business owners. Unlike other software, Beans is an all-in-one platform. This means that once you sign up with Beans, you gain access to all its features, including its Loyalty program, referral program, email automation, smart popups, notification widget, and social media automation apps. Instead of paying for all these features on different platforms, you can create a highly automated, personalized, and unified marketing experience with all of Beans' features for a more reasonable price. The most remarkable thing about Beans is that its pricing is flexible and based on your store's monthly order volume. In essence, you don't spend as much if you're still growing. Once your business takes off, you can increase the volume and scale your strategy. There is also the option to pay monthly and annually based on the company's preference.
Easy integration with Shopify
Another important reason Loving Foods chose Beans is because of its ability to fully integrate with the brand's shopping cart system, Shopify. The Beans platform is built specifically for ecommerce; as such, it can easily and fully integrate with a variety of shopping cart systems, including Shopify, Woocommerce, Bigcommerce, and Shopify Plus. Its simple integration helps you manage your online store while creating a solid unified marketing experience for your customers. Apart from being able to integrate with shopping cart systems, Beans API can be integrated with your preferred Point of Sale system, CRM, or any software in your ecommerce stack.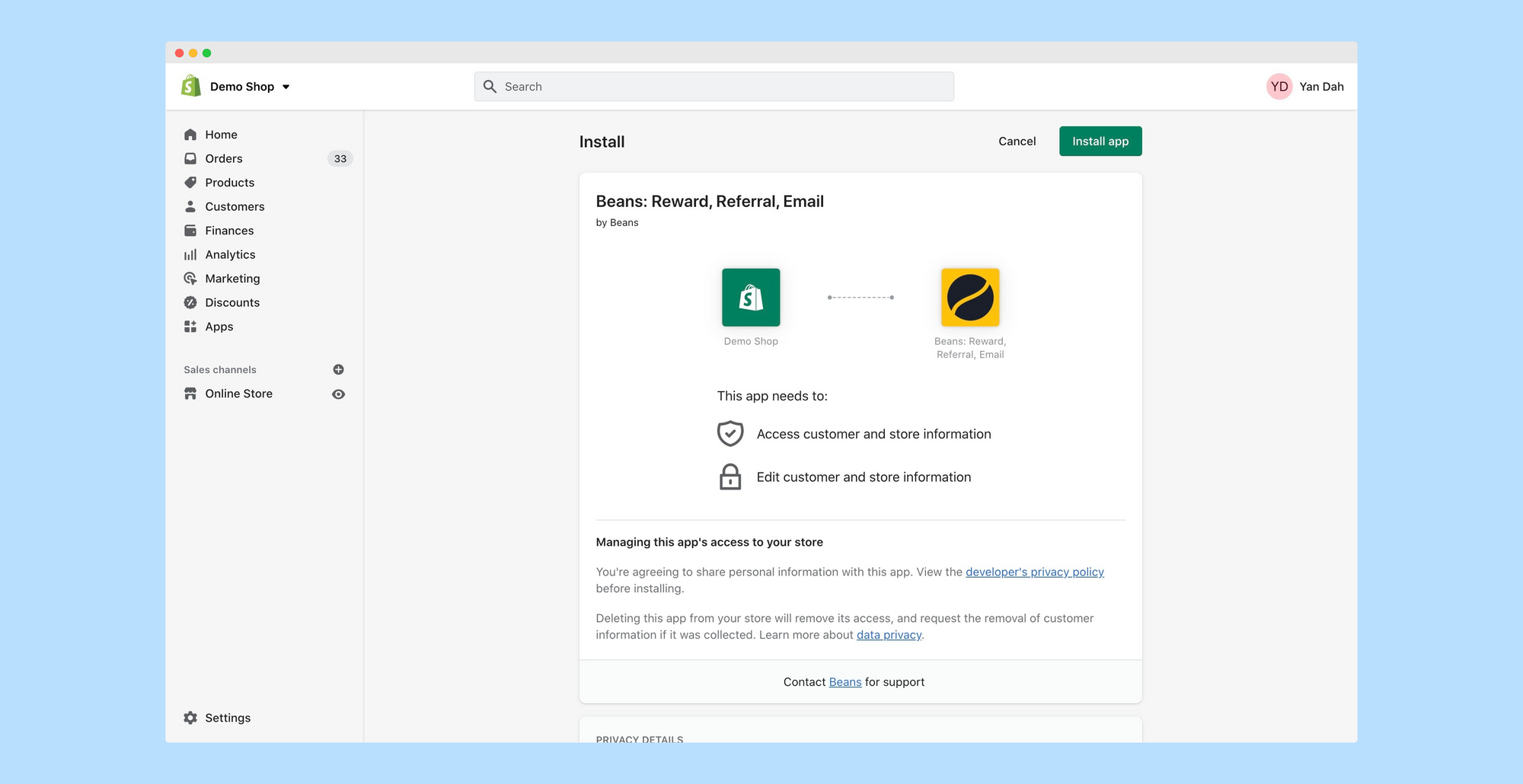 The Beans solution
Rewards Program
Join and get 200 Gut Bugs
Get 5 Gut Bugs per dollar (USD) spent
Like our Facebook page and get 100 Gut Bugs
Follow us on Instagram and get 100 Gut Bugs
To enable Loving Foods to make its customers feel more appreciated and incentivized to keep returning to their store, setting up a rewards program was the exact tweak the brand needed. The goal here was to create a program that motivates new and existing customers when they make a purchase or take certain specific actions in the store. The merchant set up a rewards program using the Beans loyalty app and customized its rules to suit their desires and resources. Let's look at Loving Foods' rewards program and how Beans has helped eliminate its challenges.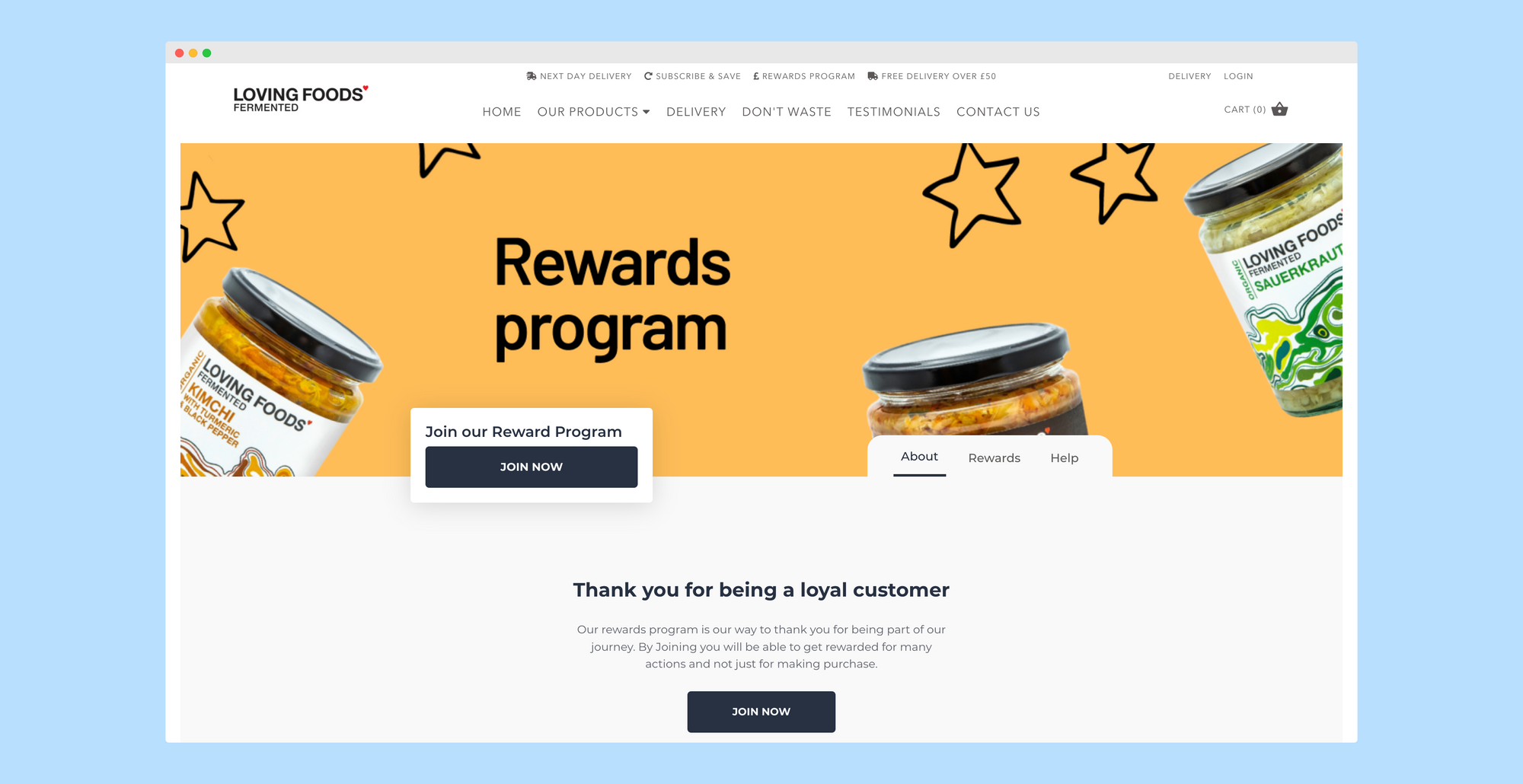 With the Beans platform, Loving Foods was able to create a simple yet attractive dedicated rewards page for its loyalty program. The page contains several Call-to-actions, mainly encouraging new and existing shoppers alike to join. The first message explains how the program would benefit its members as well as why they need to join. Then, with a clear prompt, the company explains that the ultimate goal is to show customers their appreciation for being loyal to the brand.
Loving Foods has made good use of Beans' customization features, giving it a reward points name that perfectly fits the brand. Members earn Gut Bugs (points), and the general rule set is that 100 Gut Bugs are worth £1.
How it works
Once a member joins, they earn 200 points. Loving Foods can reward a certain number of points to customers who complete specific actions with Liana's loyalty rule features. For instance, members get 2 Gut Bugs for each pound they spend in the shop.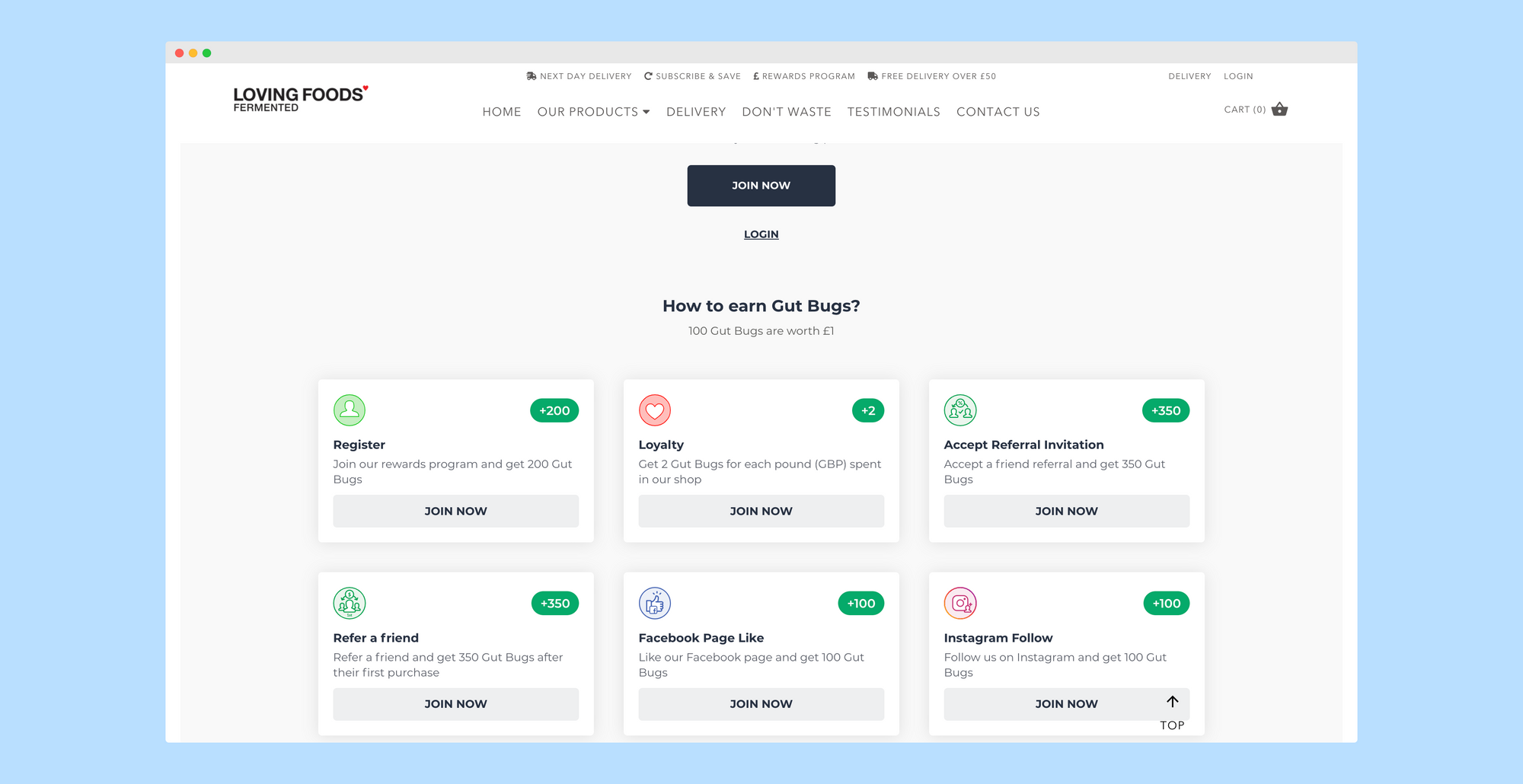 Another rule is that members are rewarded 100 Gut Bugs if they like Loving Foods' page on Facebook and 100 Gut Bugs if they follow the brand on Instagram.
One of the most attractive features about this company's reward rules is that there are no minimum caps on the number of Gut Bugs needed to redeem a discount. This gives the loyalty program members enough flexibility to accumulate as many points as possible and redeem the discounts as many times as they please.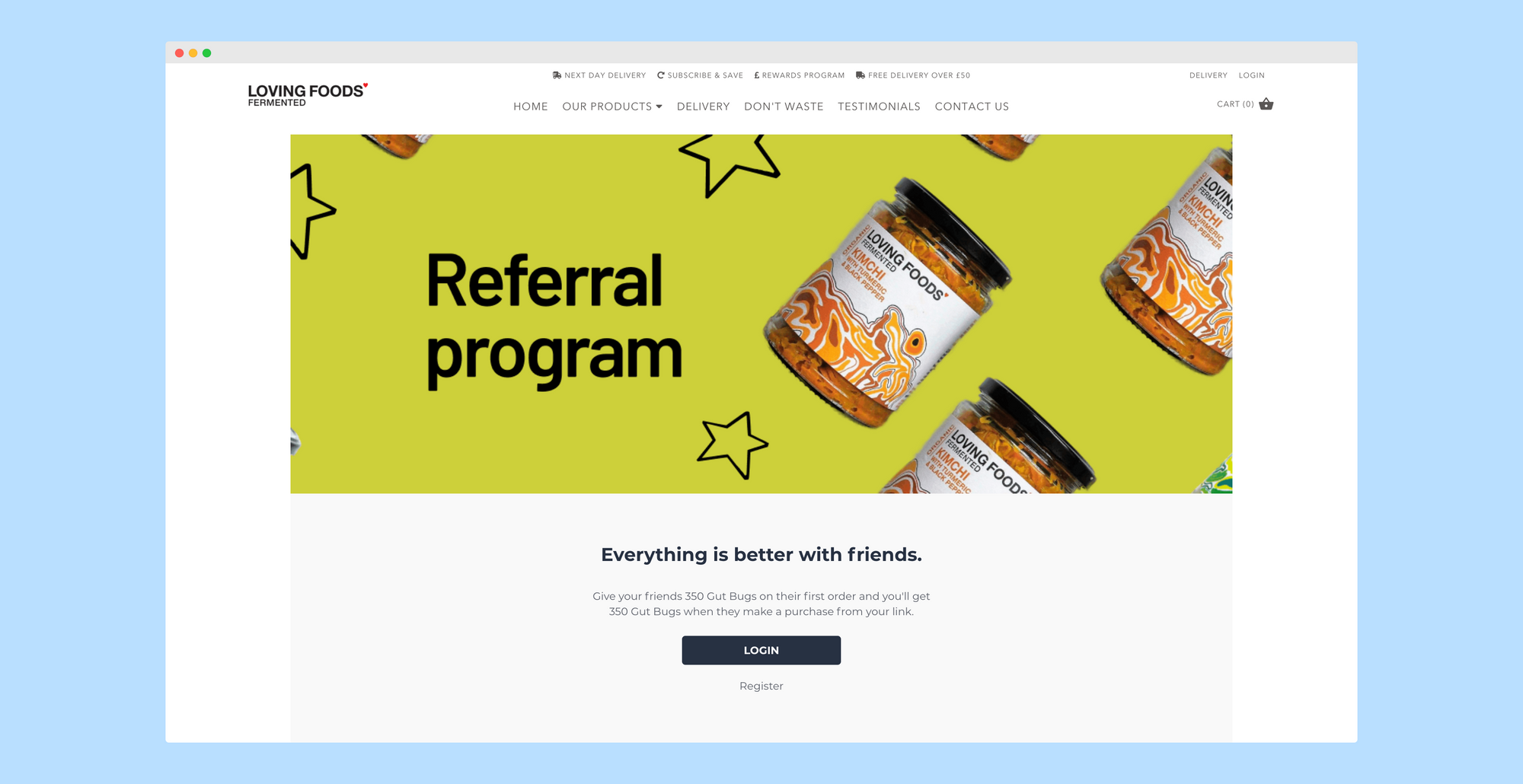 Loving Foods has also implemented something unique in its program worth emulating. The company fused its referral program with its reward program in such a way that both parties could benefit immensely from it. The company set a rule that offers new members 350 Gut Bugs for accepting a referral invitation. It also set a rule that rewards existing members with 350 Gut Bugs for referring a friend who makes their first purchase. Since the rules set for the referral program are pretty straightforward, it was a step in the right direction to add it to the set of perks on the page.
The result
👩 15,000 members
💰 4,960% return on investment in 2 years
📊 51% redemption rate
"We now have nearly 15,000 members who regularly use their reward points for discounts on their orders."

-- Adam Goldwater
After implementing its rewards program with the Liana app, Loving Foods' results were outstanding. As of this writing, Adam reported that they now had almost 15,000 loyalty program members who were actively using their reward points to redeem discounts on their orders. In addition, customers have been very active which has led the brand to observe a cumulative redemption rate of 51% over the first 2 years of experimentation. This high participation is a direct consequence of the easy-to-use rewards scheme which was a no-brainer for customers who were already in love with their products.
In other words, the brand was able to track its loyal members through the creation of a rewards program. The increased number also reflects how much they have been able to increase their retention rate and improve on website visits.
Suppose 15,000 members are actively engaged in a rewards program and regularly redeem their reward points. In that case, it means they are continually ordering from Loving Foods' online store and incentivized to order even more frequently due to the rewards available. These factors denote a vast growth rate for the brand in terms of customer retention, increased website visits, order frequency, and increased profits. As for customer loyalty, it can only continue to snowball as more shoppers fall in love with their products and enjoy using their rewards. Overall Loving Foods has observed an outstanding 4,960% return on investment 2 years after starting launching its rewards program. And this statistic only takes into account measurable direct revenue through the loyalty program.
Like Loving Foods, your ecommerce store is a click away from generating similar and better results through Beans' revenue-generating and retention-increasing apps.