Loyalty programs or rewards programs are one of the most efficient ways to motivate customers to keep purchasing from you. If you are an e-commerce merchant, you may be considering the different types available and their relevance to your business.
Merchants use point schemes, paid memberships, and tiered programs among other loyalty program types to improve customer retention in their stores. While it is important to integrate these strategies, you need to choose the right type which fits perfectly with your business so that you can make sure to optimize your Customer Lifetime Value and maximize customer retention.
In this post, we'll discuss ten different types of rewards programs, break down the pros and cons of each of them and help you identify the type that fits your brand best. Before looking into the perfect loyalty program, make sure that you correctly understand the psychology and purposes of rewards programs. It is worth noting that while the type of program matters the value and originality of your rewards it also very important for its success.
1.  Points Programs
Points Programs are among the first and most popular types of loyalty programs. It uses an easily understandable system where customers earn points for fulfilling profitable actions. Usually, the points are rewarded when a customer makes a purchase, but in other cases, brands also award points for brand-building activities such as reviews, or social media engagement.  Customers can later redeem the points earned at their next purchase.
Points programs are a good fit for most businesses so long as customers make frequent purchases. They are also great at acquiring new signups because of their free-to-join nature.
Example:
Dunkin's DD Perks program uses a points system that awards 5 points for every $1 their customers spend.
Pros:
Low-risk for businesses and is easier to scale
Low barrier to entry due to free sign-up
Easy access for customers
Good for collecting data and analyzing customer behavior
Cons:
Can become complex if points value are not clearly defined
Conditions to redeem points can sometimes be overwhelming
Does not sufficiently incentivize top tier customer
2. Tier-based programs
Tier-based reward programs are a good fit for businesses with infrequent purchases. They have multiple tiers or levels of rewards that customers can advance through. The tiers are often based on the customer's purchase habits. If the customers continue making purchases, they can advance to a new tier and gain a higher reward. Since the higher tiers provide better rewards, this type of loyalty program makes top-tier customers feel extremely valuable and appreciated.
Example:
Sephora Beauty Insider uses a tiered approach in its loyalty program by providing experiential benefits. Customers who sign up at the free level get access to beauty classes and their community for free. When members spend $350 they enter the advanced tier (VIB) where they are rewarded with free products and a makeover session. Customers who spend $1000 annually are entered into the Rouge status where they get access to exclusive events and a private hotline.
Pros:
Targets and rewards high-value customers
Tailors rewards across different tiers
Motivates customers to purchase more so they can enjoy top-level rewards
Easy to differentiate your program from competitors
Top-tier members are more loyal to the brand.
Cons:
Might not motivate enough new and lower-tier customers who may not spend as much
Higher rewards may feel daunting, creating a huge barrier to entry
Requires constant communication and can be complicated
3. Membership programs
With this type of loyalty program, customers pay a premium fee for membership which grants them access to a set of perks. This type is the best fit for larger businesses that can provide solid benefits for a certain price. The membership programs usually offer annual renewals, but others offer lifetime access to the given benefits.
Example:
Amazon Prime is the most popular example of a membership reward program. Customers who join are rewarded with access to exclusive products, free one-and two-day shipping, as well as exclusive content for the year.
Pros:
Easy access to rewards for members who join the program
Instant gratification. Rewards are often attractive
Easy understanding of the program's perks
Cons:
Huge barrier to entry if customers think membership fees exceed the value provided
Requires careful design to attract more signups.
4. Cashback programs
Cashback programs are ideal for almost all e-commerce and retail businesses which receive frequent purchases. Customers earn their cashback or store credits when they purchase or spend a specified amount of money in your store.
Example:
Kohl's Cash uses this type of rewards program where their customers can earn $10 for every $50 spent shopping.
Pros:
Easy to understand since they are similar to points programs
Increases sales easily since customers have to spend more to earn more back.
Customers see a clear value
Cons:
Customers earn the same rewards irrespective of the value they bring to your business
Not compelling to irregular buyers
Difficult to stand out from competitors
5. Threshold rewards
With Threshold rewards, customers can only gain a reward when they reach a certain threshold within a given period. Similar to a tiered program, customers can advance through different levels but are required to make a certain number of purchases within a particular timeframe to gain special rewards.
Pros:
Focus on high-value customers
Programs can be easily customized to set you apart from competitors
Customer data tracking becomes easier
Cons:
Infrequent customers will be less motivated because of the given timeframes
Higher-level rewards may seem unattainable to some customers.
6. (Virtual) punch card
This type of loyalty program is viewed as one of the simplest. Customers earn a punch on their card for each purchase they make. After earning a certain number of punches equivalent to the number of times you have made a purchase, you can redeem them for a reward. They can either be run virtually, or physically with a print card.
Example: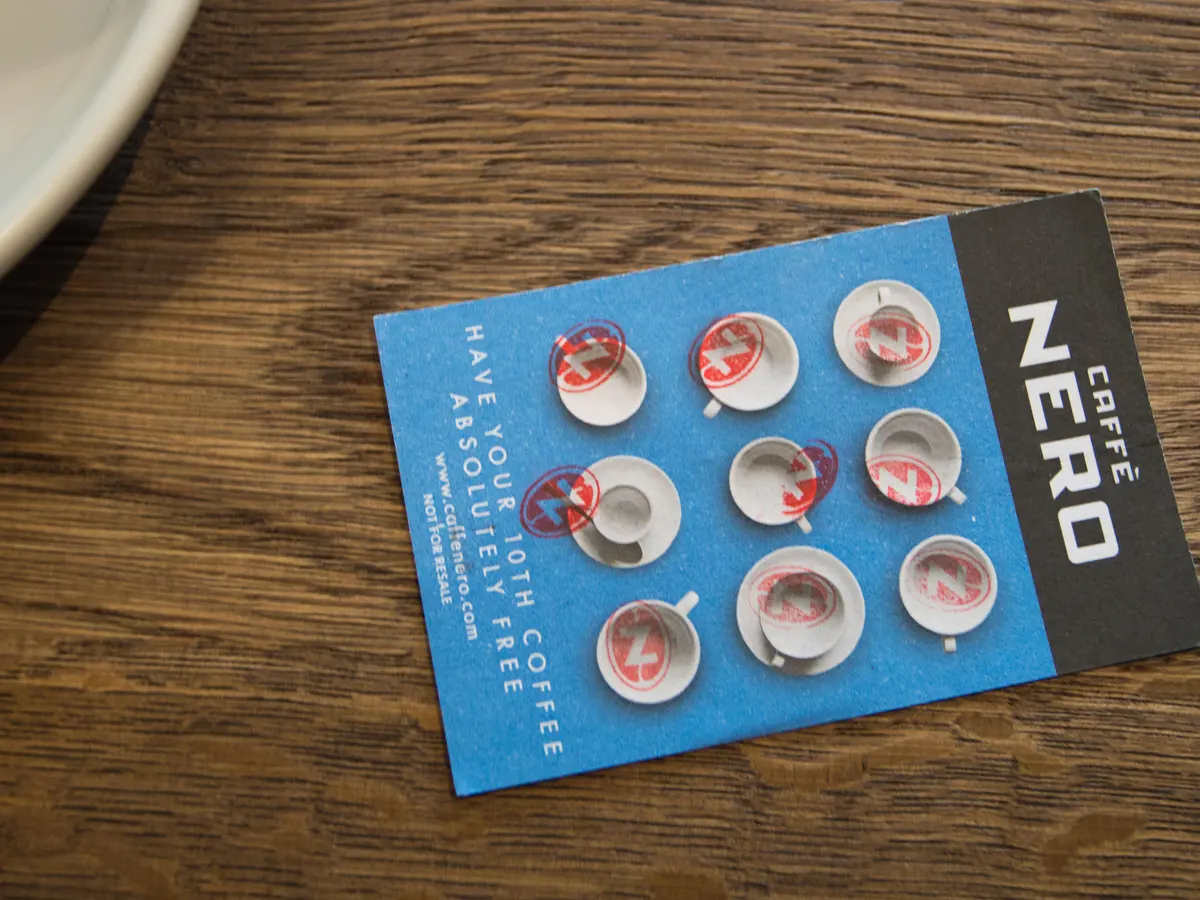 Caffé Nero offers a punch card reward where customers get a free cup of coffee after making 9 prior purchases.
Pros:
Low cost and low risks for businesses (whether virtual or physical)
Easy for customers to understand rewards
Cons:
Hard to prevent fraud, especially when cards are printed
Little room to customize
Hard to collect customer data
Rewards don't guarantee loyalty
7. Coalition Loyalty Programs
Coalition programs allow customers to accumulate points by buying from different shops. This type is operated by different partner brands with the focus on the program itself and not necessarily on the individual retailers.
Example:
Plenti was a coalition program created in 2015 by American Express. It allowed customers to accumulate points at one retailer and redeem them at other retailers within the program. Brands such as Macy's, Hulu, AT&T, and Direct Energy were participants of the program.
Pros:
Each participating brand gains access to a wider customer base
Operational and marketing costs are shared among partner brands
Customers have a variety of choices to redeem their rewards
Cons:
High risk of customers earning points with your brand but redeeming with your competitors
Individual retailers cannot differentiate themselves
Customer data collected is owned by the coalition
8. Gamified Loyalty Programs (Earn badges)
Gamified loyalty programs are suitable for retailers looking to enhance brand engagement with a customizable approach. With this type, customers earn badges for reaching certain milestones when they engage with the brand. Brands promote challenges such as trying a new product, sharing a review, or completing a quiz, and when customers perform these challenges they are rewarded with badges that can be redeemed.
Gamified programs incorporate fun into their points process, keeping customers addicted and encouraging future purchases.
Example:
Starbuck's loyalty program switched to a gamified program in 2016 which offers customers two "stars" for each dollar spent. They can then redeem those stars for certain items. Customers also play a game on their mobile app, which is used to notify them of more opportunities to earn points.
Pros:
Provides an opportunity for customization and differentiation
Instant gratification for customers due to gaming elements
Improves brand engagement
Easy collection of customer data
Cons:
Could become complicated and confusing for some customers
Results are dependent on how well you design your program
9. Referral-based loyalty programs
Referral-based loyalty programs are designed in such a way that customers are rewarded for referring their family and friends to the business. People can only join the club after being referred by an existing customer. This type of loyalty program is effective in turning customers into brand advocates.
Example:
A good example is Freshly's referral program which offers existing customers a $40 discount for each new customer they refer. The referred customer also earns a $40 discount and the cycle goes on.
Pros:
High rate of customer acquisition
Promotes brand loyalty
Drives engagement easily
Easy to join
Provides instant gratification
Cons:
10.  Tailored/Hybrid Loyalty programs
Tailored or hybrid loyalty programs combine two or more reward program types to get better results. This could include a combination of a tiered program with a points program so that customers can earn both experiential and transactional benefits. With this approach, you can appeal to casual customers with the points program, then when they sign-up, you can demonstrate the amount of value they stand to gain by advancing through your tiered program.
Example:
CVS CarePass uses a hybrid loyalty program known as the CVS Extracare program. Members can sign up for free to earn cashback rewards. To join the premium loyal tier, customers can start at a monthly $5 charge to enjoy free shipping, free delivery, and instant discounts.
Pros:
Beneficial and appealing to customers at all levels
Low barrier to entry
Easy to customize and stand out among competitors
Cons:
It may become over-complicated if care is not taken
Each of the loyalty program types can work effectively depending on the type of results you want to achieve. As an online retailer, the best strategy for a successful business is to ensure that your loyalty program has the customer at heart.