With a reach of over 17 million members, Sephora's Beauty Insider Loyalty Program is by far one of the most popular rewards programs in both the eCommerce and retail industry. Since its inception in 2007, the cosmetic brand has offered its members additional perks via discounts, exclusive promotions, and store credit cards that have enhanced their experience. While the brand has maintained its position of having a model loyalty program, it has gone through several phases to ensure that its customer base is glued to the benefits and experiences.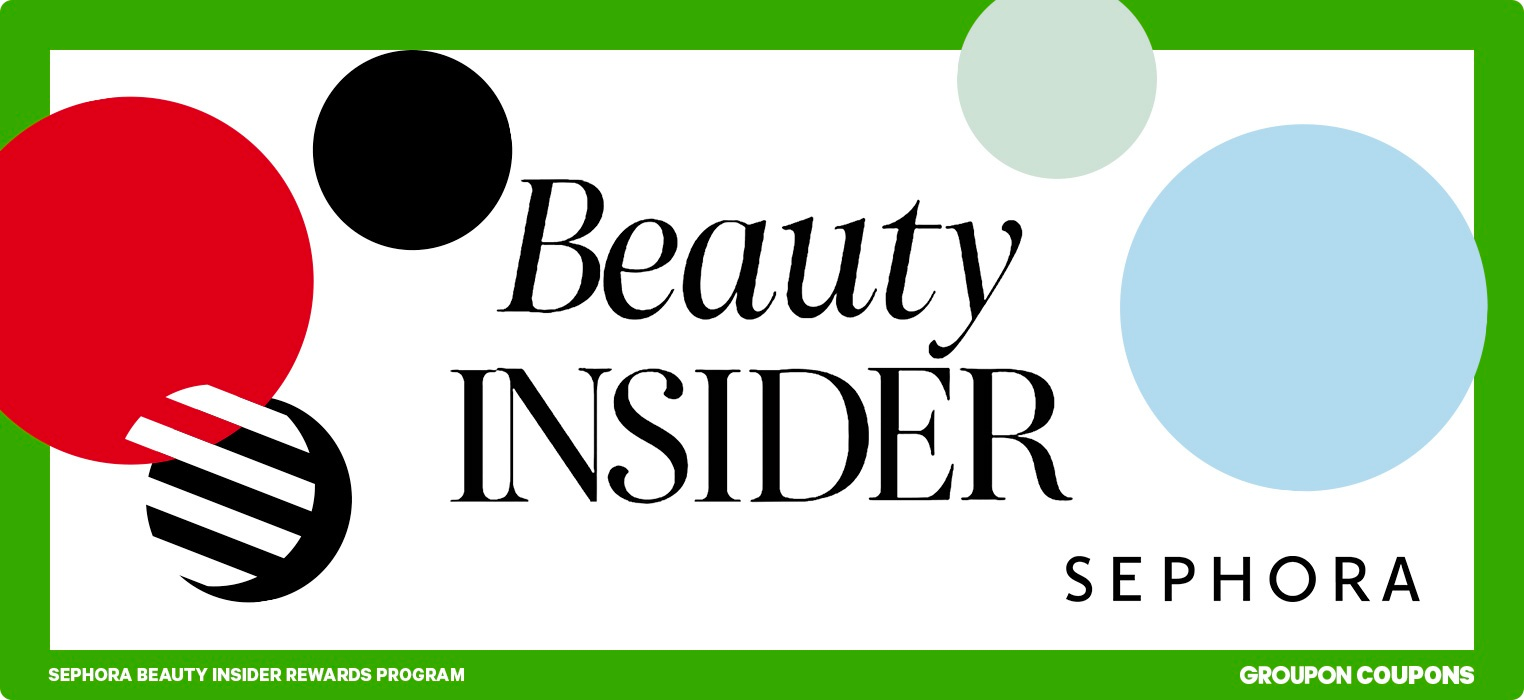 What started as an exemplary rewards program, which gave its members access to exclusive luxury products, extended in 2009 to include a tier labeled "Very Important Beauty Insider". This tier was exclusive to active members who spent over $350 a year purchasing from Sephora. In 2013, they introduced a third-tier, labeled "VIB Rouge", which was dedicated to members who spent more than $1000 a year. This high-level tier gave its members access to limited edition products, new products, and invitations to certain special events.
Sephora continued to enhance its loyalty program in 2016 by adding the exclusive rewards Bazaar where customers could simply redeem the points they had earned for a range of products. The introduction of their Beauty Insider Community in 2017 landed them even closer to the hearts of their clients, who could now bond and share tips with fellow customers.
For the rest of this post, we look into how the program works, why it has been a major success, and what Sephora could have done to make its rewards program even more attractive.
How does Sephora Beauty Insider work?
The Sephora Beauty Insider program uses a tiered system approach with membership status determined by the amount of dollars spent by a customer throughout a calendar year. Signing up to be a Beauty Insider member is free though, and members are entitled to certain perks compared to ordinary shoppers. Insider members have access to a special gift on their birthday, free beauty lessons, and other rewards. They can also get two-day shipping on all their online orders if they pay $10 per year.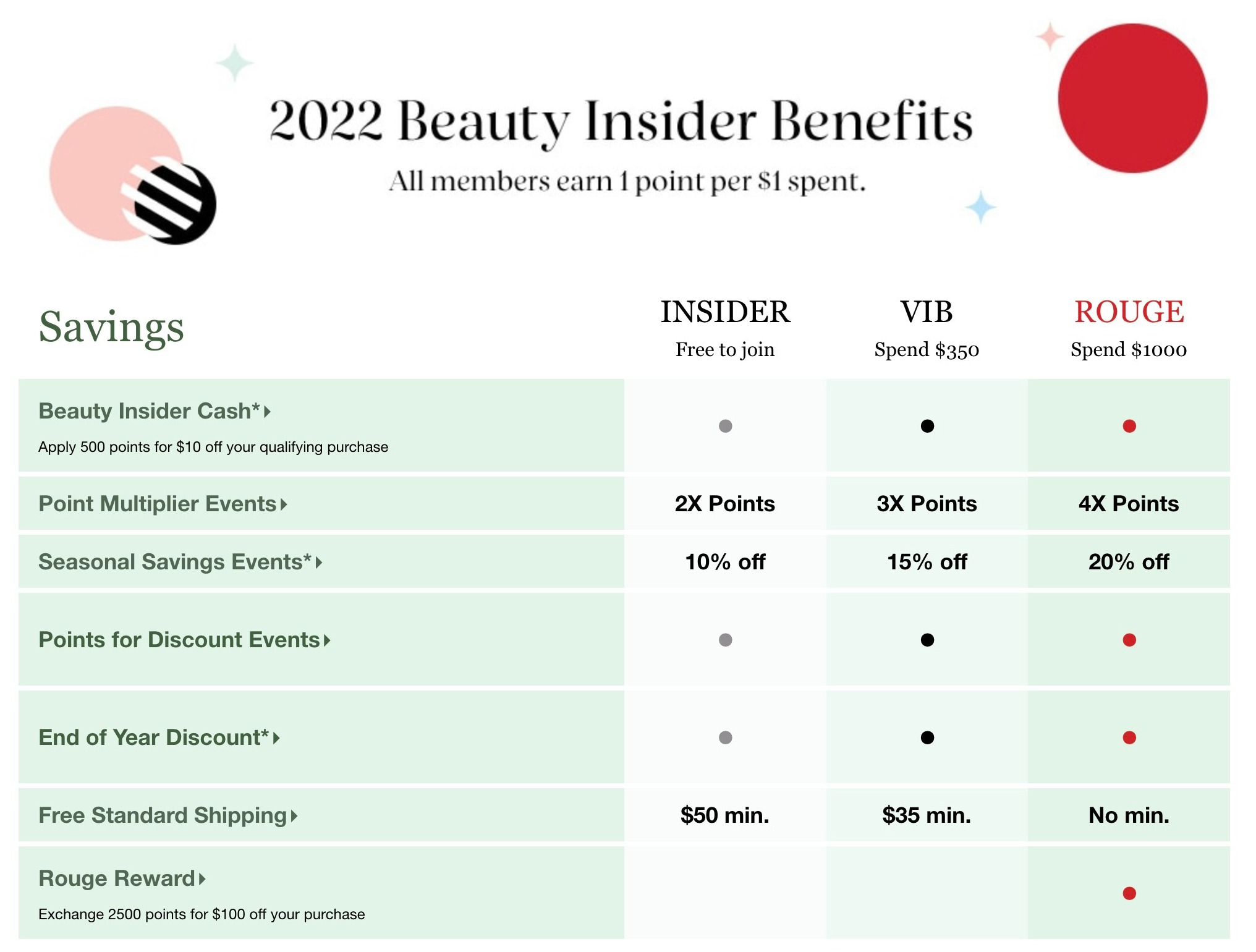 When an Insider member spends at least $350 within a calendar year, they advance to the next level: the Very Important Beauty Insider (VIB) level. At this level, they get all the perks Insider members receive, plus several additional benefits. VIB customers, for instance, are given free monthly gifts and free custom makeovers.
The VIB Rouge status is the highest tier in the Sephora loyalty program and is the most aspired. To reach this status, customers need to spend $1,000 every calendar year. It is the most exclusive and provides the most perks to its members. Offering top-tier customers exclusive rewards is one of the most efficient strategies for a loyalty program. Aside from getting access to all the benefits Insider and VIB members are entitled to, VIB Rouge members enjoy free unlimited makeovers and free two-day shipping on all of their online orders. They also receive invitations to exclusive events and access to a private Sephora hotline. Rouge members also get exclusive products and exclusive access to certain new product releases.
What are the good things about the program?
Valuable Experiences and Products
Sephora's loyalty program members are constantly thrilled with the experiences and values provided by the brand. Even the members of the most basic tier are treated specially with gifts during their birth months and rewarded with quality products once they earn enough points. Members in the higher tiers enjoy even more value with access to makeovers, beauty lessons, trips, and exclusive products. VIB Rouge members have been rewarded with VIP trips to certain exclusive events that leave them so delighted that they keep raving about the experiences on their social media platforms.
Variety
One of the most strategic ways Sephora rewards its customers is to offer them a variety of rewards. Instead of offering just one or two generalized rewards, Sephora provides a variety of available rewards, then hands the power of choice to its members. Customers love to be given the power to choose which rewards they earn, giving them a feeling that the brand cares about their personalized preferences.
Tier System fuels increased sales
The cosmetic brand's use of a points-based multiple-tier system has proven effective in increasing customers' purchase frequency. Since it creates a gamification effect, members are compelled to spend more to reach the next tier. For instance, if shoppers originally spend $300 a year as Insider members, they will be compelled to spend more to upgrade to the VIB status where they can enjoy even more rewards. This means more sales and an increase in revenue for the brand. The sense of accomplishment and inclusion also increases loyalty among customers.
Rewards have been easy to redeem
One of the great things about the Sephora program is the ease with which members can redeem their accumulated points. Since points can easily be redeemed for certain curated products, members clearly understand the rewards they stand to gain based on their equivalent points. They can also decide to either redeem points by visiting a store or claim them online through the Rewards Bazaar program.
How could they have made their rewards program more attractive?
Although Sephora's loyalty program comes close to being perfect, there are a few things that could be improved upon.
Better Publicity
For a well-loved rewards program, Sephora seems to have done a poor job at advertising the program, particularly to new customers. The program is hidden on the top tab and bottom of their homepage, almost invisible if the user does not make an effort to search for it. The program could attract more members if they invested in a more attention-grabbing pop-up, a separate tab and landing page, or a call-to-action at checkout to encourage shoppers to enroll.
Points Expiration
Another major drawback of the program is the expiration of dollar points at the end of the year. While the strategy of using the amount of dollars spent is beneficial to the company, it can be demotivating for some customers. For instance, if a VIB member spends $950 by December 2020, and spends an additional $100 by January 2021, that member would still not be eligible for Rouge status because the points earned for spending $950 would have expired by December 31, 2020.
A fairer approach would be to set the points or dollar expiration date 12 months from the customer's initial purchase.
The Sephora Beauty Insider Loyalty program seems to have gained its success by merging a transactional loyalty structure with an emotionally driven approach. Apart from creating a stunning rewards program, the brand has increased its customer loyalty by engaging its Beauty Insider Community.
This article is part of our series of case studies of loyalty programs implemented by the world's most famous brands.