About LALICIOUS
🏬 Founded in 2002
🌍 Delivers in the US
🇺🇸 Based in California, USA
💄 Beauty and skincare products
LALICIOUS is an ecommerce store that produces and sells natural body care and beauty products. The LALICIOUS story began 20 years ago, in 2002 when its founder was searching for an effective body exfoliator that didn't strip the skin of hydration. While experimenting with baking products in her kitchen, she came up with the fluffy, hydrating formula for their best-selling (and highly addictive) Extraordinary Whipped Sugar Scrub; a combination of pure coconut oil and cane sugar that was effective in moisturizing, polishing, and illuminating skin better than several other products.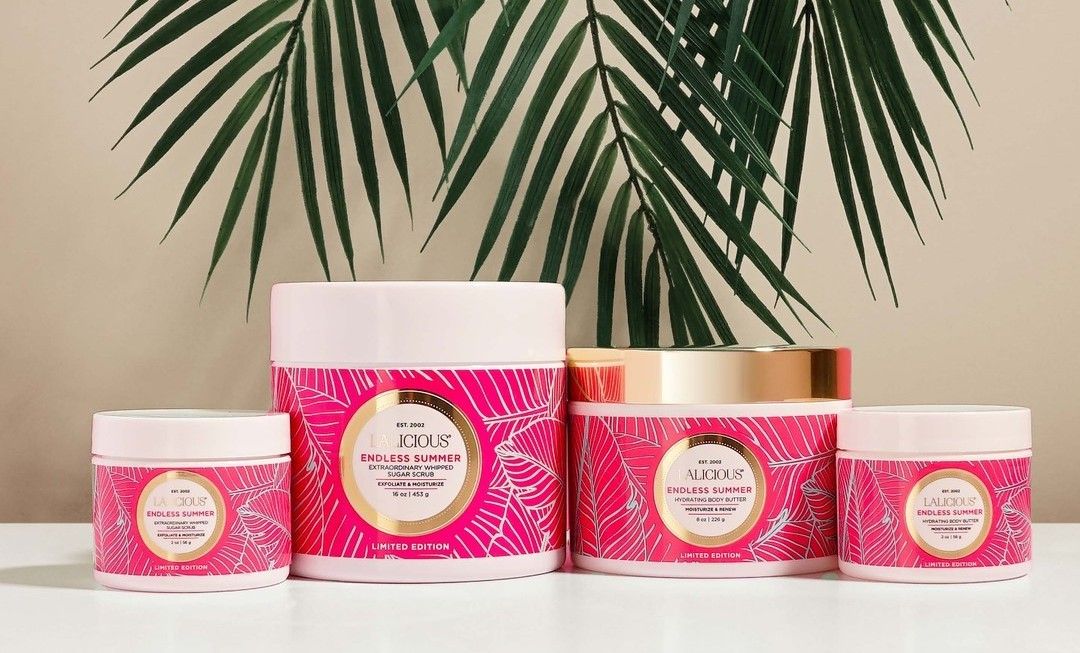 Since then, the company has expanded to make body butter, body oil, melts, and other natural bath products. LALICIOUS products are carried in some of the best spas worldwide, and until this day, their sugar scrubs are still handmade in small batches.
The founder, Jessica Kernochan, is passionate about the quality of the products they create and is especially passionate about the fragrances they choose. The brand mainly conveys that it uses only the purest and most nourishing natural ingredients to create beautiful fragrances. With its spa-quality lightweight yet sophisticated scents, its value ensures that customers look and feel better in their skin.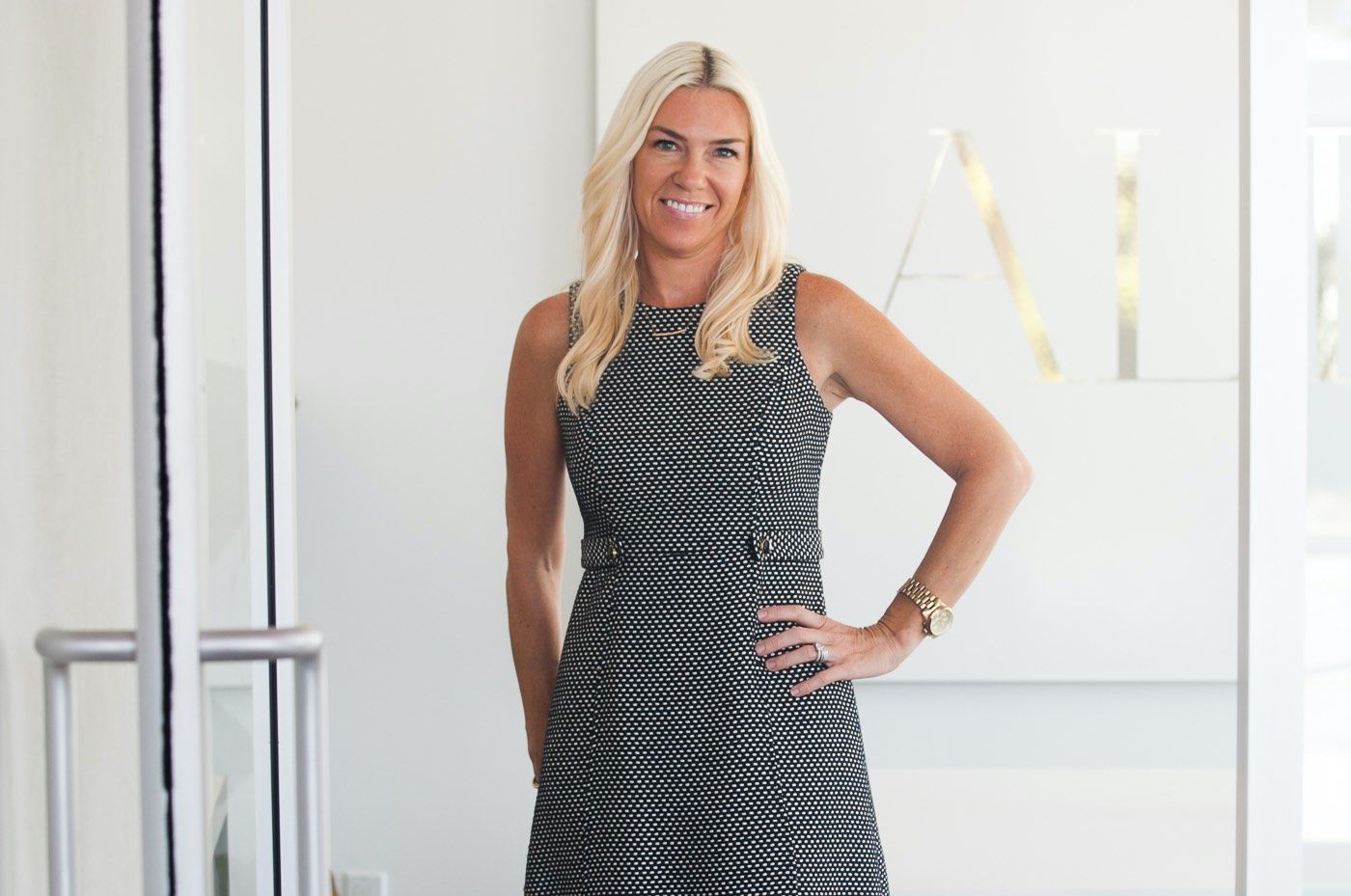 LALICIOUS' goal is to provide the best quality, natural body care products on the market, and so far, their customers can see that. They're addicted to the formulas and fragrances produced and the changes they see in their glowing, healthy skin. The brand believes that skincare is from head to toe at the end of the day. As a result, LALICIOUS has been featured in and recommended by top lifestyle magazines such as Allure, Byrdie, WWD, Bustle, Today, and Pop Sugar.
The Challenges
❤️ Improving Customer Loyalty
🎯 Increasing Customer Engagement
"We wanted to improve our customer retention and provide a sense of community for our customers. With our rewards program, we are able to let customers know that we appreciate them and that their loyalty can get them perks, discounts, and other fun ways to be involved!"

- Natalia Perez, Ecommerce Coordinator
LALICIOUS' primary challenge was increasing customer retention. Like any other ecommerce store, the brand understood that to stay long-term, they need a consistent number of loyal customers and a system that aids them to keep the new customers they acquire. Research on customer loyalty shows that the probability of selling to existing customers ranges between 60 to 70%, whereas the possibility of selling to new customers is between 5 to 20%. Sadly, however, only about 18% of businesses focus on customer retention. Companies can save costs and focus more on marketing by improving retention rates.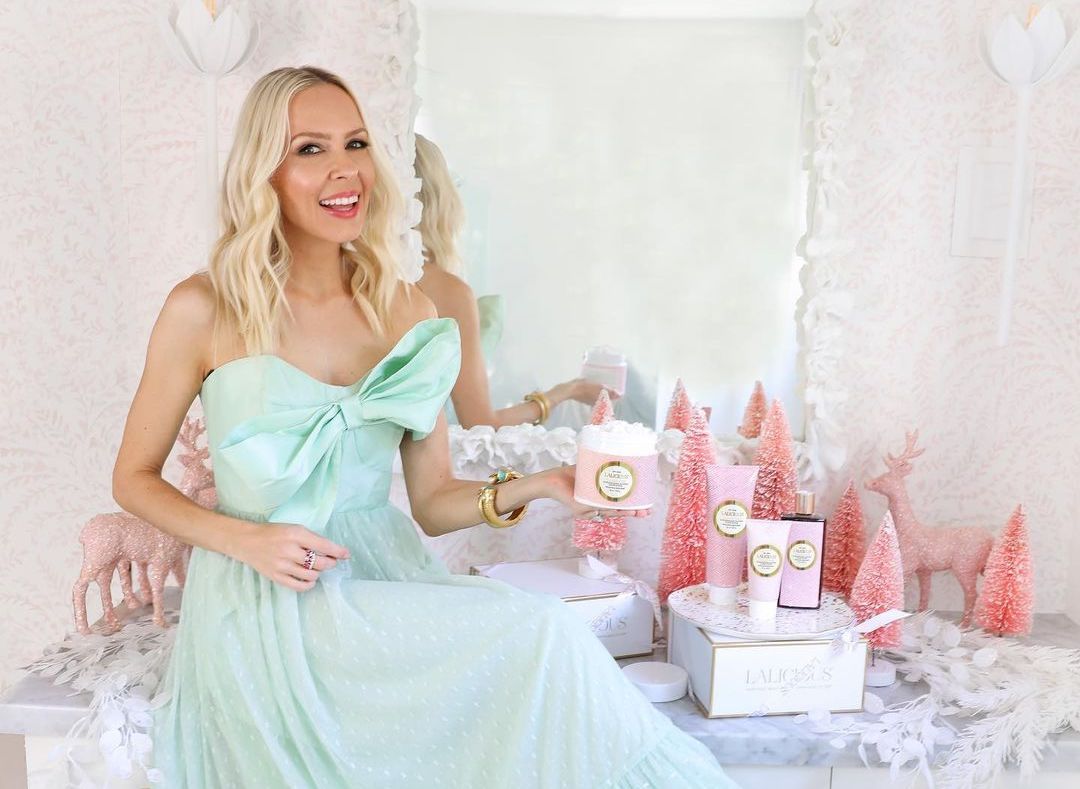 The company decided to improve its retention rate through one of the most effective strategies; creating a loyalty program. Through this method, they believed that they could build a stronger community of loyal customers and communicate how much they appreciate their patronage by rewarding them consistently. In addition, solving the problem of retention by creating a rewards program for the brand would not only keep customers highly engaged but has the potential to increase sales and attract even more customers through referral marketing and testimonials.
Why LALICIOUS chose Beans
▶️ Simple to use
🌠 Visual appeal and calls to action
🧩 Customization features
"We chose Beans because they made it easy to set up the loyalty program and provide features that we can customize for our store and that our customers love."

- Natalia Perez
Simplicity of usage
LALICIOUS chose Beans due to how easily they could understand the platform's features and how simple it was to get started using the app. To use Beans, store owners do not need to worry about technical expertise since the platform was designed for users with the least experience in ecommerce. Again, the simple three-step process, which explains how merchants can set up their rewards and referral programs to increase retention sales and boost purchase frequency, was easy to follow.
Visual appeal and calls to action
A run-through of the Beans website and landing page gave LALICIOUS a good idea about the kind of results they could be getting. Beans carefully and briefly explain the benefits of integrating its referral program and loyalty program by demonstrating how it works and its attractive features through clear and accurate graphics. Beans adds an illustration of how its rewards and referral program would look on various ecommerce stores while explaining its features and benefits in the simplest way possible. Coupled with calls to action, LALICIOUS marketing team recognized how the integrated marketing platform exemplified the features it was promoting and knew what it was about.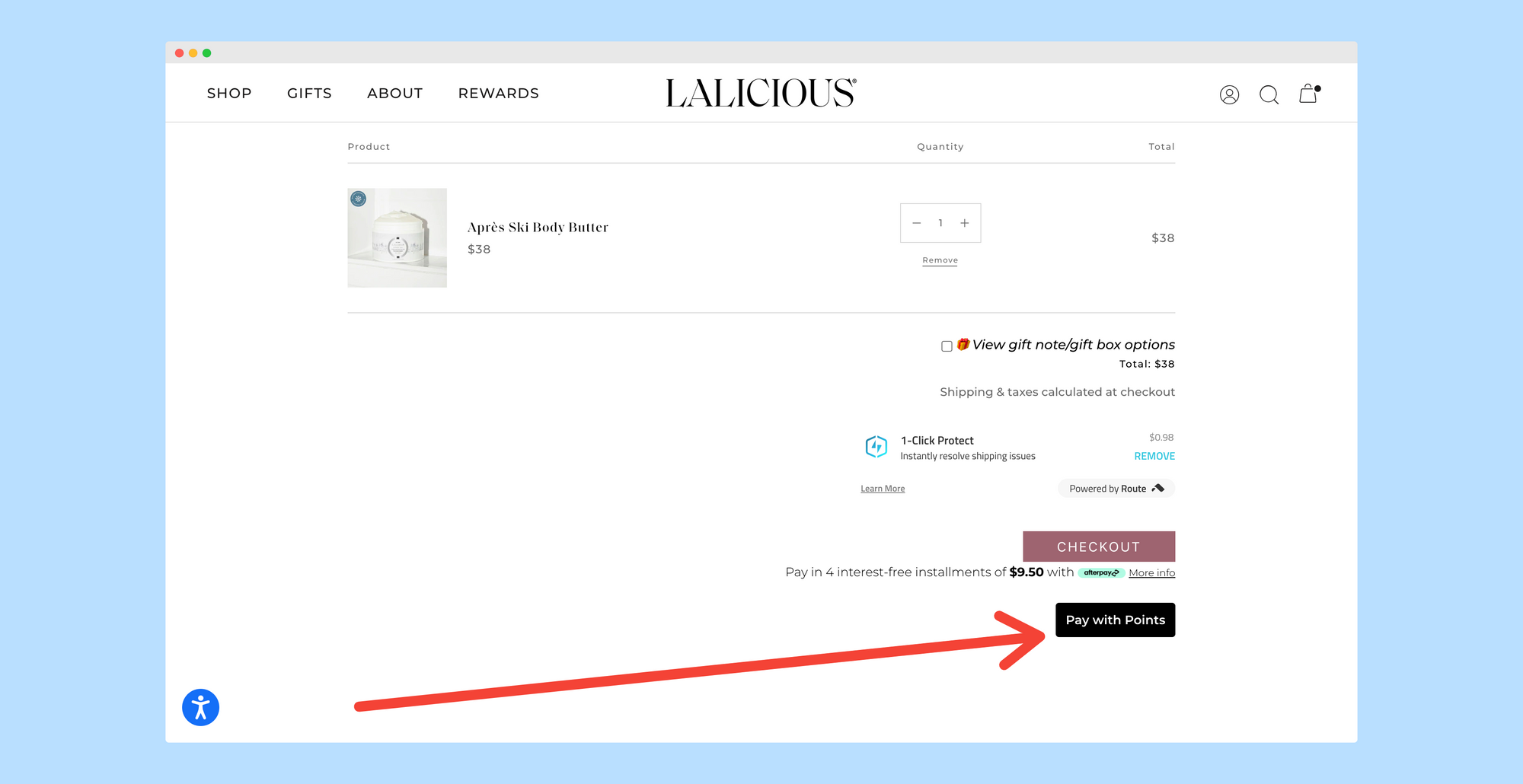 Customization features
LALICIOUS was also concerned about maintaining its brand image in a way that is appealing to its customer base. Natalia explained that Beans was their best match because it pays attention to customization. Choosing Beans was the right decision because it enabled merchants to create a memorable marketing experience that fits their brand identity. In addition, the platform is easy to set up, simple to use and allows for quick customization to suit any brand the company chooses.
For instance, one of Beans' Unique rewards and referral program features is its built-in templates. Unlike other traditional programs that do not have this option and insist on using fixed templates and their branding, Beans' rewards program can be easily customized to match your brand identity and set your own rules at your discretion.
The Beans solution
To enable LALICIOUS to curb its challenge of customer retention, setting up a rewards program was the exact tweak the brand needed. The goal here was to create a program that incentivizes new and existing customers when they make a purchase or take certain specific actions in the store. The merchant set up a rewards program using the Beans app and customized its rules to suit their desires and resources. Let's look at LALICIOUS rewards program and how Beans could help eliminate its challenges.
The Rewards Program
Join and get 500 Points
Get 10 points per dollar (USD) spent
Get 1,000 Points on your birthday
Like our Facebook page and get 150 Points
Follow us on Instagram and get 200 Points
Write a product review and get 100 Points
Simplicity
The beauty brand was particular about maintaining a simple system and outlook, which is precisely what Beans offered. One can see a very simple and straightforward layout on the rewards page. The tab for the Rewards page is unmissable at the left corner of the main website, and once the account is opened, customers can see a clear view of everything the loyalty program is about. With a clear message of appreciation to customers for being loyal, LALICIOUS communicates how valuable the program is and how useful they view their customers. This is enough incentive to add and maintain regular and one-time shoppers to become a part of the program.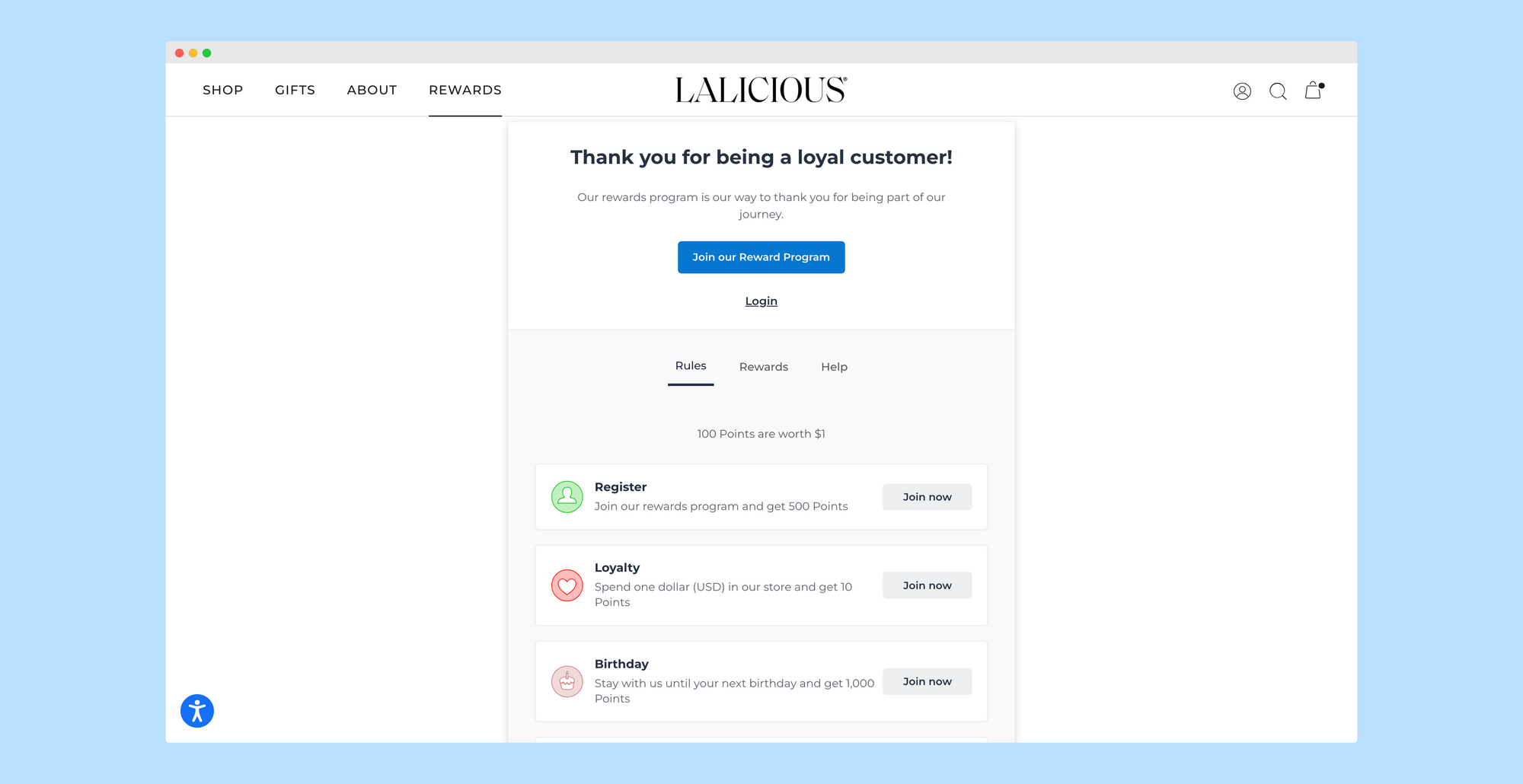 Detailed explainer page
The company displays all the actions customers can take to earn points and how the program works on the rules page. For instance, the standard rule is that each $1 is worth 100 points. Aside from that, customers will earn 500 points just for joining or signing up for the rewards program. Assigning 500 points is a great way to give new customers headway in the program and keep them excited enough to try and earn more rewards.
Rules activation
LALICIOUS activated several rules, which is excellent for improving customer engagement. Their loyalty rule, for instance, rewards shoppers 10 points for each dollar they spend in their store.
The birthday rule is even better because it encourages customers to stick with the brand until their next birthday. This is an excellent strategy because a good section of shoppers would like to enjoy free points on their birthdays. LALICIOUS rewards 1,000 points on its loyalty members' birthday with this rule.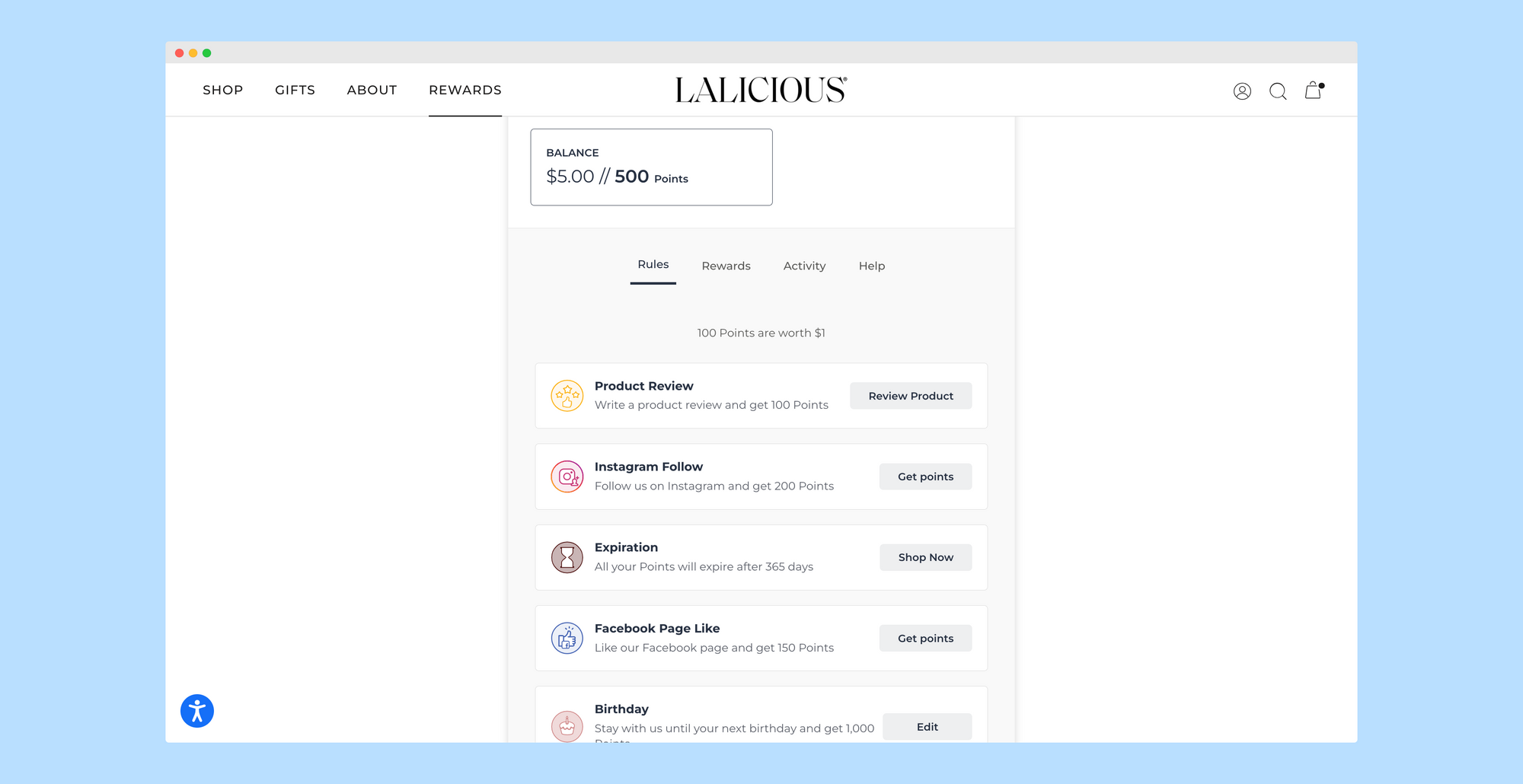 Another rule that the brand put in place was the Social media rule which rewards customers 150 points for liking their Facebook page and 200 points for following LALICIOUS on Instagram. Since this is an effortless way to earn free points and doesn't cost anything, a large majority of shoppers would be willing to take this action.
The brand also offers 100 points to customers who write a product review. As mentioned earlier, LALICIOUS wanted to create a community of customers; what better way to do this than to encourage users to share their unique experiences of trying their products. Not only will this serve as a platform for testimonials that push new customers to make a purchase, but in the long run, a community of product lovers will be formed and eventually become brand advocates.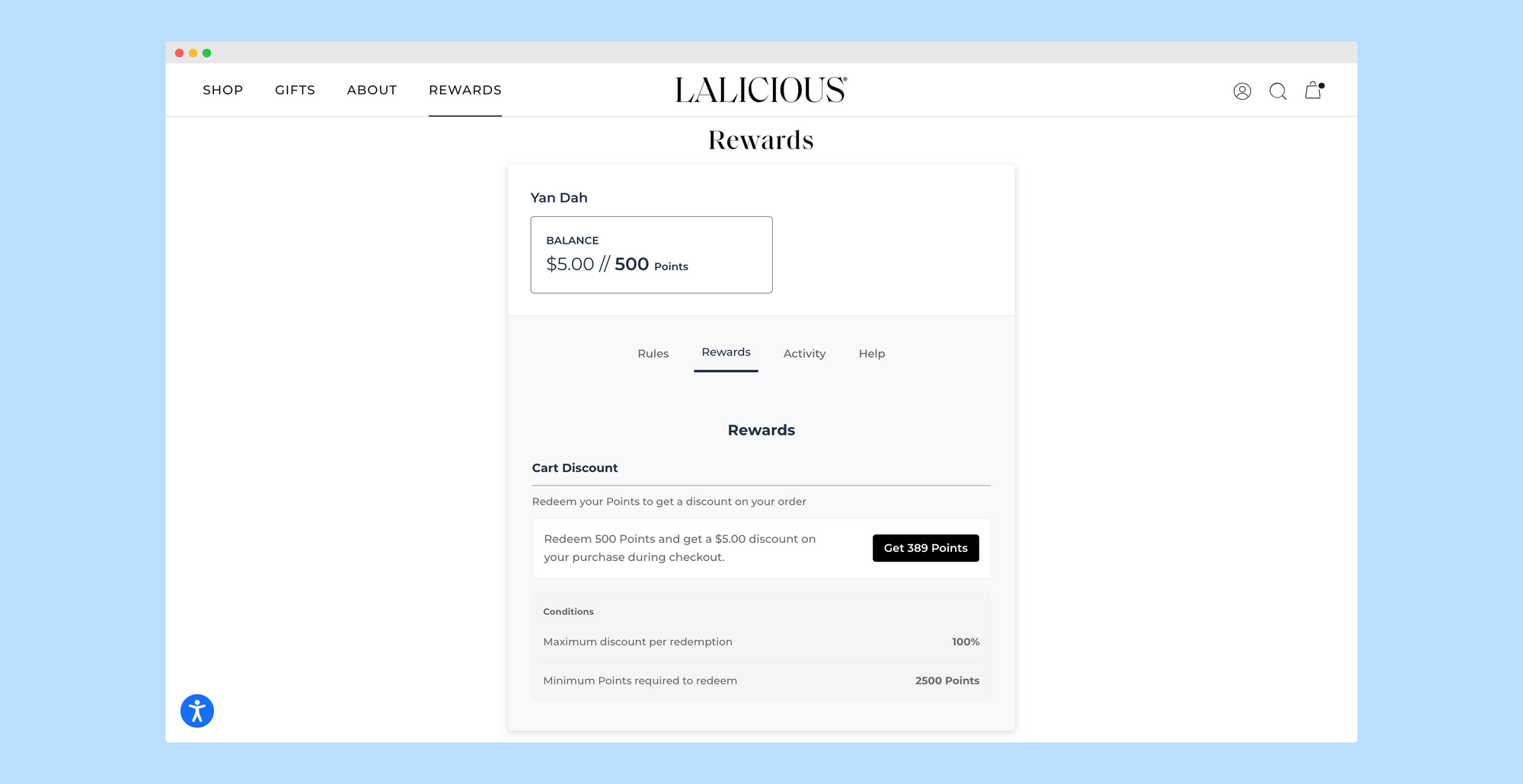 Finally, LALICIOUS set an expiration rule that enables points to expire after 365 days, i.e., within a year. The problem with many rewards programs is that without an expiration date for redeeming rewards, members will not be as engaged in the platform over time, and a lot of points will be left unredeemed. One might argue that customers will be more pleased with a no expiration rule; however, this works against brands. The goal is to have a thriving community of loyal customers that are actively involved and see the benefits of joining the program. Putting an expiration rule in place in a way guarantees that users will consciously accumulate points and redeem them for their rewards within the year. This also means that they will be taking all the profitable actions in your store within the year to earn these points.
The excellent features enabled LALICIOUS to set up a simple rewards program that is unique to them in solving the initial customer retention challenge.
The results
👩 15,000 members
💰 6,050% return on investment in 18 months
📊 76% participation rate
"Beans has helped our main goal of an increased customer retention rate by allowing us to customize our features and helped our loyalty program grow to excite our customers to earn their points and be able to use them toward their purchases."
LALICIOUS' story is no different from other unique brands that implemented a rewards program with Beans. Natalia observed an increase in the ecommerce store's customer retention rate after trying Beans.
The data confirm Natalia's excitement. Out of the 15,000 customers who have joined the rewards program, 76% have completed additional actions to earn more points such as providing their birthday, following the brand on social media, and writing product reviews. Customers positively welcome the fact that they could earn points for various actions and not just for completing purchases. This has helped boost LALICIOUS' brand appreciation.
In addition to getting customers to actively complete actions that benefit the brand growth, LALICIOUS has also observed an outstanding return on investment for their loyalty program implementation. Measurable loyalty revenue accounts for hundreds of thousands of dollars and has led to an astonishing 6,050% return on investment. If we take into account the fact the brand is even more appreciated among its customer base, there are many indirect benefits that are yet to be measured.
Through the app's customization features, LALICIOUS was able to set up a well-designed rewards program to grow its customer base and keep existing members excited enough to engage with the brand continually. The rules have helped its members earn more points and use them toward their purchases, strengthening their relationship and loyalty to the brand.
Like LALICIOUS, you can also set up an integrated marketing experience with Beans. Take the first step with our free trial and easily create a rewards program that suits your brand and grows your profit.