About Harpia
Harpia is an ecommerce growth agency helping innovative brands to simplify their online marketing with strategic planning and pragmatic execution. The company was born to enable entrepreneurs to scale their ecommerce brands through email marketing and advertising strategies. Founder and ecommerce expert Pedro Franca says they like to see themselves as business partners to their clients instead of an agency. First operating as ecommerce consultants specializing in product launches, Harpia later transitioned into helping validated products scale through effective marketing. The company loves that ecommerce startup phase and is passionate about seeing brands succeed online.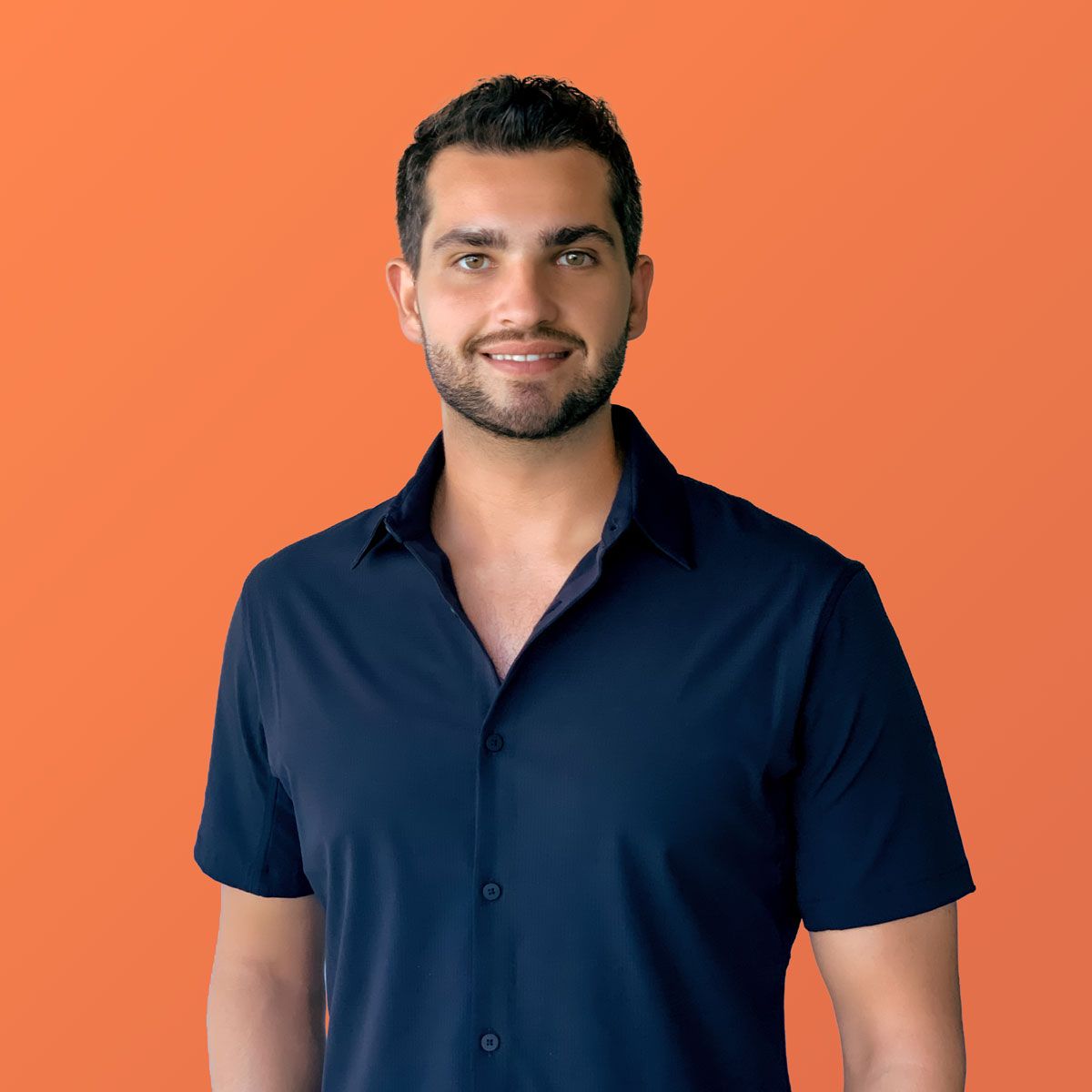 The Harpia Method
Harpia uses a three-step process that unleashes the full potential of ecommerce brands. These steps are carried out through compelling storytelling, relentless advertising, and customer value optimization. The first step in the Harpia Method is to analyze and strategize. Several ecommerce brands waste too much time on digital marketing tools such as which pop-up widgets to use instead of focusing on the offers to make.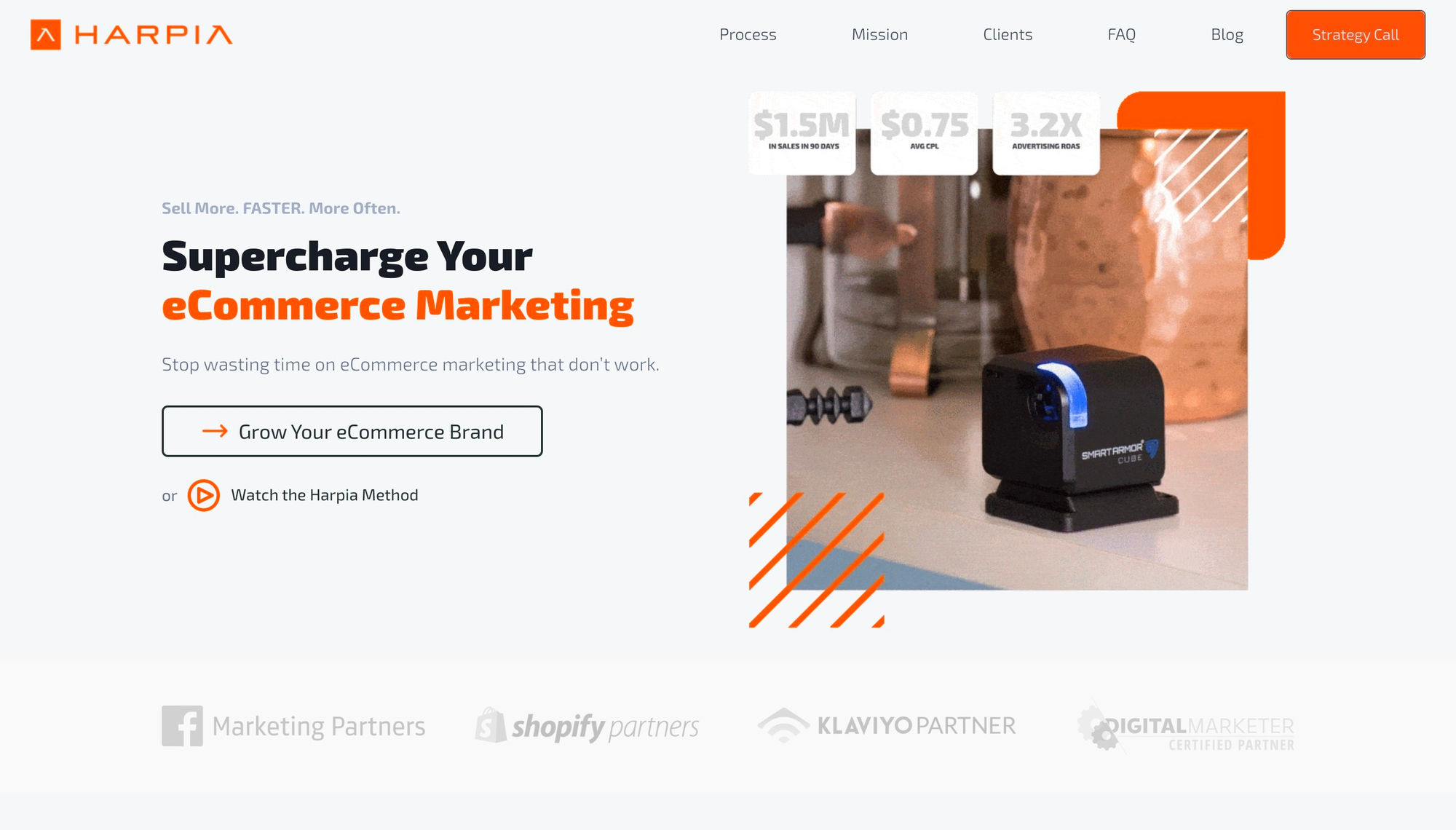 In the first step in Harpia's process, which involves the ecommerce growth blueprint, the company spends two days with its clients designing an ecommerce marketing strategy that fits and produces an increase in profits. The services provided at this stage include customer avatar mapping, product & competitive analysis, digital marketing assessment, discovering marketing bottlenecks, and creating an ecommerce growth blueprint.
In its second step, Harpia sets out to design and implement an exciting customer journey for the ecommerce store. By launching an exciting ecommerce marketing campaign with a seamless digital marketing strategy, merchants can keep their customers delighted right from the stage of awareness till they become brand advocates. The services offered here include conversion value optimization, email marketing automation, Shopify development & design, landing pages & product pages, and technology stack implementation.
Harpia's third and final step involves scaling and optimizing, focusing on skyrocketing sales through hyper-targeted advertising. To succeed with an ecommerce store, people actually need to know about it and be drawn to purchase. The brand helps merchants publicize their ecommerce brand, raise awareness for their products and offers, then follow everyone everywhere until they become customers. Harpia's scaling and optimization services include Facebook advertising management, Google shopping advertising, product listing optimization, ongoing email marketing, and conversion rate optimization.
Harpia has over the years proven the effectiveness of its strategies through the success stories of its clients and is certified partners with Facebook, Shopify, Klaviyo, and Digital Marketer. PaliRoots, the top Palestine-Inspired apparel brand, started its journey with Harpia with a brand new site, a revamped advertising message, advertising, and a meal donation program. As a result, the company increased its ecommerce sales by 298% in 90 days and enjoyed 8.5-times average Returns on Investments and a 70% increase in conversion rates.
Another example of an online store Harpia has worked with is My Healthy WOE. The brand provides high-quality transformational health foods for its customers in the Caribbean and Puerto Rico. Although they had already established an online presence with more than 20,000 customers, the brand needed to convert that loyalty into higher revenues and repeat sales. Harpia's method made the difference and resulted in a 995% increase in ecommerce sales, 161% increased conversion rate, and generated 30% more leads within the first three months.

The above-listed testimonials are a few of Harpia's success stories. However, with a mission to unleash the full potential of ecommerce stores and build lasting relationships through digital experiences, Harpia does not take the tools it uses to accomplish these feats for granted. Having liaised with numerous ecommerce apps, let's now look into how Beans' partnership has uniquely aided in achieving Harpia's goals.
Harpia's Partnership with Beans
Harpia was looking for a great loyalty and rewards program solution for its client. After thorough research, they realized that Beans has the highest flexibility and most advanced integrations that could suit their needs. They were also seduced by the simplicity of usage, the great design, and the availability of the technical team that was very approachable and was of great help with the integration.
Beans thrives on its simple and easy-to-use platform, giving all its clients a hassle-free way to create an elegant loyalty experience regardless of their level of expertise. Harpia used Beans to design memorable marketing experiences for its clients with its loyalty app solution. The agency particularly noted how responsive the Beans support team was throughout its partnership.
"We first contacted Beans to fulfill one of our client's special needs related to their rewards program and quickly fell in love with the platform and their support team. It is really important for an agency to know you got a reliable tech partner."
Partnering with Beans was an excellent choice for Harpia, considering the diverse ecommerce companies they work with. A unique feature about Beans that Harpia may have most appreciated is its ability to easily integrate with other ecommerce apps and social media marketing tools. Beans helped Harpia grow its clients' businesses and serve its customers' diverse needs without worrying about technical difficulties with easy integrations.
"We've worked a lot with Smile.io, Stamped, and Yotpo. While all of these platforms are great, Beans was superior with their WooCommerce integration and customer support."
Working with Beans offers several opportunities to build a strong brand and grow your agency. Aside from all our easy-to-use features, your agency can rely on Beans to help you meet your marketing needs and agenda. Ready to take your business to the next level? Visit our partner program's page.