A proven strategy in almost every business is to delight the customer continually. After all, they are the backbone and force that keeps the sales coming in. As competition grows, each brand finds its unique way of enticing its customers to keep doing business with them; this is where loyalty programs come to play. With most rewards programs designed to set you apart from competitors, the chief aim is to increase customer retention and loyalty.
Popular shoe retailer, Designer Shoe Warehouse (DSW) is noted for its exemplary customer loyalty program which its customers have come to love. At the end of this review, we should better understand how DSW VIP works, why it has been successful, and how the brand could improve its loyalty program. This should help both new and experienced online retailers learn and implement key strategies in their own rewards programs.
How does DSW VIP work?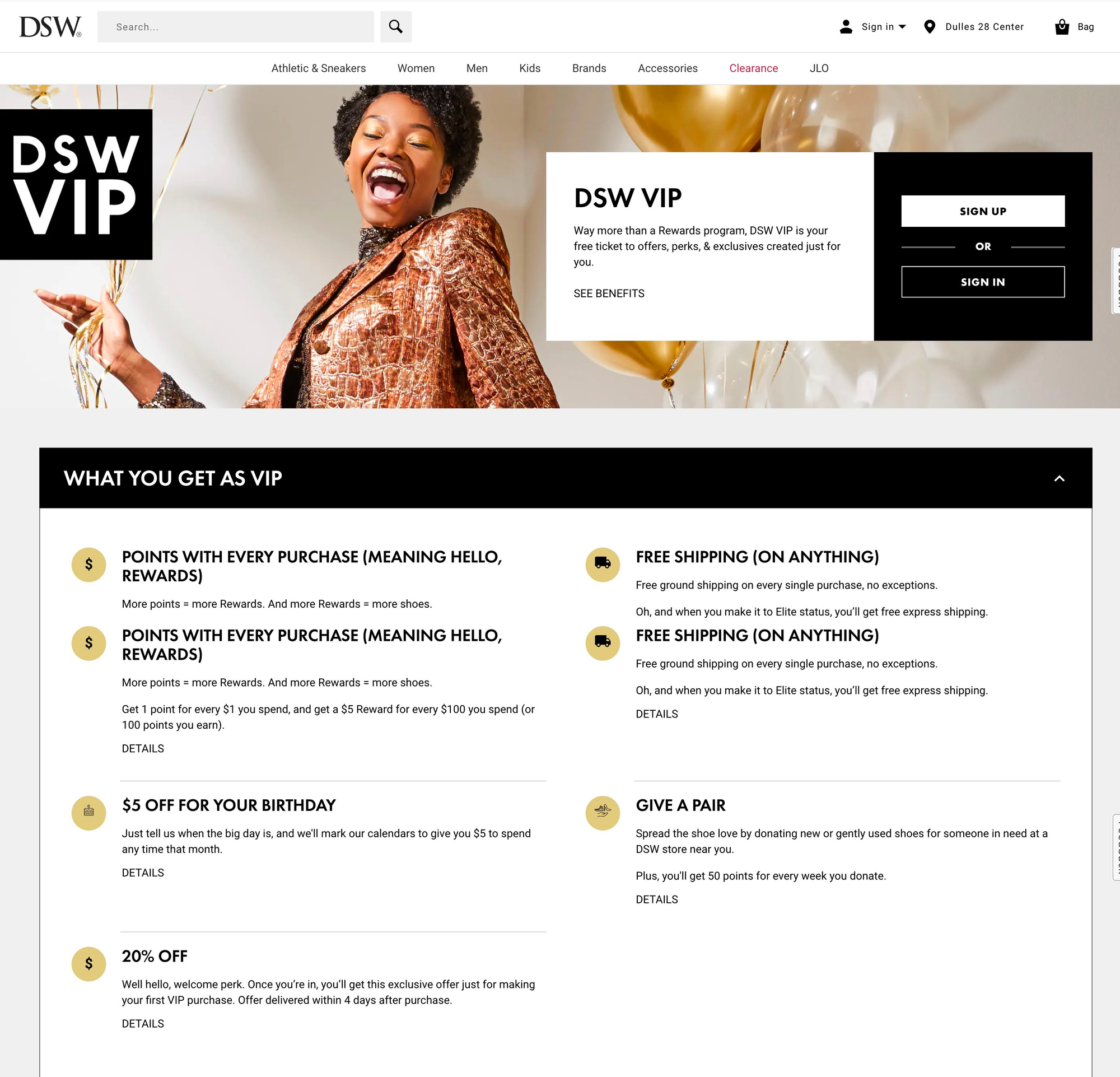 DSW VIP is the name given to Designer Shoe Warehouse's flagship loyalty program. The company uses a tiered approach where customers donate more rewards as they advance in level or reach a certain threshold. The different tiers are assigned based on the customer's annual spending amount. They also utilize a points-based system tied to the various levels of the program.
The DSW VIP program is free to join. Customers can simply sign up to become free members on their website. Once a customer enters the program, they are entitled to receive certain free offers, exclusives, and perks depending on the number of points they amass.
As a DSW VIP member, you earn points for each purchase made. These points can later be redeemed for rewards. For the basic level or VIP Club, one can earn 1 point for every $1 they spend on eligible products. One will also earn a $5 reward for every $100 spent or for gaining 100 points on their store.
Apart from the points earned per each dollar spent, VIP Club members enjoy Free 4 to 7 days shipping on each purchase they make. They can also return items for Free in-store if they are unsatisfied. Club members who submit data on their birthdates are also gifted with a $5 discount on any product they purchase within their birth month.
The second tier, VIP Gold, is achieved when a member spends more than $200 within the calendar year. Gold members also earn points per dollar spent. Additionally, they enjoy two 2x points days during the year. With this, their point-earning potential doubles on each purchase they make for those days. The members get to choose which days to double their points. For instance, if you decide to pick May 10th and shop for items worth $100, you will earn 200 points on that day. Gold members also enjoy the $5 birthday coupon usable within their birth month, free 60-day return shipping, and access to occasional offers throughout the year.
The third tier, labeled as the VIP Elite, is the highest level with the most perks. Members can reach this level by spending more than $500 at DSW within the year. Elite members enjoy all the perks within the Club and Gold membership level in addition to higher rewards. The most significant is that instead of earning a point per dollar, Elite members are rewarded 2 points for each dollar they spend.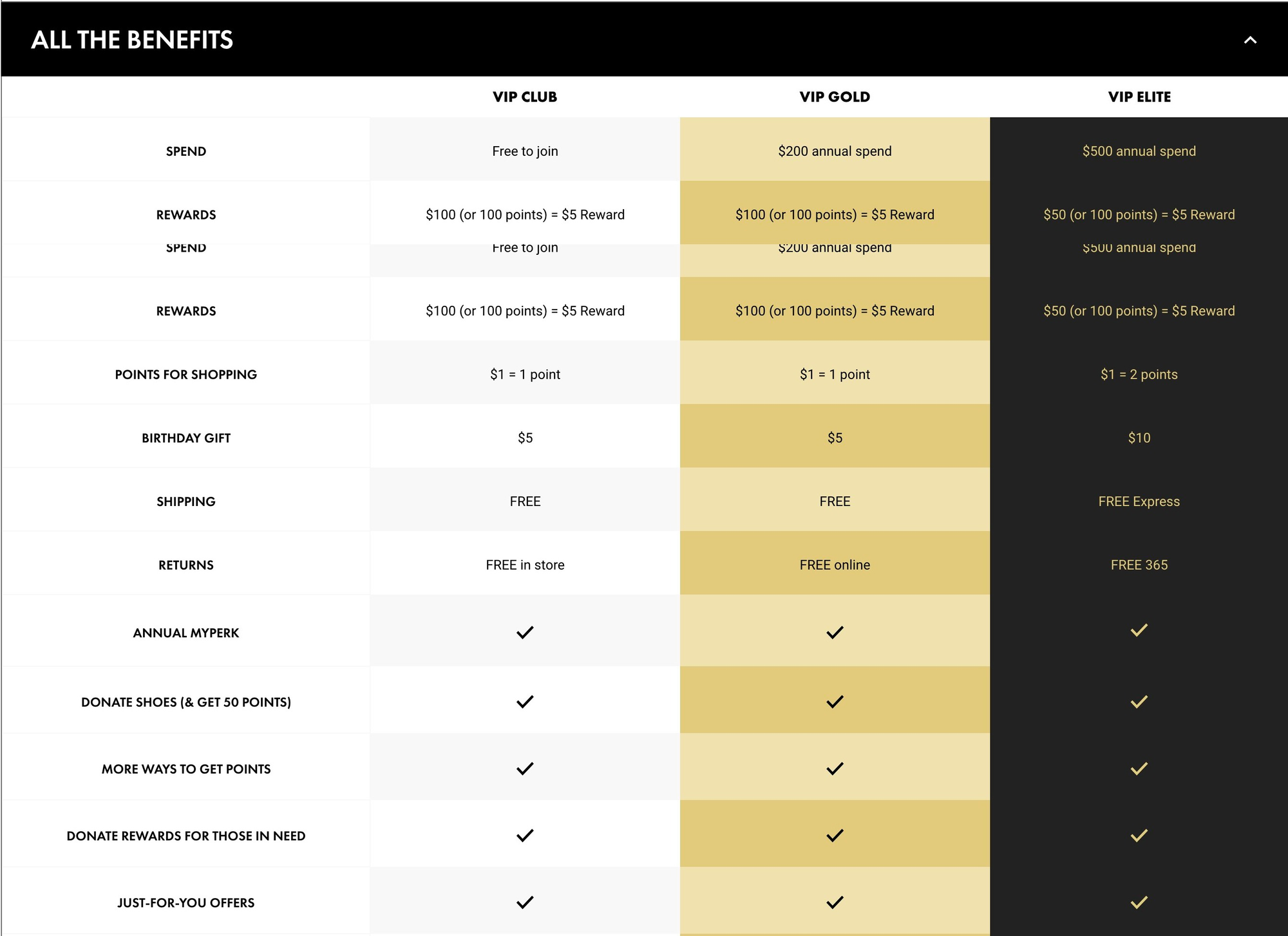 Elite members still enjoy two 2X point days, where they also earn a $5 reward on every $50 spent. VIP Elite members can also pick a specific day within the year, labeled a 3X Points day, where they will receive triple points for each purchase they make. Thus, if an Elite member chooses December 5th as their 3X points day for the year and spends $100, they would earn 300 points on that day. They also earn a $5 reward for every $25 spent.
Other perks enjoyed by Elite members include free 365-day returns, free two-day express shipping, and a $10 birthday coupon. They can also gift two of their friends a $5 coupon on their birthdays. In addition, elite members enjoy exclusivity as they are the first to be notified about special offers, events and gain free access to certain products.
Other ways to earn points are by donating new or slightly used shoes to the needy at any nearby DSW store. Members stand to gain 50 points for each week they donate.
What are the good things about the program?
Easy to Understand and Earn Points
DSW's rewards program is great because customers can clearly see the value they are getting and earn points easily. In addition, tier-wise benefits are laid out, and members can see exactly what it requires to reach the next status.
Value-Based Rewards
Another excellent feature of this loyalty program is that it offers specific values to its members. The free membership option allows customers to see how much value they stand to gain by simply purchasing the shoes they need anyway. The free shipping and returns offer is also extremely valuable and can increase purchase frequency for online shoppers.
Enhanced loyalty and motivation
One of the best things about this program is its ability to motivate customers to reach the highest status. With all the numerous perks and exclusive offers VIP Elite members can receive, customers will be more than willing to purchase repeatedly. It also pushes them to increase the value of their orders so they can enjoy these perks. Again, earning more points through donations could increase loyalty to the brand as they are perceived as socially responsible.
How could they have made their rewards program more attractive?
While the DSW VIP program seems to have done a great job at winning the hearts of its customers and becoming an exemplary program for other brands, it is not without a few drawbacks.
DSW could definitely make its program more attractive by increasing its visibility and awareness to new shoppers. While the rewards program has a good explainer page, it is not easy to find the program on its homepage. In addition, the call to join the program appears to be hidden at the top corner of the homepage and at the footer with little information about what it entails. The brand could attract more new customers by making information about the program more visible on its homepage.
Another drawback of the program is that the differences in benefits between the first two tiers are minimal. For example, benefits at the VIP Club level and VIP Gold level are almost the same except for the ability to give a gift, free return, and two 2Xpoints days. Although the benefits are great, they may not be motivating enough for members who are unable to reach the Elite threshold for a long time. Therefore, the program could be more attractive by adding more perks to differentiate the VIP Gold status from the Club level. Another solution would be to have two tiers so that members at both levels can enjoy the rewards at their level and aim to reach the highest status.
Nonetheless, DSW's VIP loyalty program has been successful at not just increasing shoe sales, but at building a community of loyal shoe-lovers.
This article is part of our series of case studies of loyalty programs implemented by the world's most famous brands.