In the past two years, we have thoroughly gathered a substantial amount of feedback from our community on how we could make Beans more useful and helpful. Our goal has always been to create a product that helps merchants retain their customers. Thanks to all this feedback, we're thrilled to introduce the new and improved Beans app interface. This is a big step forward in providing our users with an even better experience that caters to their needs. We're excited to share this with you!
From an enriched administrative interface to a transformed user experience, every facet of the Beans app has been meticulously refined. This update is more than a mere upgrade; it's a revolutionary shift in how merchants interact with the platform. With a keen focus on efficiency and productivity, managing loyalty programs now mirrors the pleasure of savoring a morning cup of coffee - gratifying and effortless.
Join us as we embark on a journey through the key highlights of this groundbreaking update, each feature meticulously crafted based on invaluable customer feedback accumulated over two years. This new version represents a significant milestone, ensuring that every interaction with the platform is a rewarding experience.
Updated user interface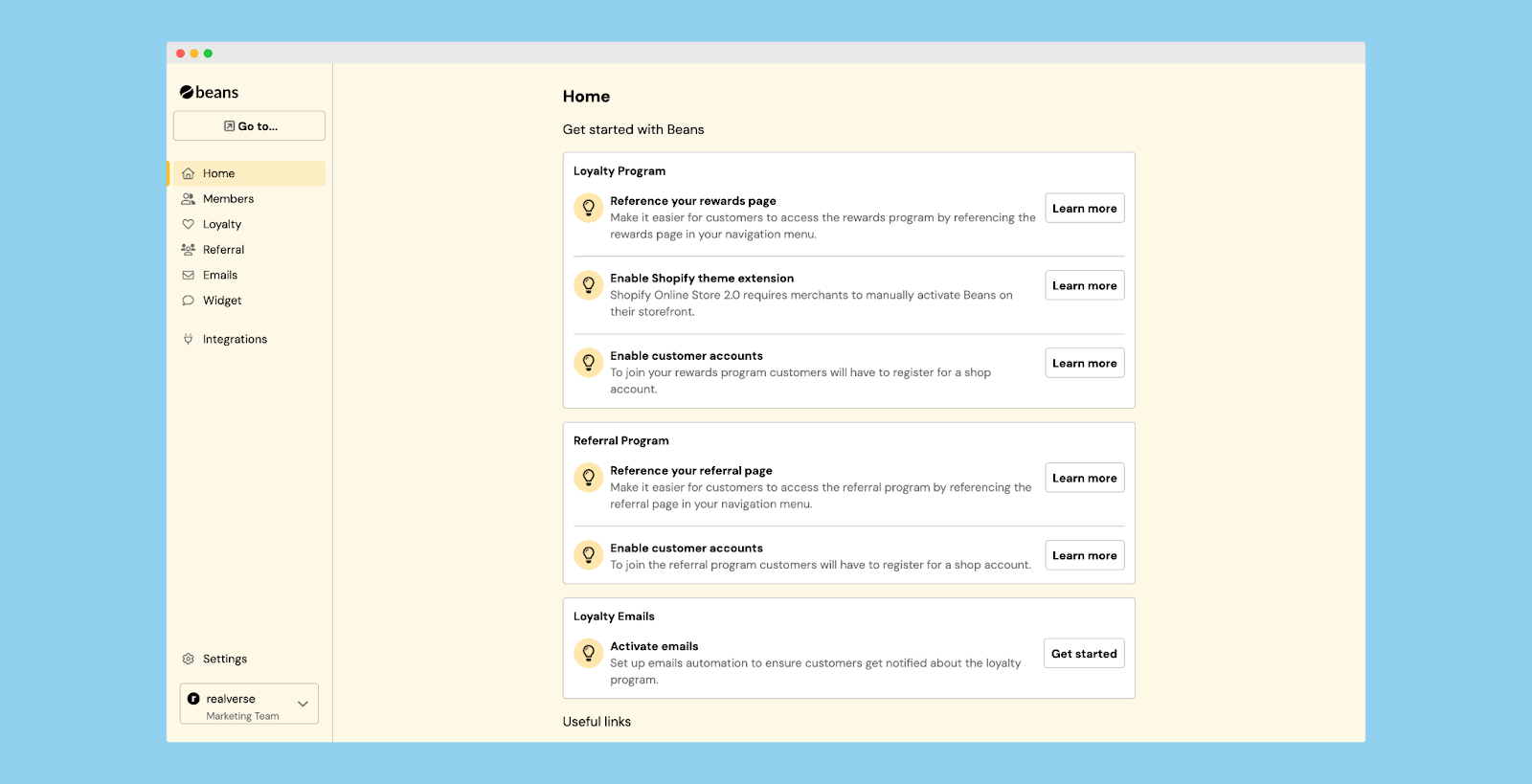 This means that the way the Beans app looks and works has been made better. It's like giving a phone a new, easier-to-use screen. This update is not just about looks; it's about making the app work smoother and faster. It's like making a bike ride more comfortable by adjusting the seat and handlebars.
This new interface isn't solely about aesthetics; it fundamentally alters how merchants navigate, interact, and accomplish tasks. The interface is tailored for maximum efficiency, ensuring operations are seamless and intuitive. It's a testament to our unwavering dedication to delivering standout experiences.
So, when we talk about the 'Updated User Interface,' we're saying that using the Beans app is now even more enjoyable and efficient.
Prioritizing efficiency and productivity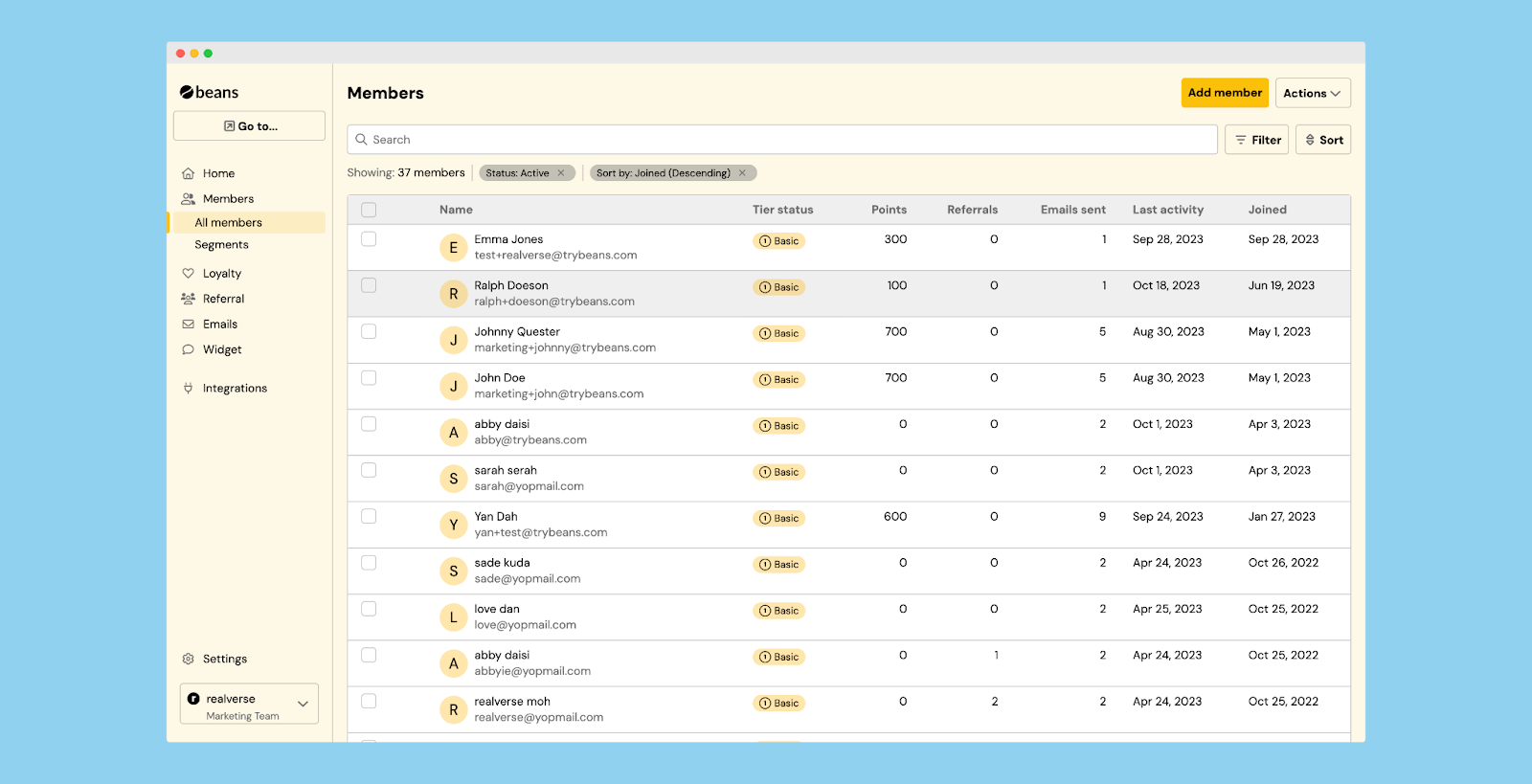 We've fine-tuned essential features, ensuring merchants can swiftly access crucial information without any hassle. The members listing page, for instance, now supports batch actions. This means merchants can quickly deactivate, reactivate, or remove multiple members in just a few clicks. Additionally, we've introduced advanced filtering and sorting options, making it a breeze to categorize rewards program members. For example, filtering members based on their tier status or points balance is now simple. These enhancements aim to streamline operations, enabling merchants to manage their loyalty programs with efficiency and ease. It's all about empowering our users to get more done in less time.
Comprehensive loyalty program activity history
The comprehensive loyalty program activity history feature is a significant step forward in providing a thorough understanding of member interactions. Before, merchants could only view the activity history of individual members. However, with the new interface, they now can get a quick overview of the activity history for all members at once. This means they can see a broader picture of how their loyalty program is functioning. It's like having a bird's eye view of your account's dynamics. This is incredibly valuable because it allows merchants to spot any potential issues or trends more quickly. It's all about providing merchants with the insights they need to make informed decisions and keep their loyalty programs running smoothly. In essence, this feature adds a layer of transparency and efficiency to the management of loyalty programs, ensuring that merchants are equipped to address any issues promptly and effectively.
Swift and responsive performance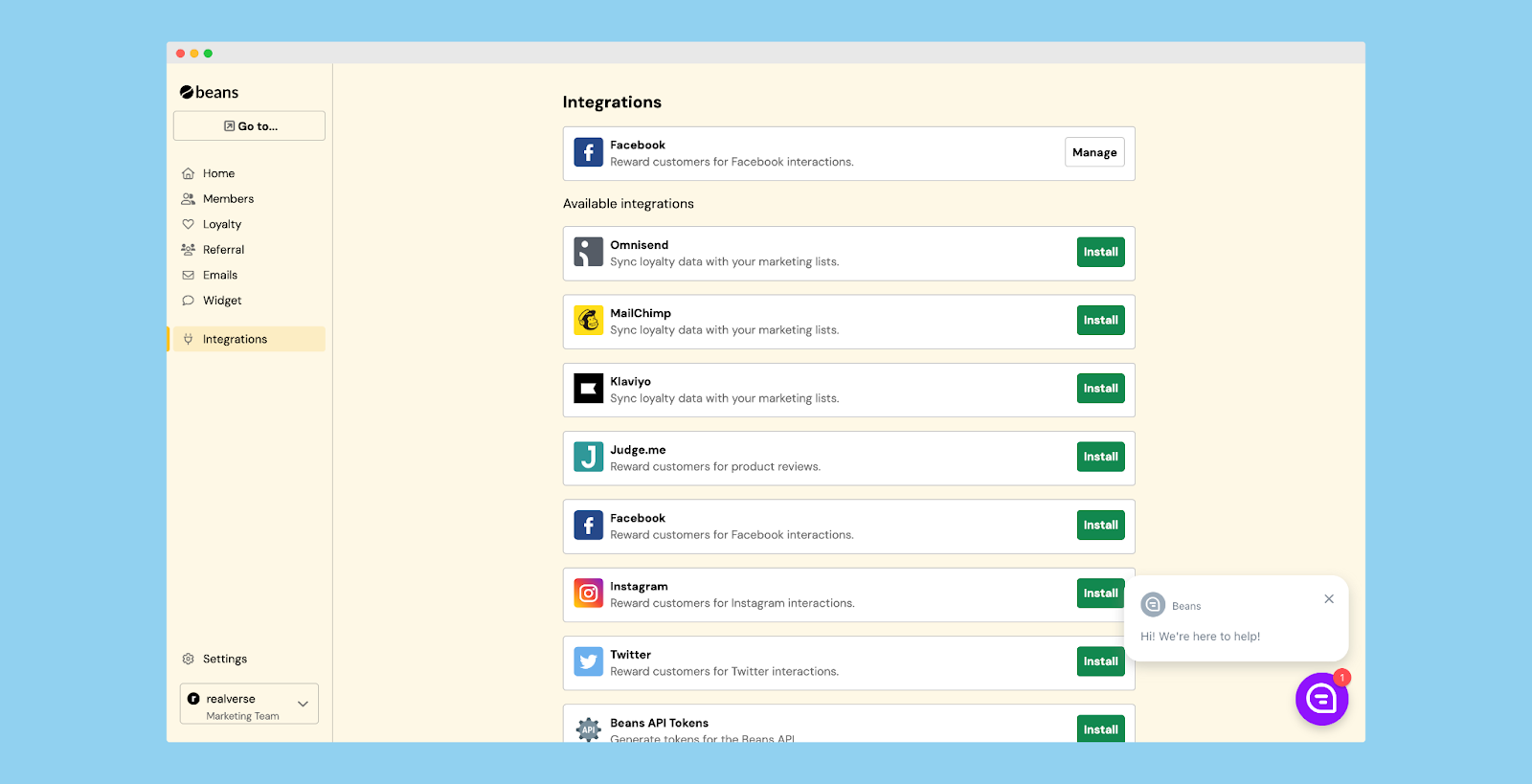 The Beans app now works much faster. For online merchants, time is really important. When you click or scroll, things happen almost instantly. There's no more waiting for pages to load. This is a big improvement and it makes using the app much smoother and more efficient. It's like giving your online business a speed boost and building bonds with customers. It's a step forward in making things better for both merchants and their customers. This enhanced speed ensures that every action you take in the app happens swiftly and smoothly, providing a seamless experience for users. It's all about saving time and making tasks easier for online businesses
Tying up
The enhanced Beans app interface represents a significant milestone in providing a seamless and efficient experience for our valued merchants. With improved administrative tools, an updated user interface, and a focus on efficiency and productivity, we're dedicated to empowering businesses for success. The addition of a comprehensive loyalty program activity history adds a layer of transparency, ensuring merchants have the insights they need to make informed decisions. Moreover, the swift and responsive performance of the app is a game-changer, providing a faster and more efficient experience for both merchants and their customers. This upgrade is a testament to our commitment to meeting the evolving needs of our users based on invaluable feedback. We're excited to share this transformative update and look forward to witnessing its positive impact on our cherished businesses. With the enhanced Beans app, businesses have a powerful tool at their disposal, enabling them to navigate the world of e-commerce with confidence and ease.