Starbucks is arguably one of the biggest coffee brands in the world, not just because of the great products they serve. The Starbucks Loyalty program happens to be well-loved by its large customer base and modeled after by top US restaurant chains and other retail stores. In 2019, Starbucks is reported to have increased sales by 7% due to its rewards program. This post discusses how the Starbucks rewards program works, as well as its major benefits and drawbacks.
How does the Starbucks loyalty program work?
Starbucks' loyalty program is designed in such a way that customers keep patronizing because they can save some money and earn rewards as well. Customers only need to register for the rewards program either by visiting starbucks.com/rewards or downloading the Starbucks Rewards app on their smartphones. The rewards program offers a variety of benefits and features, including:
Earning free add-ons, drinks, or food items
Free refills on brewed coffee and tea
Bonus rewards
Free birthday treats each year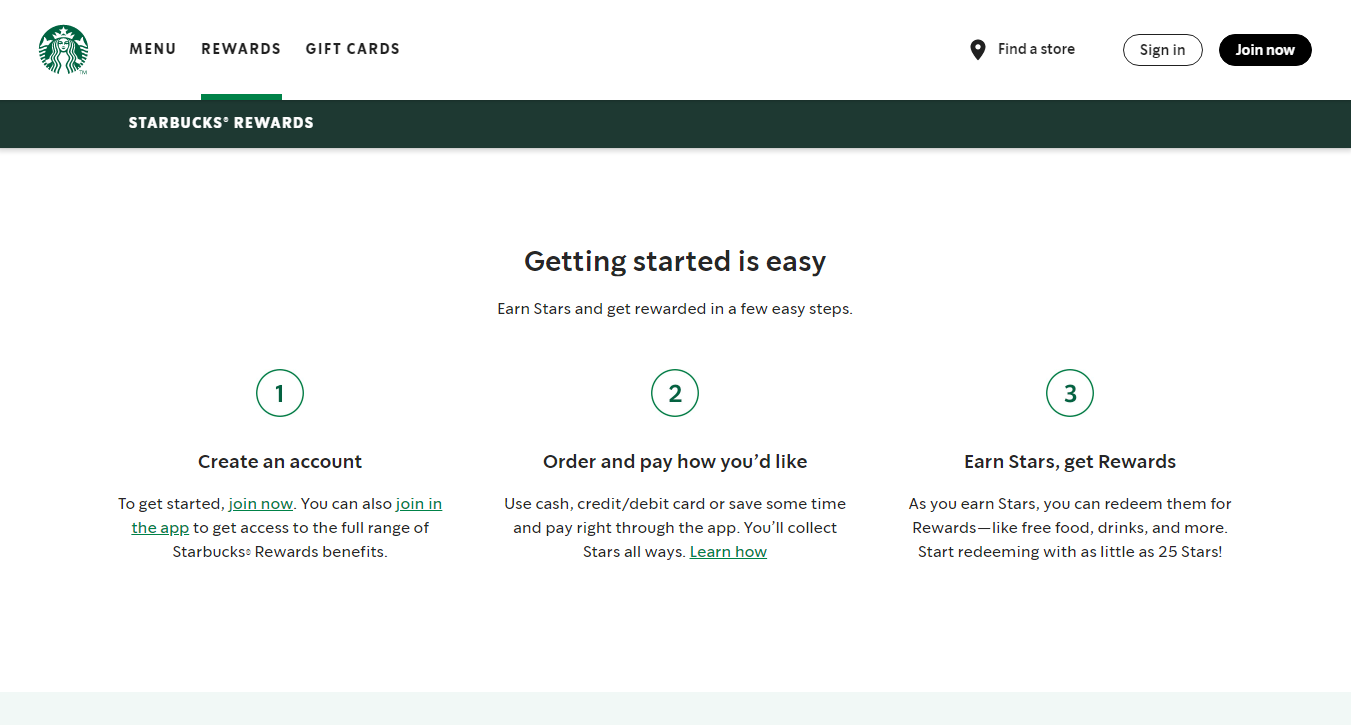 Starbucks uses a hybrid loyalty program that includes a points system (referred to as stars), which can be redeemed for certain free items. It also utilizes a tiered structure that comprises two levels: Green and Gold.
Customers earn 2 stars for each dollar spent when they purchase at a participating Starbucks location either with their gift card or with their mobile app.
When customers purchase any of Starbucks' packaged products from retailers such as K-cups, packaged prepared beverages, and coffee, among others, they earn stars. These items have been labeled with a "star code", thus the receipt can be scanned with the mobile app and redeemed.
One can also earn stars by purchasing Starbucks branded coffee online and connecting their purchase to the Starbucks rewards account. There are periodic double star days that allow members to earn double the amount of stars on each qualifying purchase. With the mobile app, customers can participate in games and special offers to gain bonus stars.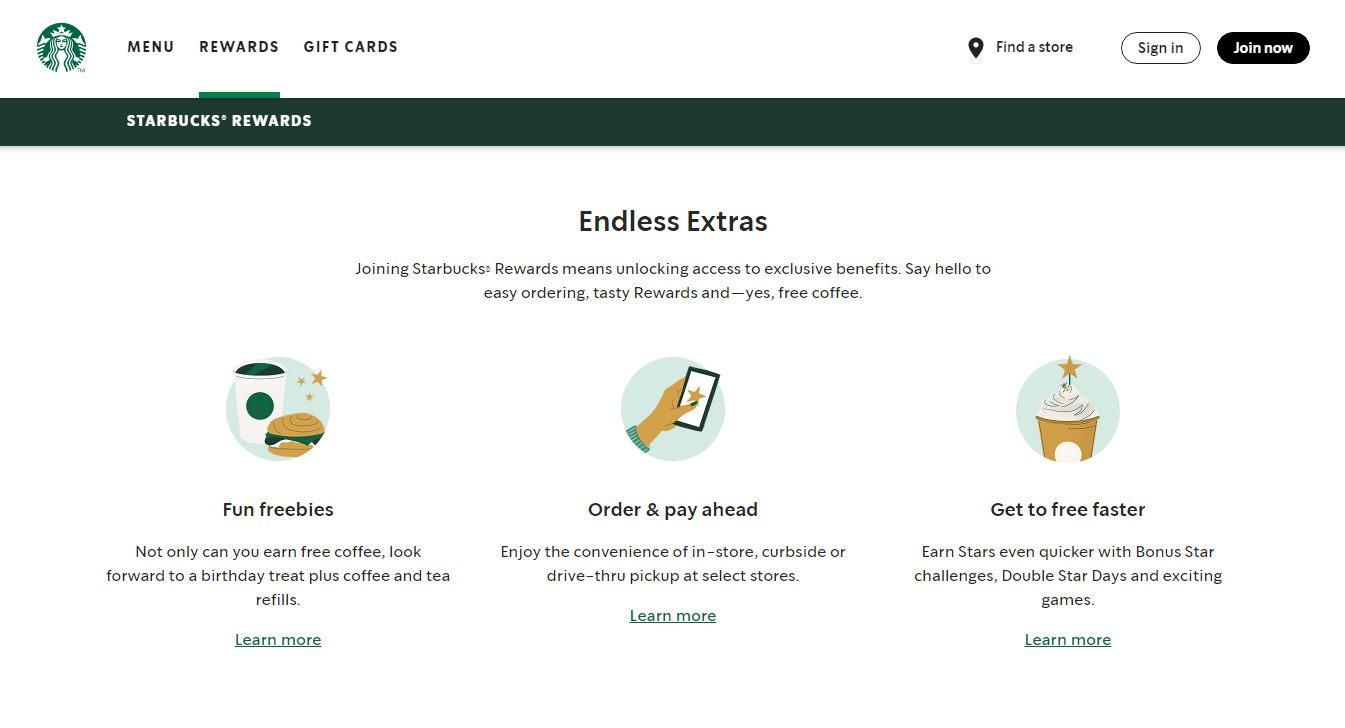 Reward Earnings at Different levels
The levels and equivalent results are in tiers. Customers can either choose to redeem their rewards at a lower level or save their stars for a higher level reward.
25 stars: When you reach 25 stars, you can get free drink customization which includes adding a flavored syrup, an extra shot of espresso, or getting a milk substitution such as coconut milk or almond.
50 stars: A free brewed hot coffee, tea, or a pastry such as a bagel or a croissant.
150 stars: A free handcrafted drink, hot breakfast (such as oatmeal or a breakfast sandwich), or parfait.
200 stars: A free packaged lunch such as a salad, sandwich, or protein box.
400 stars: Packaged coffee beans or a Free selected merchandise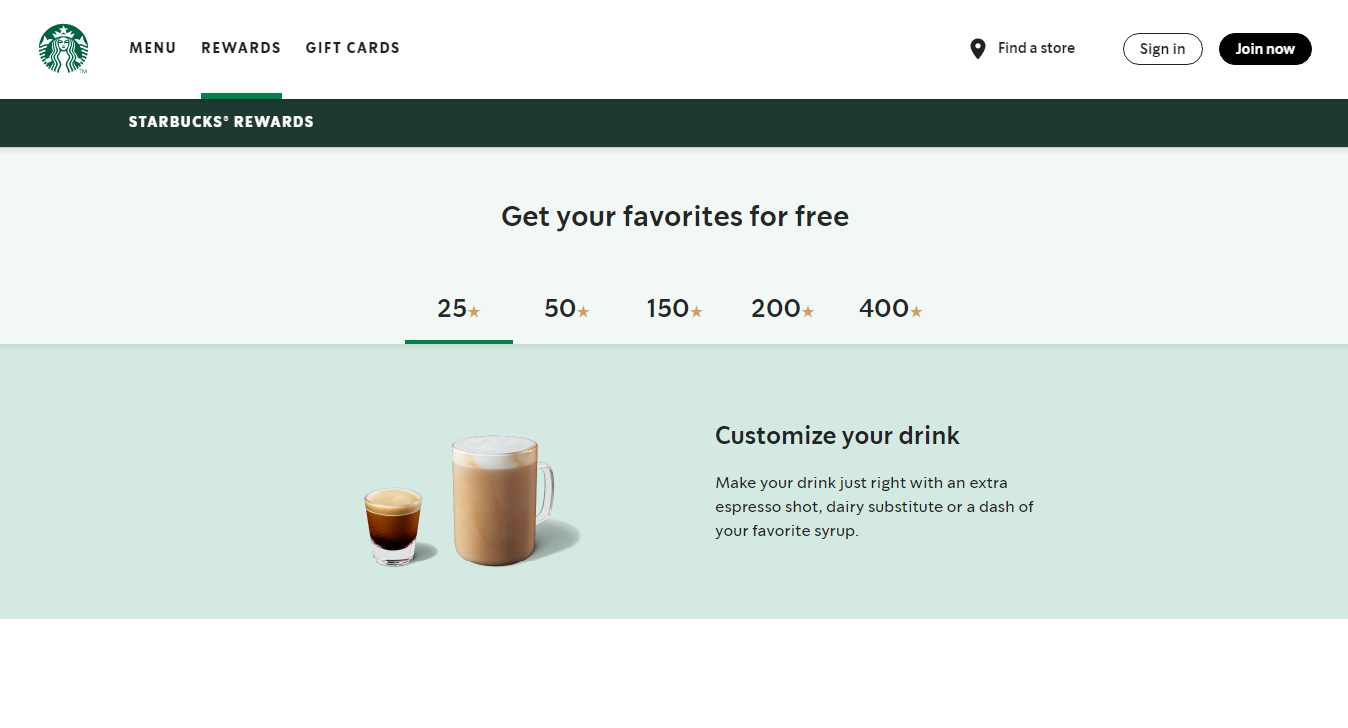 Redeeming the Rewards
Once a customer has reached their desired star level, they can choose to redeem their reward when they order ahead with the mobile app or show it to the cashier at a local Starbucks. After redemption, the stars will be removed from their account. Customers can also choose to redeem their stars as they please. For instance, if you've earned 50 stars, you could either redeem them for two 25-star rewards or a 50-value reward. They can always choose to keep earning more stars to claim a higher reward.
What are the good things about the Starbucks loyalty program?
Communicated Value
The loyalty program presents customers with value irrespective of their purchasing habits. They inform customers about the different ways they can earn and redeem rewards through their dedicated webpage and via the app. By offering stars on every single purchase, members understand that they are getting some value on each purchase. Customers feel that they have made a good bargain because the number of stars to redeem a reward is attainable, and they can see the reward they stand to gain.
Enhanced Customer Experience
Starbucks' strategy of tailoring the different star level rewards makes customers feel that Starbucks is augmenting their unique customer experience without necessarily monitoring their moves. The free tea and coffee refill feature particularly sets them apart from their competitors. It will be extremely hard for active Starbucks members to visit other local and national restaurant chain brands that do not give them free refills.
High Customer Engagement
One of the best things about Starbucks' loyalty program is its ability to keep its customers actively engaged with their brand most of the time. As of 2019, there were over 16 million active loyalty program members with the brand. The Starbucks Rewards app has been instrumental in getting members to place orders and earn rewards right from their phones. To increase engagement and purchase frequency, the app is also designed to send push notifications in the form of advertising promotions to its users. Apart from this, Starbucks also includes free games and music in its rewards program. When members play these games in the mobile app, they get to earn bonus stars.
Starbucks ensures that its customers feel appreciated and unique by offering their loyal members free drinks on their birthdays. The loyalty program is also designed to boost acquisition in that it allows its active members to share gift cards with their loved ones and other members through the app.
Exclusivity and personalization
Innovative rewards ideas are the best way to get customers to actively engage with your loyalty program. To delight and secure the loyalty of their customers, Starbucks gives exclusive benefits by announcing new product releases and promotions to their members first. They also offer double star campaigns to their most loyal customers. When it comes to personalization, Starbucks gives members a personalized homepage in the app and access to the playlist of their desired store.
How Starbucks could have made its loyalty program more attractive?
Observing the Starbucks Loyalty program, one would notice that almost every feature or benefit is integral to making it an exemplary loyalty program. Its major drawback, however, involves communication regarding dropping from the Gold to Green level. After achieving Gold Status, members stand a chance of losing their status and starting from scratch if they are unable to earn 30 stars within that year. This, coupled with the timing of such notices (New Year), comes off as a shock to such members.

Therefore, to make the Starbucks program more attractive, the company should give more advanced notice of status loss. They could give customers at least a months' notice. They could have also changed the tone of the message into a motivator by sending something like this instead. The goal here is to keep motivating customers to reach a goal, instead of demotivating them.
Another thing Starbucks could have done is to give their expired members a head start. For instance, if a customer has already made the effort to join the rewards program and purchase enough to attain the gold status, they shouldn't be alienated if they have been unable to keep up for some reason. Instead of notifying them that they would have to start from scratch, they could make it easier for existing members to maintain their status by offering them, say, 10 out of the 30 stars needed. In doing so, the customer is motivated to purchase more to reach their former status and feels appreciated.
This article is part of our series of case studies of loyalty programs implemented by the world's most famous brands.