The IHG loyalty program, known as IHG One Rewards, is a special offering for individuals who frequently stay at IHG hotels. This program serves as a token of appreciation from IHG members for choosing their accommodations. It differs from Hotels.com rewards and Marriot Bonvoy rewards, two famous hotel rewards that we reviewed previously.
InterContinental Hotels Group (IHG) is one of the world's largest and most well-known hotel companies. It operates a wide range of hotel brands, each catering to different types of travelers and their preferences.
Brands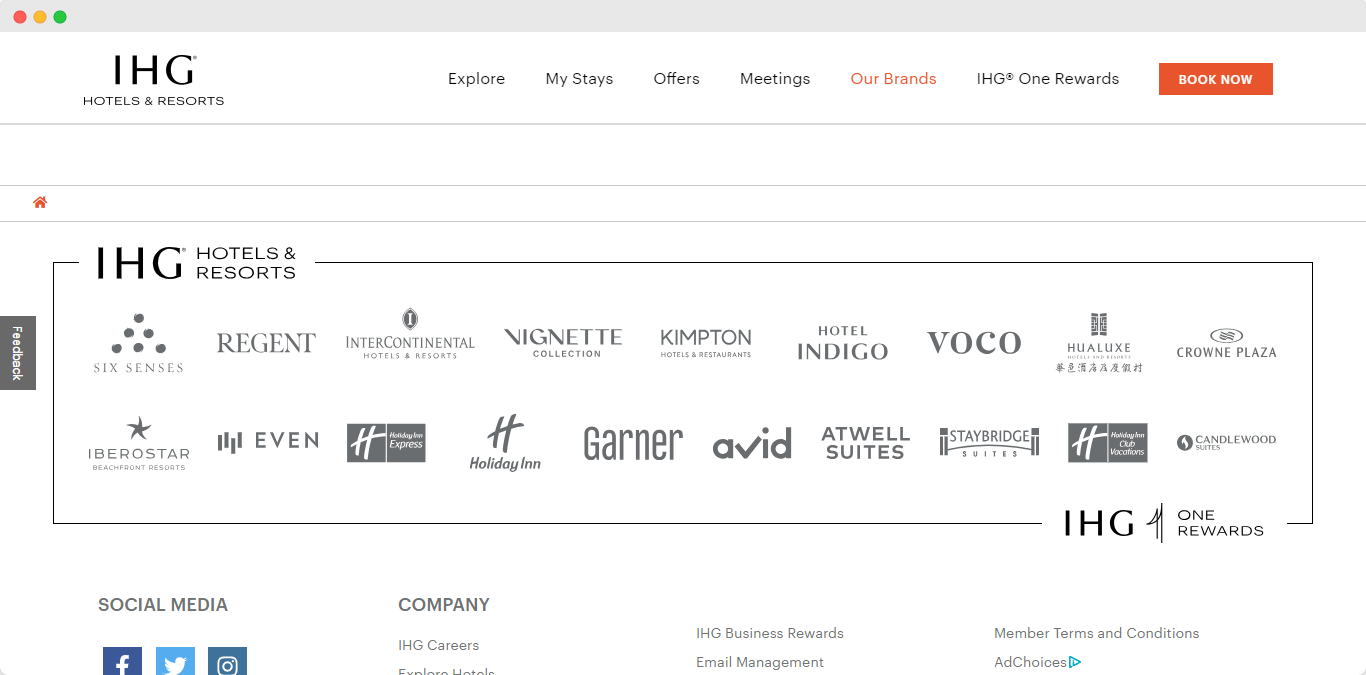 Intercontinental hotels & resorts: This is IHG's luxury brand, known for offering high-end accommodations and exceptional service. InterContinental hotels are often located in prime locations in major cities and popular travel destinations.
Crowne plaza: Crowne plaza hotels are designed for business travelers and offer upscale amenities, comfortable rooms, and facilities for meetings and events.
Holiday inn: Holiday inn is one of the most recognized hotel brands globally. It provides comfortable and affordable accommodations, making it popular among families and leisure travelers.
Holiday inn express: This brand offers a more streamlined experience with a focus on providing a comfortable stay at a budget-friendly price. It's known for its complimentary breakfast options.
Staybridge suites: Aimed at extended-stay travelers, Staybridge Suites offers spacious suites with kitchen facilities. It's a great choice for travelers who need a home-like environment for a longer duration.
Candlewood suites: Similar to Staybridge Suites, Candlewood Suites is also designed for extended stays and provides fully equipped kitchens and comfortable living spaces.
Kimpton hotels & restaurants: Kimpton is known for its boutique-style hotels, often located in trendy urban areas. They offer a unique and personalized experience for guests.
EVEN hotels: This brand emphasizes wellness and offers amenities like fitness centers, healthy food options, and fitting workspaces for health-conscious travelers.
Hualuxe hotels & resorts: Hualuxe is a brand designed specifically for the Chinese market, offering high-quality accommodations and tailored services for Chinese travelers.
voco: voco is a brand that focuses on delivering a fresh, unstuffy experience with a touch of charm and character.
All of the brand names mentioned are owned and operated by IHG (InterContinental Hotels Group). IHG is the parent company that manages and oversees these various hotel brands. Each brand has its own distinct identity, target market, and accommodation style, but it all falls under the umbrella of IHG. This allows IHG to offer a wide range of options to cater to different types of travelers and their preferences.
Membership programs
IHG operates the IHG Rewards Club, a loyalty program for its guests. Members earn points for every stay, which can be redeemed for a range of rewards, including free nights, merchandise, and experiences.
Global reach: IHG operates in over 100 countries, with thousands of hotels across the globe. This extensive reach means that travelers can find IHG properties in a wide range of destinations.
Sustainability and social responsibility: IHG is committed to sustainable practices and social responsibility. It has initiatives in place to reduce its environmental impact, support local communities, and promote diversity and inclusion.
Innovation: IHG continually invests in technology and innovation to enhance the guest experience. This includes features like mobile check-in and check-out, as well as the IHG mobile app for convenient booking and management of stays.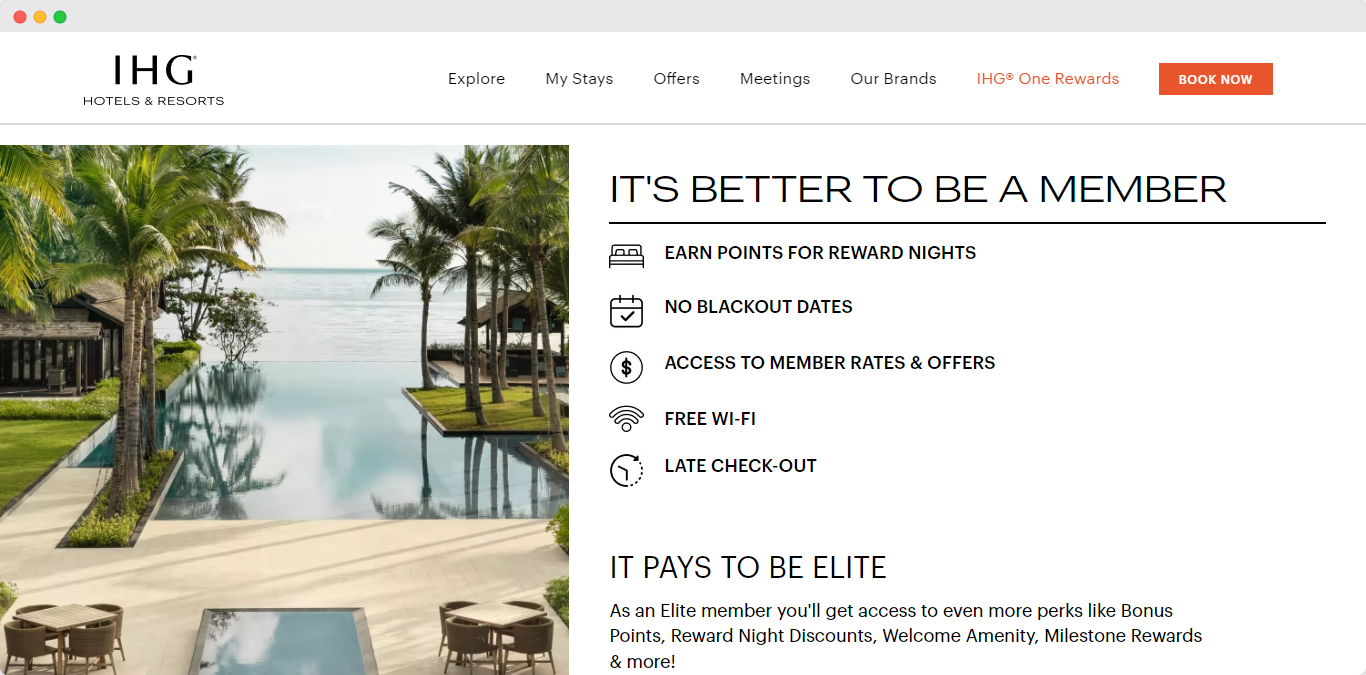 These are some of the key aspects of IHG hotels. Each brand within the IHG portfolio caters to different types of travelers, offering a diverse range of accommodations and experiences. Whether you're looking for luxury, business-friendly options, family-friendly stays, or extended stay solutions, IHG has a brand that fits your needs.
How does the program work?
The IHG One Rewards program operates on a simple principle: for every dollar spent at an IHG hotel, members receive points. The accumulation of points corresponds directly to the amount spent. For instance, a $100 expenditure at most IHG hotels translates to 1000 points. Members of select hotels like Staybridge Suites and Candlewood Suites receive an even higher point yield for the same monetary input.
Moreover, this program offers members the flexibility to redeem their points for a variety of rewards. A key aspect of any successful loyalty program is to have a diverse and innovative rewards strategy. These rewards range from complimentary stays to a diverse catalog of items and even exclusive experiences such as tickets to concerts and sporting events.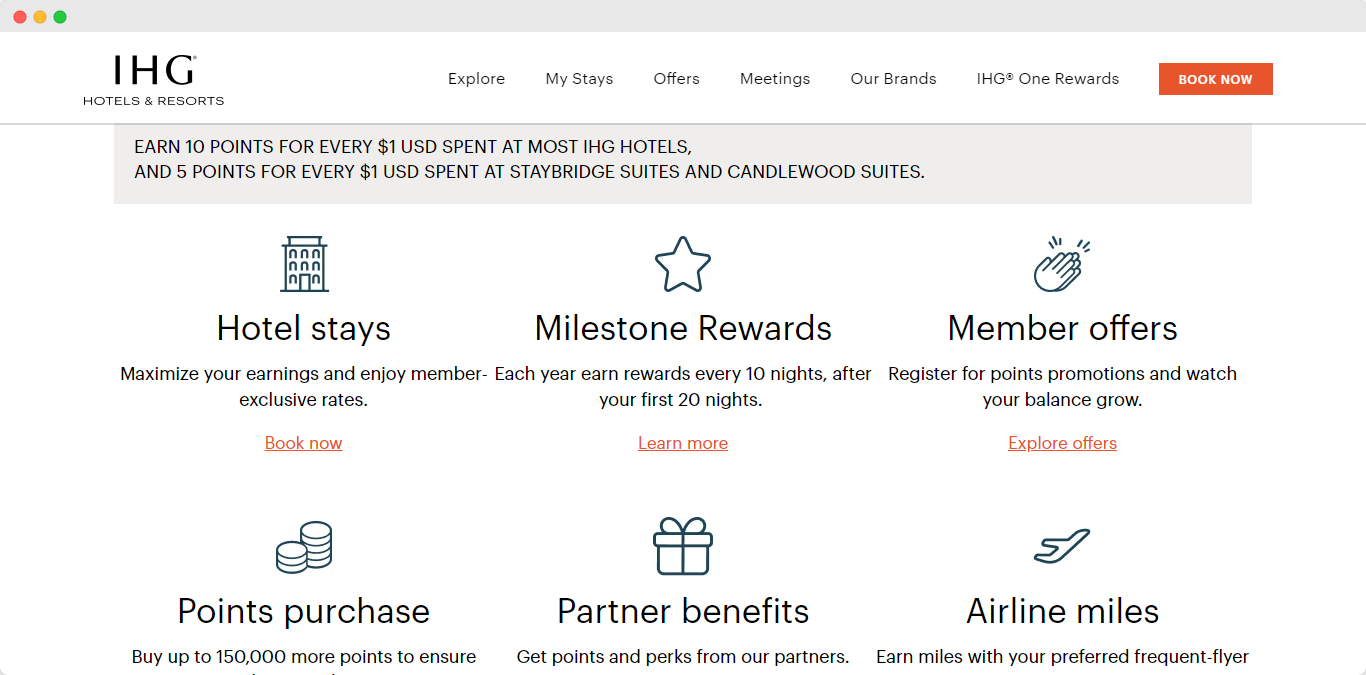 IHG club member is built with a tier system, which is one the most common features of successful loyalty programs. It is divided into 5 tiers, which are:
Club
Silver elite
Gold elite
Platinum elite
Diamond elite
What's good about the program?
Free stays: Accumulating points for complimentary stays at IHG hotels is a significant benefit. This feature not only provides a tangible reward for loyalty but also serves as a cost-saving measure for travelers.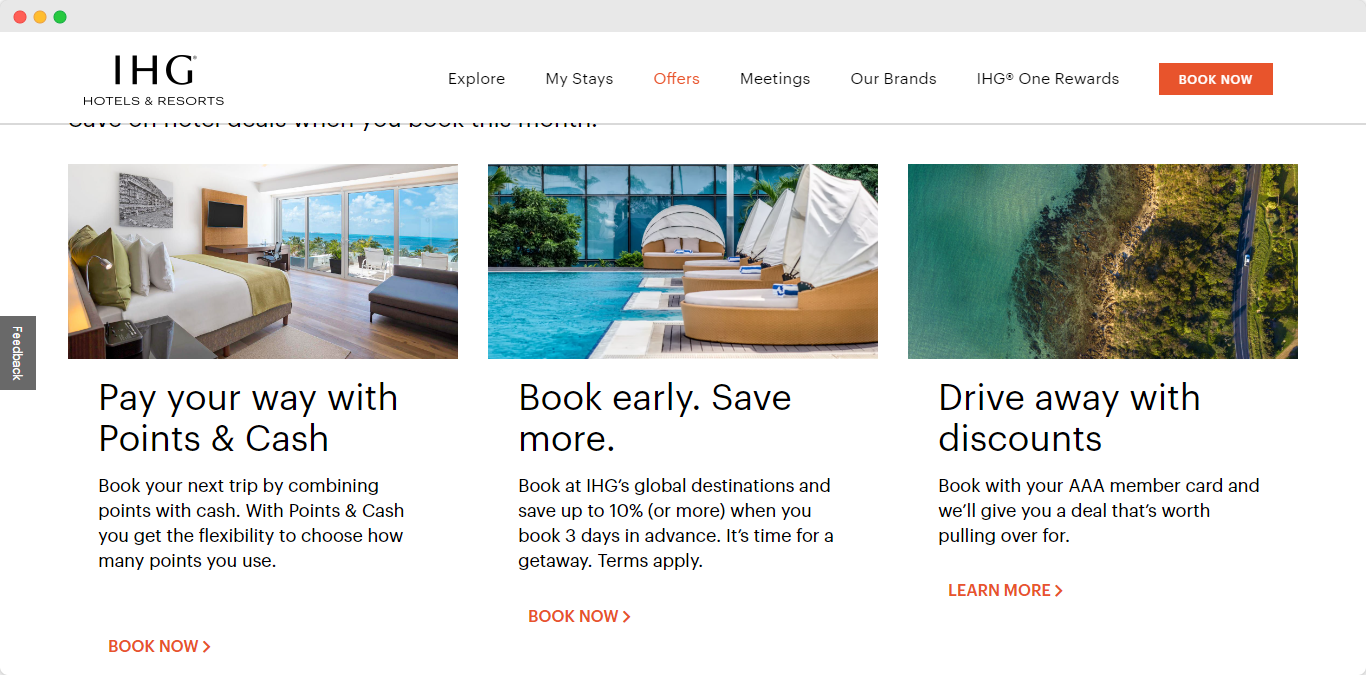 A multitude of choices: One of the program's strengths lies in the diverse redemption options. Whether a member prefers free stays, indulges in shopping, or seeks out unique experiences, the IHG One Rewards program caters to various preferences. The IHG one rewards redemption option is in two stages
Hotel night: This comprises free nights, points & cash to make the members pay and know where to use the tiers benefit and points earned as a member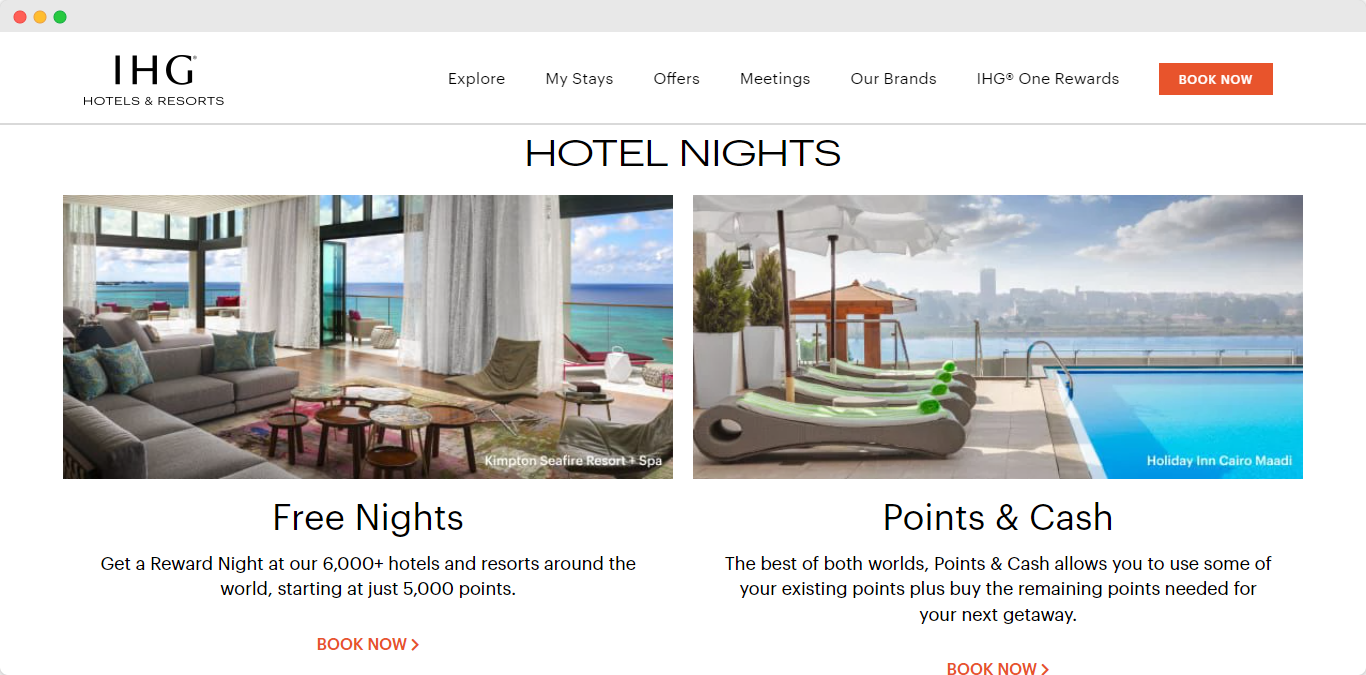 Events + Experiences: It comprises enhancing your trip to take your trip to the next level with an enticing experience or tour that you can grab with your points to make members stay a special one and IHG One Rewards Access to get exclusive access to unforgettable experiences worldwide. Think courtside tickets to sporting events, VIP passes to concerts and celeb meet-and-greets.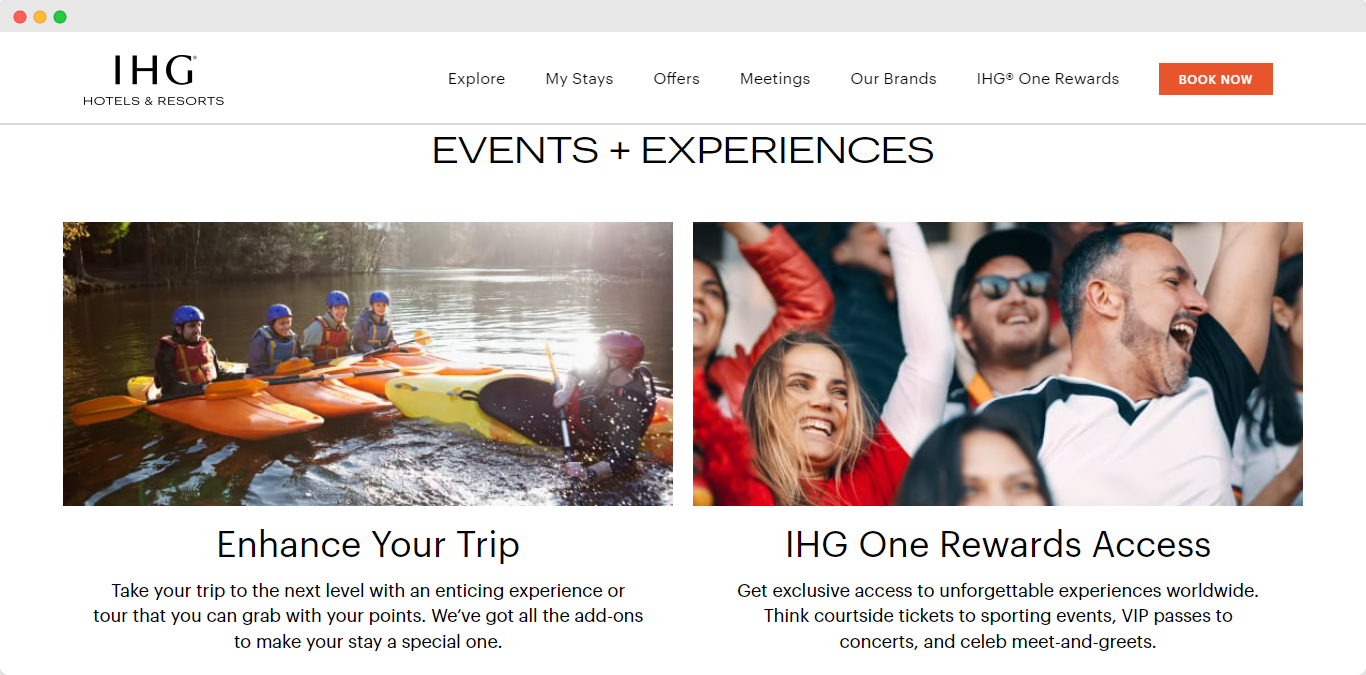 No blackout dates: The absence of blackout dates means that members have the freedom to utilize their points for booking a room, even on traditionally busy days like holidays. This flexibility enhances the overall value of the program.
Member rates: Direct bookings with IHG come with exclusive member rates. This additional benefit not only offers financial savings but also provides an extra incentive for members to engage with the program directly.
How could they make the rewards program more attractive?
Improving the rewards program can enhance the overall experience for members. Here are some suggestions on how IHG could make their rewards program more appealing:
Enhanced personalization: Give rewards and offers that match what each person likes and how the person has acted before. This might mean special deals, the type of room the member likes, or special things to do in the area.
Surprise rewards: Occasionally offer unexpected bonuses, exclusive experiences, or special gifts to members. This element of surprise can create excitement and increase member engagement.
Simplified redemption process: Streamline the process for members to redeem their points. Make it easy and intuitive for them to choose and utilize their rewards.
Exclusive member events: Organize special events or experiences exclusively for loyalty program members. This could include VIP access to local attractions, special dinners, or cultural experiences.
Accelerated points earning: Offer promotions or partnerships that allow members to earn points at an accelerated rate, making it quicker to reach valuable rewards.
Flexible rewards options: Provide a wide range of redemption options beyond just hotel stays, such as experiences, gift cards, airline miles, or merchandise.
Localized benefits: Offer benefits that are specific to the region or city where the member is staying, such as access to unique local experiences or discounts at nearby attractions.
Early access to promotions: Provide members with exclusive early access to special promotions or discounted rates before it is made available to the general public.
Improved communication: Ensure that members are well-informed about their benefits, rewards, and special offers through clear and timely communication channels.
Partnerships with travel services: Collaborate with other travel-related services (e.g., airlines, car rentals, experiences) to offer integrated rewards and benefits for a complete travel experience.
Tiered rewards structure: Implement a tiered system that offers progressively more valuable rewards as members move up in status, encouraging continued loyalty.
By implementing some or all of these suggestions, IHG could create a more compelling and engaging rewards program, ultimately providing greater value to its members.
Wrapping up
The IHG One Rewards program stands as a commendable gesture of gratitude towards IHG's loyal patrons. By awarding points for each stay, which can be exchanged for various enticing rewards, the program effectively incentivizes continued patronage. The brand has also been able to avoid the most common pitfall of failed loyalty program strategies. While already impressive, the program could be further enriched with minor adjustments to ensure a more fulfilling experience for its members.
In conclusion, IHG's commitment to recognizing and rewarding its valued customers through the IHG One Rewards program is evident. By building on its existing strengths and implementing minor enhancements, IHG has the potential to take its loyalty program to new heights, providing an even more exceptional experience for its members.