In the dynamic realm of online shopping, where customer retention is as challenging as nurturing a tree from a tiny seed, Unico Nutrition understands this profoundly. Rather than just focusing on building a loyalty program, they have crafted a remarkable solution by innovatively employing Beans' technology.
Overview of Unico Nutrition
🌁 Founded in 2012
🇺🇸 Based in California, USA
🧺 Health & Nutrition
Unico Nutrition excels in creating a wide array of nutritional supplements, encompassing protein powders, vitamins, and other health-centric products. Their mission is to offer high-quality, impactful supplements that enhance fitness, health, and overall well-being, focusing primarily on consumables.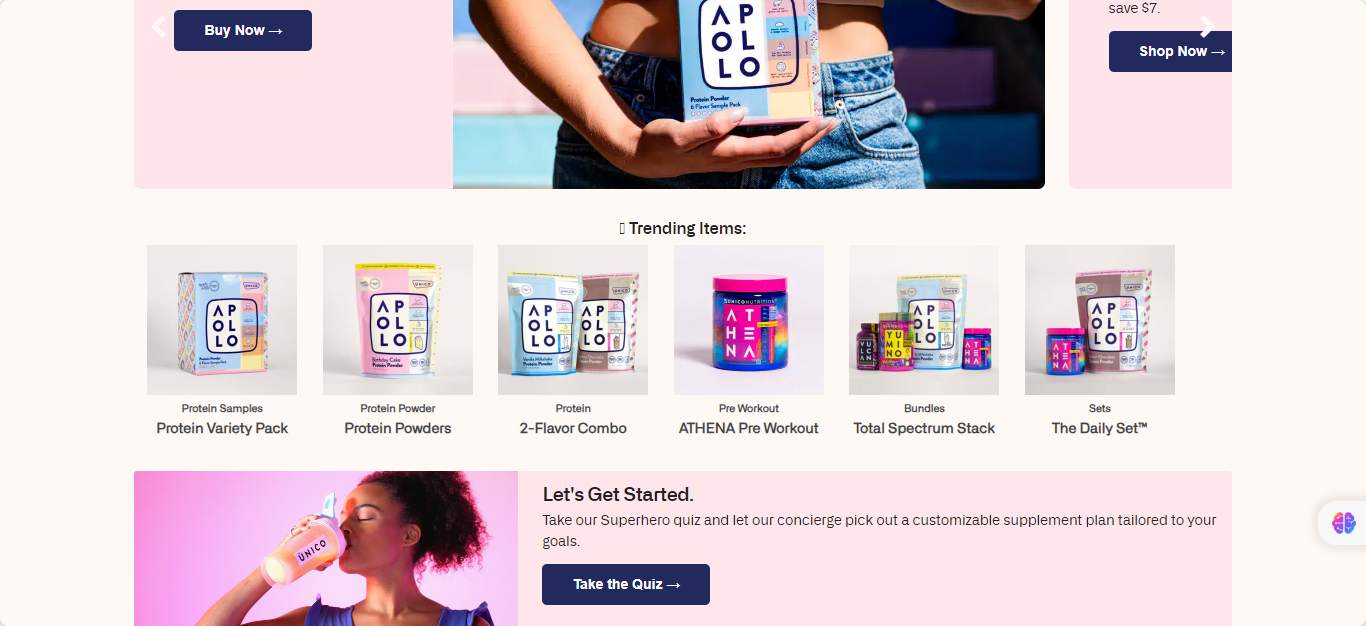 Lance Herrington, the founder, embarked on his nutritional venture during his tenure as a hockey player at the University of Vermont (2008-2012). Confronted with the NCAA's rigorous drug testing for supplements, which often lacked transparent ingredient listings, he was inspired to establish Unico Nutrition, dedicated to producing clean, athlete-friendly supplements.
Post-college, Lance launched his products online, catering to athletes and health-conscious women seeking better alternatives. Initially leveraging Facebook and Google for promotion, Unico Nutrition has since adeptly navigated the evolving digital landscape, extending its reach to Instagram and TikTok. Now, the company serves a global clientele.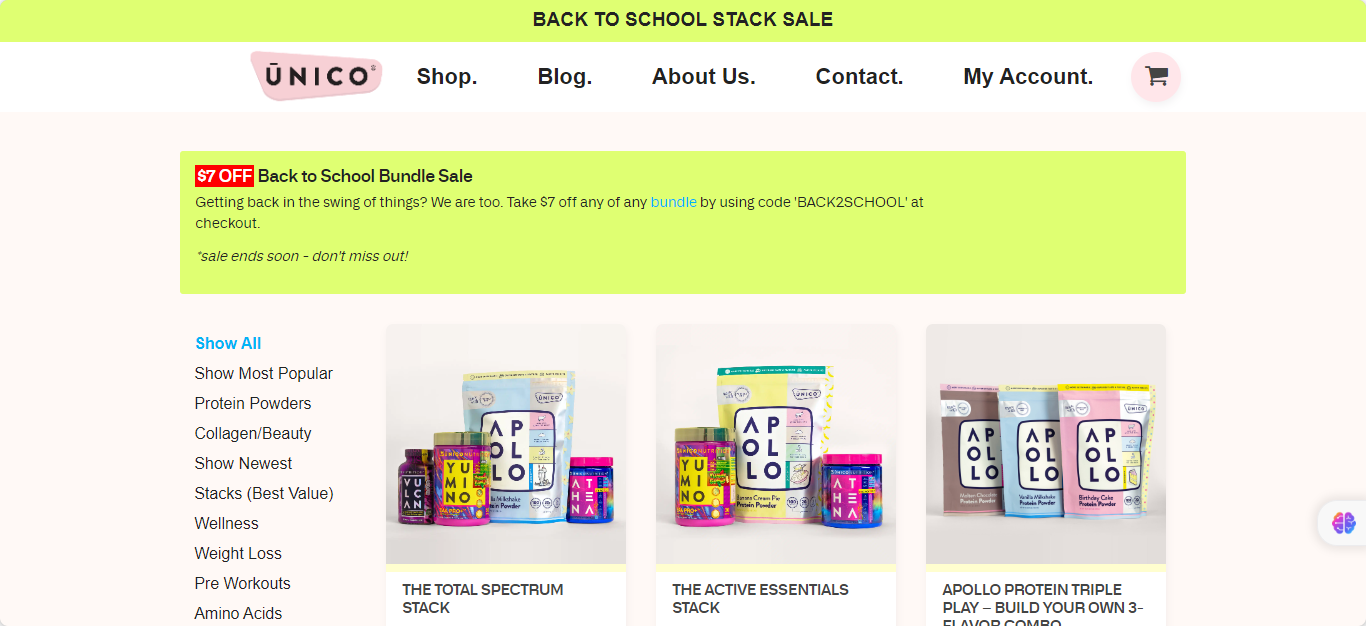 Since its inception, Unico Nutrition has achieved remarkable success and extensive reach across its diverse product range. Key offerings include:
Protein Powders: Available in 10 innovative flavors, these non-bloating, grass-fed dairy powders are a standout.
Beauty Supplements: These natural botanical formulations are designed for enhanced skin softness and stronger hair.
Pre-Workout: Formulated for instant workout motivation.
Weight Loss: Top-selling products for slimming and toning featuring five patented natural botanical ingredients.
Fitness Stacks: Comprehensive solutions for elevating fitness levels.
The challenges
🥊 Navigating a competitive market
📉 Reducing Churn Post-First Sale
Navigating a competitive market
In the bustling nutrition industry, Unico Nutrition must continuously innovate and distinctly position its products. Beyond offering high-quality products, effective communication of their unique benefits is crucial, encompassing aspects from product formulation to marketing and customer engagement. Keeping pace with emerging trends and consumer preferences in this dynamic market necessitates ongoing research and development.
Reducing churn post-first sale
Acquiring new customers is a milestone for Unico Nutrition, but retaining them post-purchase is vital. This involves a comprehensive strategy that delivers exceptional value, superior customer service, and personalized experiences. Understanding individual customer needs and preferences, especially as the customer base expands, is key.
Utilizing data-driven insights and feedback mechanisms is essential for adapting product offerings. Effective post-purchase engagement, such as follow-up communications, exclusive offers, and informative content, is critical to making customers feel valued and fostering loyalty.
Why did Unico Nutrition choose Beans?
Advanced loyalty program on WooCommerce
Easy customization through Beans API
Seamless integration with Klaviyo
"What we love about Beans is one of the flows we implemented that already has a lot of traction and had a lot of success is just when they make an order. It is just an automation within Klaviyo with the help of the Beans API. We quickly developed something using Beans, which our older platform would have never been possible, so it is exciting to have a really great product in Beans that we can use to make our loyalty program even better."

— Lance Herrington, Founder of Unico Nutrition
Platform synergy with WooCommerce
Unico Nutrition operates its online store on the WooCommerce platform. Beans, purposefully designed for WooCommerce, naturally aligns with the company's e-commerce infrastructure. This compatibility ensures seamless integration and a smoother operational flow.
Easy customization through Beans API
Beans distinguishes itself as a flexible tool that allows for extensive customization. Rather than fitting into a pre-defined mold, Unico Nutrition sought to tailor the loyalty program to its unique needs and customer base. Utilizing Beans' Application Programming Interface (API) empowers Unico Nutrition to fine-tune the program's functionality to match its business objectives precisely. This decision was guided by a desire for operational efficiency and the ability to adapt to evolving customer preferences.
Seamless integration with Klaviyo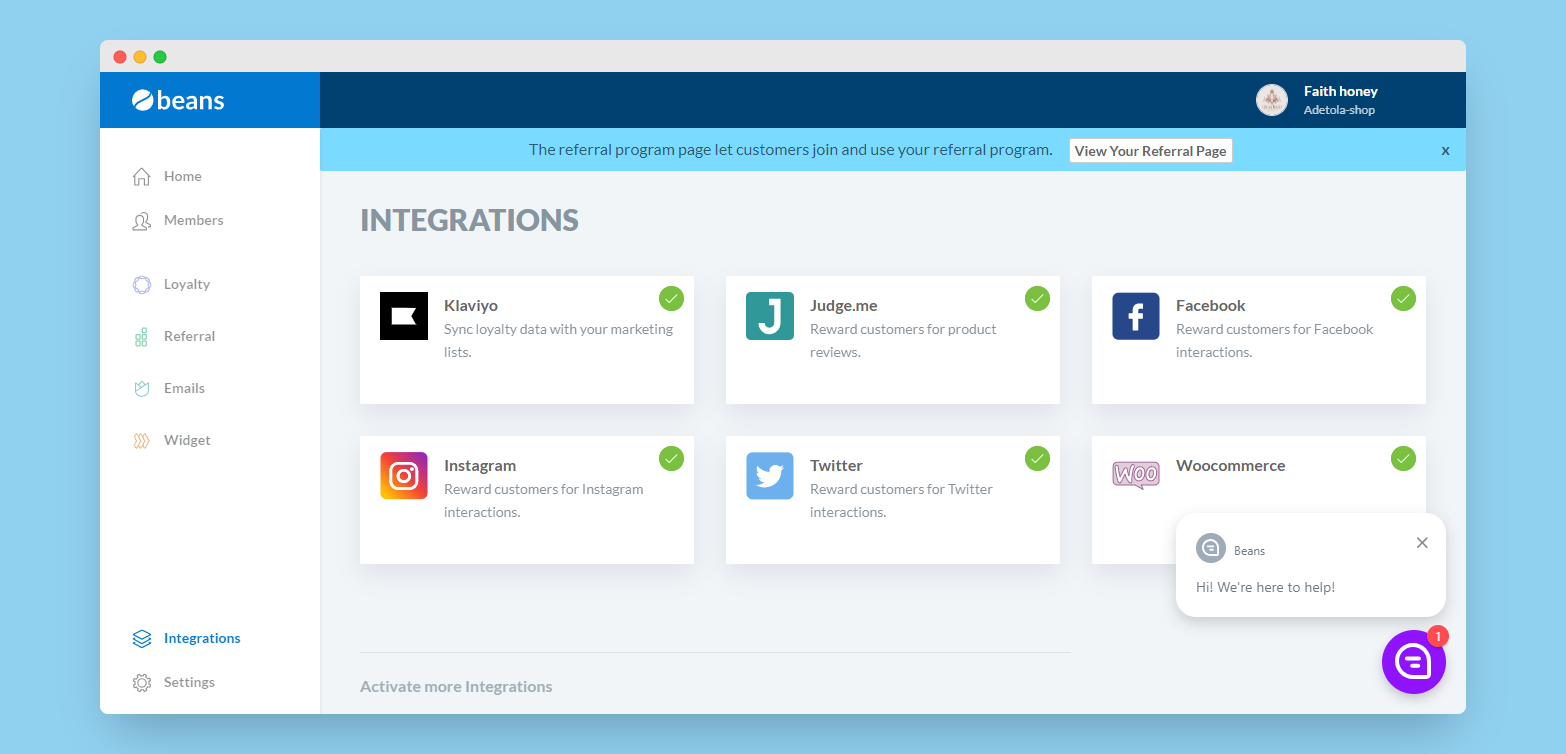 Integrating Beans with Klaviyo, an email marketing platform, is a deliberate strategic move by Unico Nutrition. Klaviyo serves as a means to maintain effective customer communication, and Beans seamlessly complements this effort. By employing Beans to reward customers and Klaviyo to deliver personalized messages and exclusive offers, Unico Nutrition aims to enhance customer engagement. This decision was driven by a data-driven understanding of the importance of customer retention and communication in the e-commerce landscape.
The Beans solution
In the realm of online shopping, leveraging advanced technology is paramount. Beans provides Unico Nutrition with comprehensive solutions aimed at boosting customer retention and repeat purchases.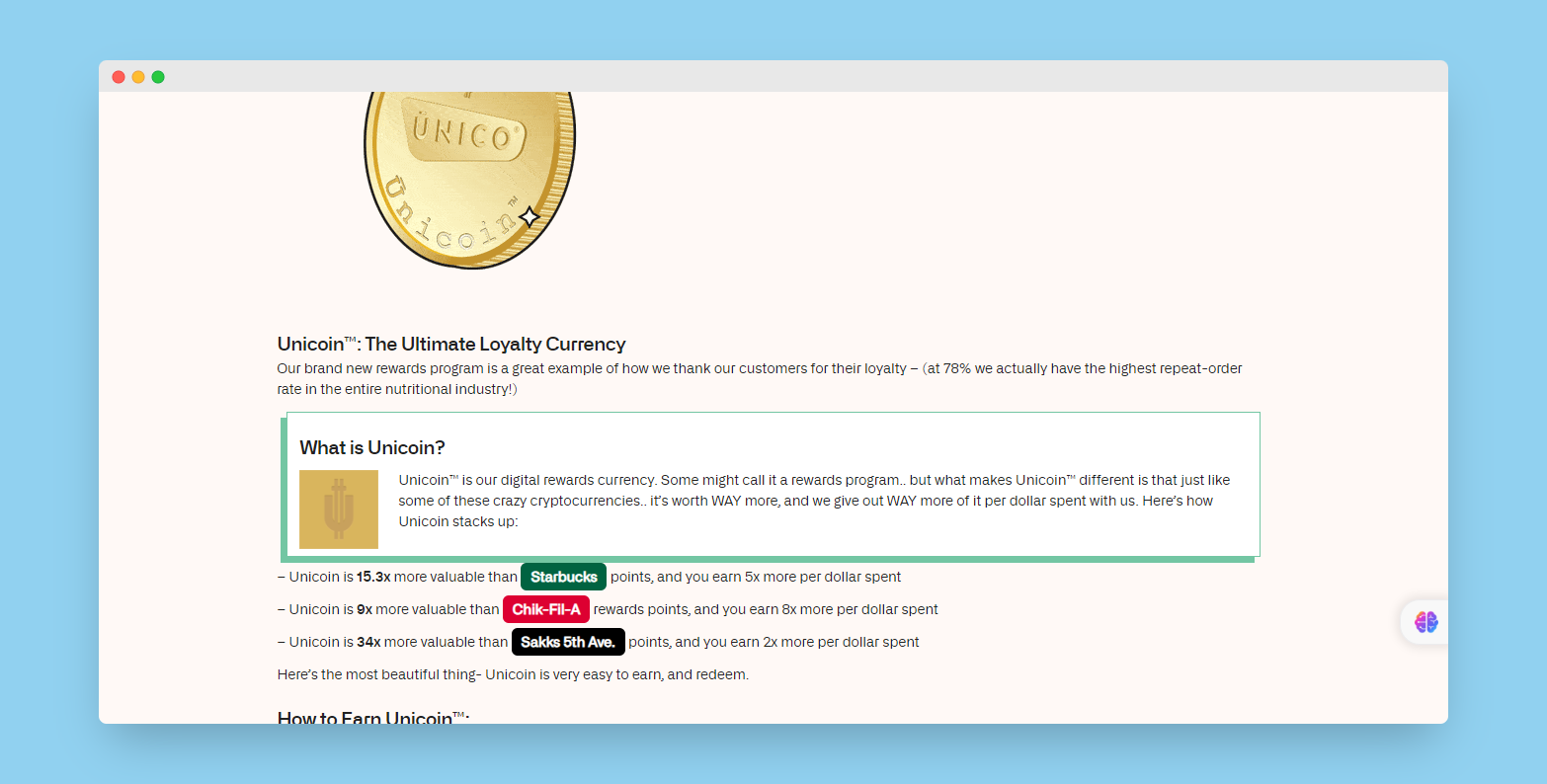 Unico Nutrition's reward program, propelled by Beans, functions akin to an exclusive club. Here, loyal customers earn 'Unicoin', a digital rewards currency. Unlike typical loyalty points, Unicoin offers enhanced value and doesn't expire. Unicoin demonstrates a significant value proposition. Let's delve into the specifics of how Unicoin adds value:
Unicoin is 15.3x more valuable than Starbucks points, and you earn 5x more per dollar spent
Unicoin is 9x more valuable than Chik-Fil-A rewards points, and you earn 8x more per dollar spent
Unicoin is 34x more valuable than Sakks 5th Ave. points, and you earn 2x more per dollar spent
Joining the club: When customers sign up for the program, they get an instant reward of Unicoin points. It's like a little gift to say "Thanks for being part of the club!"
Earning points with every purchase: Each dollar spent in the store translates into 3 Unicoin, incentivizing frequent shopping and enhancing customer loyalty. So, the more the customer shop, the more points to be collected.
Extra points for extra love: Unico Nutrition wants its customers to feel appreciated, so it gives out extra points for special things like following them on Instagram or writing product reviews and getting 300 Unicoin. It's like a way of saying, "Thanks for being awesome!"
Special treats for extra special members: Unico Nutrition has some cool products that can only be bought with points. This means that loyal members get the first privilege on some exclusive stuff. It's like being a VIP in the store
The Results
📈 Increased engagement
💰 Higher redemption rates
👩‍❤️‍👨 A growing community of loyal customers
Lance Herrington, the visionary founder of Unico Nutrition, has experienced remarkable returns on investment by harnessing the power of Beans. This strategic partnership has yielded significant increases in revenue and redemption rates, culminating in a thriving community of devoted customers. Beans transcends the conventional role of a platform; it emerges as a pivotal tool for fostering sustainable business growth.
Unico Nutrition's journey, evolving from a college athlete's dream to a flourishing e-commerce enterprise, stands as a testament to the potency of dedication and innovation. With Beans playing an integral role in its customer retention strategy, Unico Nutrition has not only cemented its position in the competitive supplement industry but has also become a paragon of customer-centric practices. Through its targeted marketing efforts, unwavering commitment to innovation, and the launch of exciting new products, Unico Nutrition exemplifies the philosophy that cultivating a loyal customer base is more than an objective – it's a continuous journey of refinement. This journey is underpinned by a steadfast commitment to enhancing the customer experience. In the dynamic realm of e-commerce, Beans serves not just as a platform but as tangible evidence of the principle that enduring success is built on the foundation of customer loyalty.